Research at Grady Memorial Hospital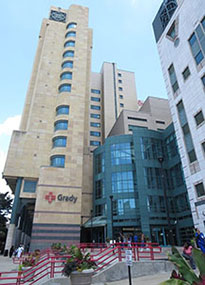 Grady Memorial Hospital in metro Atlanta — an internationally recognized teaching hospital with a historic commitment to serving the health needs of the most vulnerable — is among the largest public hospitals in the Southeast. Physicians of the Emory University School of Medicine provide about 80% of the care at Grady, with the other 20% is provided by Morehouse School of Medicine and Grady-employed physicians.
Faculty of the Emory Department of Surgery are members of the physician staff of Grady's Level I trauma center, surgical critical care service, burn center, and the hospital's breast cancer, cardiothoracic surgery, oral and maxillofacial surgery, plastic and reconstructive surgery, and vascular surgery programs.
The size of Grady's service area, the hospital's large and diverse in- and out-patient volume, and the multiplicity of conditions the hospital treats affords vast opportunities for Emory Surgery physician-researchers to conduct significant investigative studies and clinical trials.