General Surgery Resident Research Sabbaticals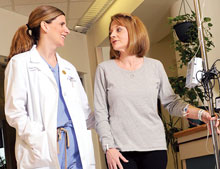 Transplant surgeon Dr. Nicole Turgeon (left) is the director of extramural studies for Emory's general surgery residency.
The general surgery residency program of the Department of Surgery of the Emory University School of Medicine offers various opportunities for acquiring dedicated research time, such as working in one of our highly productive laboratories, assisting faculty with outcomes research, or working in any one of our numerous clinical research programs.
The Department prides itself on considering and supporting any avenue of study, provided the resident has a reliable mentor and well-considered research objective.
While research sabbaticals are not a requirement of our residency program, the Department recognizes that dexterity in research is vital for an academic surgery career, can facilitate adept decision making in clinical practice, and provides valuable skills regardless of the resident's ultimate career path. Research is also a component of our numerous fellowship programs.
Residents on sabbatical receive a stipend and fringe benefits from the Department; subsequent years are typically funded by the principal investigator.
Please see the Research Sabbatical quick links in the upper right column for additional information about the various components of the program.