Division of Colorectal Surgery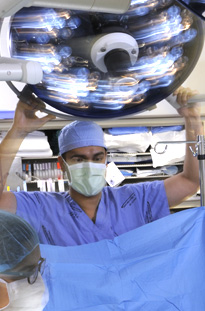 The Emory Division of Colorectal Surgery includes colon and rectal surgeons, surgical oncologists, and general surgeons who are actively engaged in the care of patients, participate in research focused on gastrointestinal conditions, and serve as faculty of the Emory University School of Medicine. These surgeons are nationally-recognized experts in their fields, and treat patients with colon and rectal cancer, anal cancer, inflammatory bowel disease (Crohn's disease and ulcerative colitis), diverticulitis, rectal prolapse, and all benign colorectal and anal disorders.  
The Division has clinical locations at Emory University Hospital, Emory University Hospital Midtown, Emory Saint Joseph's Hospital, and Emory Johns Creek Hospital. The Division's cancer-based services are often coordinated through the Winship Cancer Institute of Emory University, Georgia's first and only National Cancer Institute-designated comprehensive cancer center, which also has clinics at these four campuses.
Our colorectal surgeons provide patient care as members of a multidisciplinary team that often includes medical oncologists, radiation oncologists, radiologists, oncology nurses, nutritionists, pharmacists, and social workers. This approach assists patients through the various stages of their care, with emphasis on excellent communication, patient safety, and the highest in quality outcomes.
In addition to pioneering many of the techniques used in minimally invasive surgery, our surgeons participate in the Emory Endosurgery Fellowship, one of the nation's premier training programs for laparoscopic GI surgery, and have been designated a Center of Excellence for robotic colon and rectal surgery. Minimally invasive surgery for colon and rectal diseases offers many patients shorter hospital stays, smaller incisions, decreased post-operative pain, and earlier return to work.
General surgery residents rotate on the colorectal surgery services at Emory University Hospital, Emory University Hospital Midtown, and Emory Saint Joseph's Hospital, assisting the Emory colorectal surgery faculty in the operating room and during patient rounds. Residents also assist in patient consultations and examinations at The Emory Clinic and Winship Cancer Institute.
Emory Division of Colorectal Surgery Mission Statement:
To provide high quality service and care with a multidisciplinary and personalized approach.  
To have an impact on the future of medicine through education and innovation.
To provide excellent care by functioning as a team with unity and common purpose. We have balance between our professional and personal lives.