Surgical Oncology Research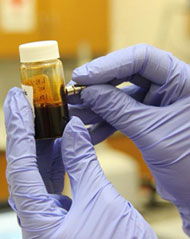 Under the banner of the Winship Cancer Institute of Emory University, Georgia's first and only National Cancer Institute-designated comprehensive cancer center, the Department of Surgery's surgical oncology faculty engage in basic science and clinical research studies of cancer prevention and experimental treatments, molecular therapy, immunology, and genetics. Winship's multidisciplinary composition offers our investigators numerous opportunities for collaborative studies and large team science research endeavors.
Winship has been a Lead Academic Participating Site (LAPS) for the National Cancer Institute's (NCI) National Clinical Trials Network (NCTN) since 2014. The NCTN serves as the NCI's primary infrastructure to conduct phase II and III cancer clinical trials. Winship is the only LAPS site in the state of Georgia. Charles Staley, MD, chief of the Division of Surgical Oncology (see below), is co-prinicpal investigator of the Winship branch of the NCTN.
The discoveries initiated in our laboratories often result in clinical trials that are conducted under the auspices of Winship. Successful trials are easily translated to our clinical work, giving patients quick access to new therapies and the opportunity to participate in unique clinical trials. Our faculty scientists have received funding from the American Cancer Society, NIH, Avon Foundation, Georgia Cancer Coalition, Bill and Melinda Gates Foundation, Movember Foundation, and other federal, institutional, and private sources.
---
Investigators
Dr. Arciero serves as Winship Cancer Institute's principal investigator in the Oncology Research Information Exchange Network (ORIEN), the world's largest cancer research collaboration for big data. ORIEN's extensive database allows scientists to analyze and share findings in the development of precision medicine. Along with 14 other top cancer centers around the country, Winship is contributing donated tissue and clinical data for research from consented patients. The research will help investigators better understand cancer at the molecular level, with the goal of developing more targeted cancer treatments.

Dr. Balch, the chief of the Division of Colorectal Surgery, has research interests in refining and developing minimally invasive surgical techniques, robotic surgery, hyperthermic intraperitoneal chemoperfusion (HIPEC), and the use of biomarker analysis for patient selection and individualized treatment.

Dr. Balch was an early advocate of maintaining accurate outcomes data for HIPEC, and has been heavily involved with surgical robotics since supervising the surgical oncology robotics program at the University of Texas Southwestern Medical Center for seven years.

Dr. Cardona undertakes clinical and translational investigations and outcome analyses in gastric and hepatopancreatobiliary tumors, including predictors of outcome and predictors of tumor resectability, as well as studies considering aspects of chemoradiation and radiation.

Dr. Cardona developed the Emory Winship Sarcoma Center in collaboration with Emory orthopaedic oncologists, medical oncologists, radiation oncologists, and interventional radiologists, and spearheaded the creation of an institutional sarcoma database. He is also establishing a multi-institutional sarcoma collaborative with other academic institutions across the country, with Emory being the lead institution.

Dr. Delman's research interests include clinical and translational research involving tumors of the skin and soft tissue, with a particular focus on reducing morbidity and unnecessary surgery in patients with melanoma.

Dr. Delman was the PI of a study of immune phenotype and functionality with correlation to survival in patients with malignant melanoma. He was also the PI of the development of the 1.0 and 1.7 versions of the "Surgical Anatomy of the Liver" app, released by the Carlos and Davis Center for Surgical Anatomy and Technique at Emory (CSAT). Dr. Delman is the director of CSAT.

Dr. Gillespie's background includes 14 years of developing and leading the clinical trials programs at Winship Cancer Institute while conducting prospective therapeutic and cancer control studies. She also directed health services research at the Atlanta VA Medical Center for 10 years, where she built and oversaw a program targeting chronic conditions including cancer, and investigated key outcomes including mortality, morbidity, and costs.

Her research has primarily focused on breast, prostate, lung, and gastrointestinal malignancies, and involved such cross-cutting themes as decision-making and risk communications in cancer, barriers to clinical trials, health disparities, and provider adherence to practice guidelines and measuring quality of care. She is a leader in health services research and examines cancer outcomes using large national, regional, and state databases.

Dr. Kooby focuses on multi-center, collaborative clinical outcomes investigations pertaining to gastrointestinal malignancies. He co-founded an active multi-institutional consortium for studying pancreatic tumors and pancreatic surgery, with Emory taking the lead on several high-impact studies.

He also collaborates across Emory schools to analyze data from the National Cancer Data Base, and is a member of the Discovery and Developmental Therapeutics research program at Winship Cancer Institute, which aims to facilitate molecular target-based cancer drug discovery, biomedical technology, and clinical trials for therapeutic development.

Dr. Lowe's primary research interests involve clinical and basic science aspects of treating melanoma.

In 2018, Dr. Lowe received the Society of Surgical Oncology's (SSO) Young Investigator Award for his study, "Evaluation of FcyRIIB as a Novel T cell Inhibitor in Cutaneous Melanoma." The study is concerned with investigating new pathways to enhance the immune system's response to melanoma, and is focused on defining the role of the Fc receptor FcyRIIB in promoting exhaustion in T cell responses to tumor growth, and examining the benefits of blocking FcyRIIB's ability to alter T cell responses.

Dr. Maithel leads the translational research program in the Division of Surgical Oncology, which works to identify tumor specific molecular biomarkers as predictors of outcome and chemotherapeutic response for tumors of the liver, biliary tract, pancreas, and stomach (including colorectal liver metastases and pancreas cancer). He is also a member and leader of three multi-institutional research consortiums that study tumors of the liver, biliary tract, pancreas, and stomach.

Dr. Maithel uses the diverse learning opportunities provided by his highly active research program to train post-graduate research fellows in his lab.

Dr. Paul Olson joined the Department of Surgery after completing her colon and rectal surgery fellowship at the University of Chicago Medical Center. During her general surgery residency at the University of Wisconsin School of Medicine and Public Health, she did two 18-month fellowships, the first with mentor Richard Halberg, PhD, working on the characterization of a novel mouse model of colorectal cancer using small animal colonoscopy, and the second with mentor Margaret L. Schwarze, MD, MPP, studying issues associated with surgical decision making, conflict in the ICU, advance directives, and end-of-life care. Her current research interests are colorectal cancer in inflammatory bowel diseases, palliative surgery, end-of-life care, and surgical decision-making.

The objective of Dr. Paulos' research is to develop novel T cell-based therapies for patients with melanoma. Her laboratory seeks to identify mechanisms underlying protective immunity in solid tumors, with an emphasis on adoptive T cell transfer (ACT) therapy. By combining basic and translational understanding of human T cells in clinical studies with mechanistic studies in relevant mouse models and in investigator-initiated clinical trials in patients, her research team has contributed significant insight into the various roles of how to mount T cell memory responses to tumors.

Dr. Rizzo specializes in the management of melanoma, breast cancer, and soft tissue sarcoma. She has research interests in mechanisms to decrease disparities in breast cancer care among different ethnic groups, optimization of glucose management and diabetes care in surgical patients, and the identification of molecular markers that predict upgrade to cancer in breast papillary lesions.

Dr. Rosen has regularly introduced and established new procedures and technologies in his colorectal surgery practice, and works to advance robotic methods of colon and rectal surgery. He is also a member of the Cancer Prevention and Control Research Program of Winship Cancer Institute, which is dedicated to reducing cancer risk, incidence, morbidity, and mortality, and is striving to improve the quality of life of cancer patients and survivors in Georgia and beyond.

Dr. Shah is interested in outcomes research and clinical trials in treatment methods and procedures for hepatopancreatobiliary and foregut cancers, and refinement of methods to address complications that can arise from such treatments.

Dr. Staley's research interests encompass translational research and novel clinical trials in gastrointestinal cancers. He has investigated gene therapy for metastatic colon cancer, radiofrequency ablation with intra-arterial chemotherapy for patients with colorectal liver metastases, and neoadjuvant chemoradiation with the goal of maximizing sphincter preservation in the treatment of rectal cancer.

In the area of translational science, Dr. Staley and such colleagues as Dr. Lily Yang (see below) are exploring methods of using nanotechnology to diagnose and treat pancreatic and breast cancer.

For over three decades, Dr. Styblo has been active both locally and nationally in clinical and translational research. Of particular note are her research collaborations with the late Dr. John Bostwick in skin-sparing mastectomy with immediate breast reconstruction, with Emory radiologist Dr. Naomi Alazraki in clinical trials to establish sentinel lymph node biopsy as a standard of care for axillary staging, and with Emory plastic and reconstructive surgeon Dr. Albert Losken in the use of oncoplastic reduction to improve the outcome of patients having breast conserving therapy.

As the medical director of Emory's Enhanced Recovery After Surgery group (ERAS), Dr. Sullivan works to detect and address any institutional, operational, or cultural barriers to ERAS implementation. ERAS is a multimodal, multidisciplinary approach to surgical care that has been proven to decrease complications and improve patient value.

Dr. Sullivan is also striving to improve the outcomes and survival of colorectal cancer patients by investigating novel imaging techniques to improve the accuracy of clinical staging for rectal cancer, participating in trials that are evaluating the selective use of radiation in rectal cancer, and researching novel medications to determine if they improve response rates, local recurrence, and overall survival of rectal cancer patients. 

Dr. Yang is one of the most well-funded researchers in the Department of Surgery and holds multiple NIH grants. She specializes in the development of novel cancer nanotechnologies and imaging methods to address the major challenges in clinical oncology of early cancer detection, targeted drug delivery, overcoming drug resistance, assessment of therapeutic response using non-invasive imaging, and image-guided surgery. Visit the site for her Surgical Oncology Nanomedicine Research Lab for more details.

Dr. Zhu completed a postdoctoral fellowship at Winship Cancer Institute in 2018, based in Dr. Lily Yang's Nanomedicine Research Lab. Now a faculty member in the lab, his research is concentrating on highly translational projects related to pancreatic cancer and breast cancer theranostics with nanotechnology.