Division of Pediatric Surgery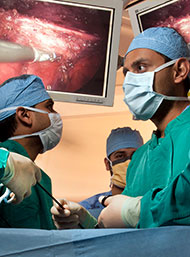 Faculty of the Emory Division of Pediatric Surgery perform general, thoracic, and minimally invasive surgical services at Children's Healthcare of Atlanta, which provides compassionate and advanced care to infants, children, and adolescents throughout Georgia and the southeast.
The surgical treatment our faculty surgeons provide includes newborn surgery, bariatric surgery, extracorporeal membrane oxygenation (ECMO), laparoscopic and thoracoscopic procedures, hernia surgery, trauma surgery, abdominal surgery, oncology surgery, pediatric surgical critical care, thoracic surgery, head and neck surgery, and certain urologic procedures.
Faculty research interests include gastroesophageal reflux, necrotizing enterocolitis, Hirschsprung's disease, advanced laparoscopic procedures in infants and children, pediatric oncology, bariatric procedures for adolescents, and pediatric critical care.
The division sponsors an ACGME approved two-year pediatric surgery residency that offers abundant operative experience, a robust didactic conference schedule, and consistent opportunities for participation in clinical research. One- and two-year track pediatric surgery clinical research fellowships are also available, which allow fellows to pursue multiple clinical projects involving surgical health services research.