Breast Oncology & Complex Surgical Oncology Fellowships
Breast Oncology Fellowship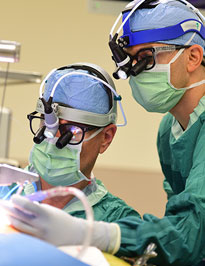 The Society of Surgical Oncology-approved, one-year Emory Breast Oncology Fellowship teachs evidence-based clinical care, encourages inquiry with a research-focused approach, develops leadership skills for future career opportunities and growth, and produces graduates that will become leaders in academic breast surgery and continue the international excellence that has distinguished the current program.
The program accepts two fellows per year, who train at Emory University Hospital, Winship Cancer Institute of Emory University, Grady Breast Health Center, and Emory University Hospital Midtown. This multi-facility system treats over 900 breast cancer patients annually and offers a wide-range of operative experience, including exposure to advanced oncoplastic and nipple sparing techniques. Weekly multi-disciplinary dedicated breast case conferences are conducted at all sites and provide a forum to discuss novel patient care approaches as well as identify patients for enrollment in clinical trials.
Upon the completion of training, fellows will have the skills necessary to apply an integrated interdisciplinary approach to the management of women with benign and malignant breast diseases in a comprehensive and compassionate manner.
Retired U.S. Army Colonel and associate professor of surgery Cletus Arciero, MD, directs the fellowship. Dr. Arciero's leadership skills and technical dexterity are influenced by his years of military service and tenure as program director of the general surgery residency at Dwight D. Eisenhower Army Medical Center in Fort Gordon, GA. He recently completed nine years as an American Cancer Society Commission on Cancer Liaison Physician.
Requirements, Application Process, & Training Verification

Applicants must have completed a general surgery residency and American Board of Surgery eligibility. Two fellows are selected per year and interviews are scheduled for the Fall preceding the match year.
Instructions, requirements, and application materials can be found in the breast oncology match instructions section of the Society of Surgical Oncology website.
For more information, including training verification inquiries, please contact Toni Marie Vincente, program coordinator.
Complex Surgical Oncology Fellowship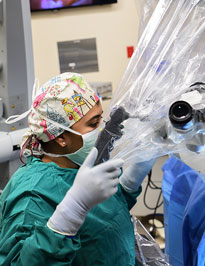 The two-year ACGME-accredited Complex General Surgical Oncology Fellowship is approved by the Society of Surgical Oncology. The fellowship emphasizes excellence in surgical training, intellectual curiosity in research, teamwork with oncologic care providers, and appreciation of the art and science of compassionate care of the cancer patient.
The fellowship will be accepting its inaugural class in the 2022 Match to begin fellowship in 2023, and will matriculate one fellow per year.
Fellows rote at Winship Cancer Institute, Emory University Hospital, Emory Saint Joseph's Hospital, and Emory University Hospital Midtown.
Maria Russell, MD, program director of the Complex Surgical Oncology Fellowship, specializes in complex gastrointestinal and hepatobiliary malignancies and is an expert in hyperthermic intraperitoneal chemoperfusion. Her research focuses on identifying and improving outcomes in vulnerable oncology patients.
Requirements, Application Process
Applications for fellowship positions will be accepted through ERAS, and Emory will participate in the NRMP match for Complex General Surgical Oncology.
The most up-to-date information on this program can be found on the official Emory Complex General Surgical Oncology Fellowship website.