Surgical Oncology Nanomedicine Research Lab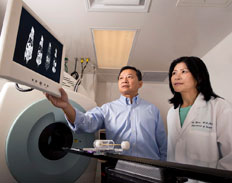 The translational cancer research of the Emory Surgical Oncology Nanomedicine Research Lab focuses on the development of novel cancer imaging and targeted therapeutic agents.
The lab is directed by Lily Yang, MD, PhD, Professor and Nancy Panoz Chair of Surgery in Cancer Research, Emory University School of Medicine, and a member of the Winship Cancer institute. Currently, Dr. Yang's various studies are entirely funded by the National Institutes of Health. Her research experiences include tumor immunology, cancer stem cells, cancer gene therapy, apoptosis resistance, molecular targeted cancer therapy, nanoparticle imaging probes, and theranostic nanoparticles for targeted cancer therapy and imaging.
In addition to her immediate lab staff, Dr. Yang works with numerous Emory faculty collaborators, including radiology and imaging scientist Dr. Hui Mao; surgical oncologists Dr. Charles Staley, Dr. David Kooby, and Dr. Toncred Styblo; medical oncologist Dr. Bassel El-Rayes; dermatologist Dr. Jack Arbiser; and pathologist Dr. Xiaoxian Li.
Primary Research Objectives
To develop a novel class of targeted theranostic nanoparticles that can break drug delivery barriers in tumor tissues for the achievement of image-guided treatment of drug resistant cancers, particularly breast, pancreatic, and ovarian cancers.
To create precision medicine protocols that combine novel multifunctional nanoparticles and new imaging methods for personalized oncology that will improve patients' responses to therapy and survival while reducing systemic toxicity.
To investigate the effect of targeted theranostic nanoparticles on the immune system while developing new immunotherapy approaches to stimulate tumor specific immune responses.
To conduct preclinical studies aimed at clinical translations of image-guided and targeted cancer therapy using the multifunctional nanoparticles developed in the laboratory.