Surgery at Grady Memorial Hospital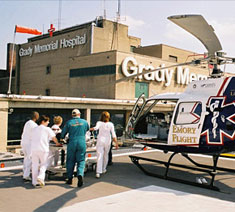 Since first opening in 1892, Grady Memorial Hospital has been committed to providing the best quality of care to all and serving the health needs of the most vulnerable. One of the largest public hospitals in the southeast and an internationally recognized teaching hospital, Grady's current annual service volume has grown to approximately 28,500 admissions and 566,175 outpatient services.
Emory's relationship with Grady began in the early 1900s, when the hospital's status as one of the main hubs of clinical teaching for the Emory University School of Medicine was established. That relationship evolved over time, and today, all doctors at Grady are either faculty or residents from Emory (approximately 80%) or Morehouse School of Medicine (20%).
Dr. Keith Delman is division chief of surgery at Grady Memorial Hospital, Department of Surgery, Emory University School of Medicine, and chief of surgery for Emory at Grady. Beginning with his tenure as program director of the General Surgery Residency from 2011-2020, Dr. Delman became very familiar with the Grady clinical-academic landscape as he provided clinical care at the hospital's general surgery clinic and supervised the residents during their Grady rotations — nearly half of Emory's general surgery residents rotate at the hospital each year.
While the Department of Surgery's long-standing programs at Grady are the Level I trauma center, surgical critical care service, and burn center, faculty of the Emory Department of Surgery are also developing and expanding surgical oncology, oral and maxillofacial surgery, vascular surgery, cardiothoracic, and plastic and reconstructive surgery services at the hospital.