Trauma/Surgical Critical Care at Grady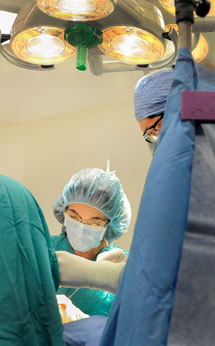 Clinical Overview
Faculty surgeons of the Emory Department of Surgery provide surgical services at the Level I Marcus Trauma Center and the surgical intensive care unit at Grady Memorial Hospital, and are dual boarded in both general surgery and surgical critical care.
As a Level I trauma center, the Marcus Center is capable of providing total care for every aspect of injury, from prevention through rehabilitation. Additional qualifications of Level I trauma centers include:
Twenty-four hour in-house coverage by general surgeons, and prompt availability of care in specialties such as orthopedic surgery, neurosurgery, anesthesiology, emergency medicine, radiology, internal medicine, plastic surgery, oral and maxillofacial, pediatric, and critical care.

Referral resource for communities in nearby regions.

Provides leadership in prevention and public education to surrounding communities.

Provides continuing education of the trauma team members.

Incorporates a comprehensive quality assessment program.

Operates an organized teaching and research effort to help direct new innovations in trauma care.

Has a program for substance abuse screening and patient intervention.

Meets the minimum requirement for annual volume of severely injured patients.
The Marcus Trauma Center has 15 beds including seven resuscitation bays and eight critical care rooms, each fully equipped with advanced medical technology and cardiac monitoring.
At Grady's SICU, our faculty perform such bedside procedures as bronchoscopy, esophagogastroduodenoscopy (EGD), feeding tube placement, tracheostomy, and open abdomen dressing changes.
For the most detailed and comprehensive clinical information on the center, please visit Grady's Marcus Trauma Center website.
Training
Grady is also an internationally recognized teaching hospital. In addition to supervising the Emory general surgery, emergency medicine, and oral surgery residents that rotate on the trauma service, Emory's Grady-based trauma surgeons manage a highly respected acute care surgery/surgical critical care fellowship. The program is available to board-eligible surgeons, and involves one year in an AAST-accredited acute care surgery fellowship, followed by another year in an ACGME-approved surgical critical care fellowship.