Transplant Health Services and Outcomes Research Program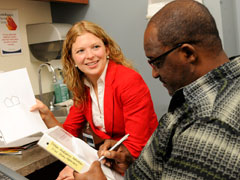 The Emory Transplant Health Services and Outcomes Research Program is dedicated to improving the quality of transplant care and treatment outcomes for all transplant patients. The organization works towards accomplishing this aim by using data and analyses acquired by multidisciplinary, collaborative teams of seasoned investigators from across the spectrum of medicine and public health.
Through documenting and comparing the pre- and post-transplant experiences of patients from various local, regional, and national groups and varying socioeconomic stratums, the program hopes to make optimized access to transplantation and dependable, positive outcomes uniform across the country. The program's observations and conclusions are intended to drive evidence-based quality improvement in health services and health outcomes so that the same high standards are available to all communities, and the value of care increases without costs being passed on to the patient.
Rachel Patzer, PhD, directs the program. Dr. Patzer is affiliated with the Departments of Surgery and Medicine, Rollins School of Public Health, and the Emory Transplant Center. Dr. Patzer is also director of the Emory Health Services Research Center, a joint initiative between the Departments of Medicine and Surgery. She has specific research interests in disparities in social determinants of health, community-based participatory research, predictive analytics, health care quality, medication adherence and self-management, mobile health technology, patient education, and healthcare resource utilization.