Plastic and Reconstructive Surgery Research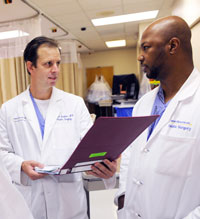 The Emory Division of Plastic and Reconstructive Surgery has an influential history of committed research in the field. The development of musculocutaneous flaps by Dr. Foad Nahai and other Emory plastic surgeons in the 1970s became the foundation for techniques that are now the standard for reconstructive breast surgery.
The late Dr. John Bostwick continued to pioneer the use of tissue from the patient's own body for breast reconstruction in the late 1980s, followed by Dr. Grant Carlson's refinement of skin sparing mastectomy in the 1990s.
In the mid-2000s, Dr. Albert Losken, Emory surgical onologist Dr. Toncred Styblo, and other multidisciplinary teams did much of the pioneering work that established the combination of breast cancer surgery and reconstructive surgery now known as oncoplastic breast conserving therapy. The division's robust tradition of progress and advancement in plastic surgery's technology and treatment has continued into the 21st century.
---
Investigators
Heather R. Faulkner, MD, MPH
Director of Clinical Research, Emory Plastic Surgery

Dr. Faulkner joined the Division of Plastic Surgery in 2021 as our director of clinical research. She came to Emory from serving as director of quality and safety for the Division of Plastic Surgery at Massachusetts General Hospital, chief of plastic surgery at Mass General Brigham Salem Hospital, and being a faculty member of Harvard Medical School. Her research interests include clinical outcomes, quality improvement, and health services research in plastic and reconstructive surgery.

Dr. Carlson is the chief of the Division of Plastic Surgery. His primary research has focused on improving outcomes of breast reconstruction for patients with breast cancer, typified by his studies and efforts to refine skin sparing mastectomy throughout the the early years of the procedure in the 1990s and early 2000s. He has also published studies of oncoplastic surgery of the breast, prognostic factors in malignant melanoma, and outcome analyses of breast reconstruction. His current research includes studies of infection in implant-based breast reconstruction and sensation after nipple sparing mastectomy.

In addition to his early work in oncoplastic breast conserving therapy, Dr. Losken's primary research interests are refinement of reconstructive and cosmetic breast surgery and body contouring following weight loss. His recent studies have examined contamination in smooth gel implant placement and methods of minimizing capsular contracture in breast reconstruction. He also hopes to identify and develop more effective educational tools for plastic surgery such as online modules, interactive text, and video formats.

Dr. Thompson's unique background includes completion of a two-year research fellowship in transplant immunology, which yielded several awards for his work dealing with pancreatic islet transplantation as a treatment for diabetes. His current research interests include breast cancer reconstruction outcomes and quality improvement in plastic surgery.