Traditional Three-Year Residency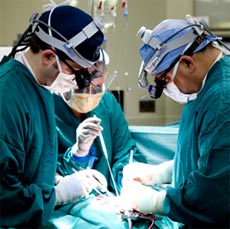 Accredited by the ACGME, the three-year cardiothoracic surgery residency of the Emory University School of Medicine emphasizes preoperative and postoperative care of the cardiac and thoracic surgical patient and training in the management of congenital, acquired, traumatic, and neoplastic diseases of the thorax. Applicants must have successfully completed an approved residency in general surgery and be certified or eligible for board certification in general surgery.
Residents rotate through five hospitals and encounter approximately 2,900 adult cardiac cases, 900 thoracic cases, and 800 congenital heart cases per year and become familiar with all aspects of cardiothoracic surgery. When they complete the program, residents typically have performed approximately 700 cases as surgeon or first assistant.
Emory's three-year CT surgery residency uniquely features four months of elective time during the third year. Residents may use this time to explore a specific area of interest or subspecialty within cardiothoracic surgery. Past residents have investigated transcatheter aortic valve replacement (TAVR), thoracic endovascular aortic stent repair (TEVAR), heart failure/ventricular assist devices, robotic thoracic surgery, pediatric/congenital cardiac surgery, and advanced endoscopy. Residents are also able to rotate at other approved institutions outside of Emory University, including international sites.
Residents will match into either a cardiac or thoracic surgery track, which allows them to gain extra experience and exposure while still rotating through the entire Emory Cardiothoracic Surgery Program. Each track features three four-month blocks at various sites within the Emory system.
Cardiac Surgery Track
PGY 6 (traditional)
PGY 4 (integrated)

Congenital Cardiac Surgery (Children's Healthcare of Atlanta)

Adult Cardiac Surgery (Emory St. Joseph's Hospital)

General Thoracic Surgery (Emory University Hospital)

PGY 7 (traditional)
PGY 5 (integrated)

Adult Cardiac Surgery (Emory St. Joseph's Hospital)

Cardiothoracic Surgery (Atlanta Veterans Affairs Medical Center)

Adult Cardiac Surgery (Emory University Hospital Midtown)

PGY 8 (traditional)
PGY 6 (integrated)

Adult Cardiac Surgery and Heart Failure/VAD (Emory University Hospital)

Away and Home Electives

Adult Cardiac Surgery (Emory St. Joseph's Hospital)
General Thoracic Surgery Track
For the general thoracic surgery track, residents spend approximately 20 months on the general thoracic service, 12 months on the cardiac service, and four months on elective. Since Emory has one of the busiest thoracic surgery divisions in the Southeast, residents are exposed to a wide range of surgeries at three sites with both general thoracic and cardiac faculty attendings. Focused didactics and simulation foster early resident surgeon performance.
At the end of three years, all residents will have typically performed over 800 total operative cases as the primary surgeon and should be board eligible. The cases will include approximately 80 VATS anatomic resections, 30 esophagectomies, 80 coronary revascularizations, 40 valve repairs/replacements, 30 laparoscopic upper GI surgeries, and 20 lung transplants.
Emory's general thoracic group is one of the most academically productive in the country, and trainees are often involved in the faculty's academic pursuits. Scholastic activities include prospective and retrospective clinical studies; outcomes research involving such national databases as SEER, Medicare, NCDB, and the STS database; national presentations; book chapters; and invited reviews. The sheer density of projects allows each resident to meet the expectation of completing at least one scholarly activity per year, though most residents complete several.
PGY 6 (traditional)
PGY 4 (integrated)

Thoracic Surgery (Emory University Hospital Midtown)

Adult Cardiac Surgery (Emory St. Joseph's Hospital)

Thoracic Surgery (Emory University Hospital)

PGY 7 (traditional)
PGY 5 (integrated)

Cardiothoracic Surgery (Atlanta VA Medical Center)

Thoracic Surgery (Emory University Hospital)

Adult Cardiac Surgery (Emory University Hospital Midtown)

PGY 8 (traditional)
PGY 6 (integrated)

Thoracic Surgery (Emory University Hospital)

Thoracic Surgery (Emory University Hospital Midtown)

Away and Home Electives