Faculty Spotlights
Guillermo A. Escobar, MD

Dr. Escobar joined Emory's faculty as program director for the Vascular Surgery Fellowship in 2017. Shortly after his arrival he helped start the Integrated Vascular Residency, and initiated the Early Specialization Program in 2020.
His clinical and academic specialities are modern approaches for vascular disease, including complex aortic, carotid, vertebral, and mesenteric artery diseases. He is also an expert in popliteal entrapment, mycotic aneurysms, and complex dialysis access.
Dr. Escobar's faculty profile >>
---
Juvonda S. Hodge, MD

Dr. Hodge works with Dr. Walter Ingram, long-time director of the burn center at Grady Memorial Hospital, as the center's assistant medical director. She also directs Grady's Burn Fellowship.
Prior to coming to Emory in 2014, she served on the faculty of the College of Allied Health Professions of the University of South Alabama and was associate director of the burn unit at the University of South Alabama Medical Center.
Trainee Spotlights
Blog augments resident learning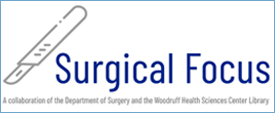 The Surgical Focus blog features evidence-based information related to the Department of Surgery's M&M conferences, including topics of discussion and debate, links to relevant studies, and additional readings.
---
Jerome Anyalebechi and David Swift receive Shock Society Awards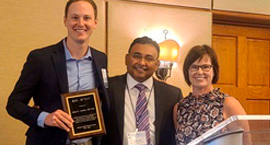 Jerome Anyalebechi, MD, has received a Shock Society Diversity Enhancement Award, and David Swift, MD, a Shock Society Travel Award. Both are general surgery residents on research sabbatical under the mentorship of sepsis and shock investigator Craig Coopersmith, MD, and transplant immunology researcher Mandy Ford, PhD.