Top Surgery News
Randi Smith appointed Vice Chair of Diversity, Equity and Inclusion for the Department of Surgery

Randi N. Smith, MD, MPH, has been appointed the inaugural Vice Chair of Diversity, Equity and Inclusion for the Department of Surgery, and will provide vision and leadership as the department enacts a national model for advancing multiplicity, egalitarianism, and a welcoming culture in the field of surgery. Her special interests include violence prevention, global surgery, and understanding the social determinants of health that lead to trauma and clinical disparities.
---
Also in the News:
Chrystal Paulos leads studies of immunotherapy treatment for head and neck cancer patients
Rachel Patzer co-leads Atlanta hub of nationwide initiative to study long COVID-19
Christian Larsen receives AMA's Scientific Achievement Award
Ravi Rajani named Assistant Dean for Education, Emory at Grady
Brad Leshnower will apply NIH/NHLBI grant to develop predictive model for UTABD treatment strategy
Faculty Spotlights
Olamide Alabi, MD

Dr. Alabi, an assistant professor of surgery in the Division of Vascular Surgery, has a growing portfolio of extramural funding focused on peripheral artery disease (PAD), quality, and health equity.
Her recent grants include a VA Administration DEI Research Supplement award, with which she is examining access to care among veterans with PAD, investigating care variations that lead to potentially preventable lower extremity amputation, and devising innovative solutions to improve the quality of care provided to veterans with PAD.
Dr. Alabi's faculty profile >>
---
Craig Coopersmith, MD

Dr. Coopersmith is one of the top investigators of sepsis and shock in the country. He has multiple NIH grants, including a T32 training grant and collaborative studies with transplant immunologist Dr. Mandy Ford that are investigating aspects of the immunological host response in sepsis.
He served as president of the Society of Critical Care Medicine from 2015-2016, is a member of the prestigious American Society for Clinical Investigation, and is a Master of Critical Care Medicine of the American College of Critical Care Medicine.
Trainee Spotlights
Jessica Keilson and Caroline Medin receive 2022 ASCO Merit Awards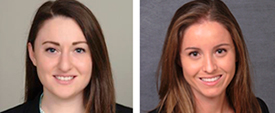 General surgery residents Jessica Keilson, MD, and Caroline Medin, MD, received Conquer Cancer Merit Awards from the Conquer Cancer Foundation of the American Society of Clinical Oncology for the 2022 Gastrointestinal Cancers Symposium, and will present their high-quality abstracts at the annual event.
---
Owen Brown delivers top-rated abstract at ASPS Annual Meeting

Plastic surgery resident Owen Brown, MD, was granted a live podium presentation for his top rated abstract, "A standardized perioperative protocol reduces breast reconstruction implant infections," at the 90th Annual Meeting of the American Society of Plastic Surgeons (ASPS) held this year in Atlanta. The abstract was also published in the October edition of Plastic and Reconstructive Surgery – Global Open.