Faculty Spotlights
Rona L. Norelius, MD

Before becoming a clinical faculty member at Emory in 2016, Dr. Norelius served as medical director of pediatric surgical services at Children's Hospital Colorado from 2012-2015, and medical director of pediatric surgical services at Providence Alaska Medical Center from 2015-2016.
Her organizational memberships include serving on the Pediatric Surgery Council of the Pan African Academy of Christian Surgeons.
Dr. Norelius' primary clinical specialties are pediatric and thoracic surgery; branchial clefts; inguinal hernias; undescended testicles; pediatric cancer; and chest wall deformities, chest masses, and neonatal congenital deformities.
Dr. Norelius' Faculty Profile >>
---
Sorin V. Pusca, MD

Dr. Pusca provides cardiothoracic surgery services at St. Francis Hospital/Emory Healthcare in Columbus, GA, together with Emory cardiothoracic surgeon Dr. Jakob Davtyan.
Dr. Pusca's postgraduate training includes a cardiothoracic surgery residency at Milton S. Hershey Medical Center, Hershey, PA, and a cardiothoracic surgery fellowship at Emory University/Children's Healthcare of Atlanta.
Throughout his Emory-associated training and early career, nationally recognized Emory CT surgeon Robert Guyton, MD, was Dr. Pusca's mentor.
Top Surgery News
Three Emory faculty involved in shaping federal COVID-19 treatment guidelines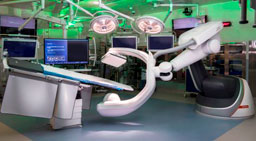 Craig Coopersmith, Greg Martin, and Jeff Lennox were among 29 national experts that contributed to establishing the National Institutes of Health's recently released Coronavirus Disease 2019 (COVID-19) Treatment Guidelines.
---
Also in the News:
Randi Smith, Jason Sciarretta, and Amy Zeidan USA Today op-ed asserts that violent trauma will rise during coronavirus disruption
Emory expands critical care services for COVID patients
Message from Emory Surgery Chair John Sweeney: Keep doing what you're doing
Emory helps build free online tool to assess COVID-19 risk
Rachel Patzer's familial isolation tweet receives national attention (USA Today story, NPR interview)
Juvonda Hodge, Walt Ingram and Grady Burn Center's role in patient Jalen Richardson's long, difficult, and ultimately inspiring recovery featured in immersive story
Matthew Clifton appointed new chief of Division of Pediatric Surgery
Trainee Spotlights

A 2020 American Society of Transplant Surgeons-Veloxis Fellowship in Transplantation Grant will fund the research Steven Kim, MD, will conduct during his upcoming abdominal organ transplant surgery fellowship at the University of Wisconsin, as he seeks to gain a more thorough understanding of the mechanisms of a novel protocol for achieving tolerance induction in a non-human primate renal transplant model.
---

Constance Shreckengost, MD, PhD, is the 2019 recipient of the GO-TRAVEL Award (Global Outreach Traveling Resident Award to Visit, Experience and Learn), which will assist in funding her participation in the Emory Trauma and Surgical Initiative in Bolivia beginning in July. GO-TRAVEL Awards from the Emory SOM Alumni Board support resident education provided by unique international training experiences.
---

Aileen Johnson, MD, has received the American Society of Transplant Surgeons Foundation 2020 ASTS-Natera Jon Fryer Resident Scientist Scholarship for her proposal "The metagenomic landscape of pancreas transplant febrile syndrome," a study she will conduct during the first year of her research sabbatical in the laboratory of eminent Emory transplant surgeon-immunologist Christian Larsen, MD, DPhil.