Faculty Spotlights
Mandy L. Ford, PhD

Dr. Ford is the scientific director of the Emory Transplant Center, and a leading researcher in the study of the cellular mechanisms of T cell responses in transplantation and immunosuppression. Her work is funded by various federal, foundation, and industry grants. Dr. Ford was a vital member of the Emory research team led by Dr. Christian Larsen and Dr. Thomas Pearson that helped develop belatacept as a successful new class of immunosuppressant for kidney transplant recipients.
---
Bryan C. Morse, MS, MD

Dr. Morse is clinically based at the Level I trauma center at Grady Memorial Hospital, and is also the director of trauma research at Grady. Among his various pursuits was spearheading the introduction of Grady's Resuscitative Endovascular Balloon Occlusion of the Aorta Program, with the hospital becoming the first facility in Georgia where the cutting-edge trauma procedure was performed. In 2017, Dr. Morse received the Emory Hidden Gem Award for his outstanding contributions to Emory and beyond.
Top Surgery News
Emory Surgery Places 7th in NIH Funding Rankings for 2017

According to ranking tables of annual NIH funding posted by the Blue Ridge Institute for Medical Research, the Emory Department of Surgery attained the 7th position in funding for all departments of surgery nationwide in 2017, rising from the 9th position it held for the prior two years. The 2017 ranking is based on a total of $10,979,725 million in awards (direct plus indirect costs are included, R & D contracts are not), and underscores the diversity, utility, and commitment to improving surgical care shared by the department's basic science, clinical, and translational research programs.
---
Also in the News:
Survery Defines Most Common Myths That Impact Organ Donation
Muralidhar Padala Honored with Levy Research Award
I. Raul Badell Receives 2018 ASTS Vanguard Prize
Kim Baio Moves Emory Surgery Clinical Trials from A-to-Z
Hakob Davtyan-Directed St. Francis Hospital Cardiac Services Program Celebrates One-Year Anniversary
Trainee Spotlights
MS3 Kathleen Doyle Receives STS Med Student Scholarship

Third year Emory medical student Kathleen Doyle (photo, right) was awarded a competitive Looking to the Future Medical Student Scholarship by the Society of Thoracic Surgeons (STS), which underwrote her expenses to attend the STS 54th Annual Meeting, January 27-31, 2018, in Fort Lauderdale. Under the mentorship of Allan Pickens, MD (photo, left), and other Emory CT surgeons, Ms. Doyle rotated on the thoracic surgery service, and Dr. Pickens sponsored Ms. Doyle's scholarship application.
---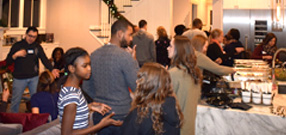 7th Annual Emory Surgery Diversity Dinner

On Jan. 6, 2018, this yearly celebration of cultural and ethnic multiplicity provided a casual atmosphere for mentoring relationships to begin between medical students, residents, and attending faculty.