Top Surgery News
Maggie Diller receives first Department of Surgery Pilot Research Award

Maggie Diller, MD, has been selected as the first recipient of the Department of Surgery Pilot Research Award. The award was established to support faculty as they develop a new line of research to further their academic careers, with the ultimate goal of generating preliminary data to support future grant proposals.
Dr. Diller's study will investigate the feasibility of a novel, digital mindfulness intervention for pain control following oncologic surgery. Artificial intelligence technology will be used to deliver the intervention and patient assessments while also collecting and storing patient-reported outcomes via interactive text messaging.
---
Also in the News:
Robotic surgery debuts at the Atlanta VA Healthcare System
Craig Coopersmith named a finalist for 2021 Health Care Heroes award
Nader Massarweh named new Chief of Surgery at the Atlanta VA
HSR Center's Katie Ross-Driscoll and Megan Urbanski receive Georgia CTSA grants
New robot at Emory Saint Joseph's Hospital to help diagnose and treat lung cancers earlier
Randi Smith and Deepika Koganti partner on two trauma-related grants
Faculty Spotlights
Amalia A. Jonsson, MD

Dr. Jonsson is an adult cardiac surgeon that specializes in coronary and valvular heart disease with an emphasis on robotically assisted mitral valve and coronary artery bypass procedures. Her primary practice location is Emory Saint Joseph's Hospital.
She received her medical degree from the University of Utah and completed the integrated general surgery/cardiothoracic surgery residency program at Emory University. She was the administrative chief during the final year of her residency.
Dr. Jonsson's faculty profile >>
---
Anuj Mahajan, MD

Prior to joining our faculty in 2019, Dr. Mahajan was a vascular and endovascular surgeon at the North Atlanta Vascular Clinic and Vein Center. His special interests include endovascular treatment of aortic aneurysms and alternate dialysis access for early cannulation.
He received his MD from the Medical College of Georgia in 2009. His general surgery residency was completed at Baylor University Medical Center in 2014, followed by his vascular surgery fellowship at the University of Southern California in 2016. He has also earned certification in interpreting vascular ultrasound (RVPI).
Trainee Spotlights
Caroline Medin and Jessica Keilson receive prestigious support for their research sabbaticals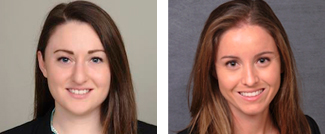 General surgery residents Caroline Medin, MD, and Jessica Keilson, MD, have received awards that will assist in funding their respective sabbaticals involving cancer research. Dr. Medin has been accepted into the Georgia Clinical & Translational Science Alliance (Georgia CTSA) TL1 Program, and Dr. Keilson was awarded the Chester P. Rochfort Scholarship of Winship Cancer Institute.
---
Surgical Evidence Blog augments resident learning

Emory Surgery and the Woodruff Health Sciences Center Library created the Surgical Focus blog as a resource for additional evidence-based information related to topics or questions raised in the department's M&M conferences. The blog features each week's top topics of discussion and debate, paired with links to relevant studies, on-site summaries of those studies, and links to additional readings.