Faculty Spotlights
Edward Lin, DO, MBA

Dr. Lin is the chief of the Division of General and GI Surgery and surgical director of the Emory Bariatric Center. His surgical expertise has taken him to operating rooms in South America and the Middle East.
Dr. Lin travels academically teaching laparoscopic and endoscopy techniques, is involved in ongoing studies of the role of gut hormones in appetite control and diabetes, has pioneered single incision laparoscopic techniques for colon and solid organ surgery, and is a leader in operations management related to surgical practice and delivery of patient care.
---
Sheryl G.A. Gabram, MD, MBA

Highly acclaimed for her work as a surgical oncologist, Dr. Gabram holds leadership roles at Winship Cancer Institute and is surgeon-in-chief at Grady Memorial Hospital. She has been recognized by Castle Connolly, Atlanta Magazine, and Women's Health publications as a top doctor, and is considered an expert in the surgical treatment of breast cancer and management of patients at high risk for breast cancer.
As principal investigator of Winship's AVON Foundation Grant, she is working to decrease disparities in breast cancer treatment through community education outreach and by providing access to high quality care for all breast cancer patients in the Grady Health System.
Top Surgery News
Emory Haiti Alliance 2018 Surgical Trip: Converge, Adapt, Advance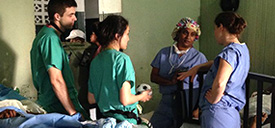 The Emory Haiti Alliance recently completed its 11th surgical trip to Haiti's Central Plateau, the most medically underserved area in the country, and worked alongside their Haitian colleagues at the Hôpital Bienfaisance in Pignon for the second year in a row.
---
Also in the News:
Watch Douglas Murphy Discuss Robotic Heart Surgery on Ivanhoe Broadcast News
Muralidhar Padala, Jaydev Desai, and Baowei Fei Receive Multi-PI Grant to Develop Intravascular Robotic System
Emory Cares for ICU Patients Remotely, Turning 'Night Into Day' From Australia
Ravi Rajani an Honoree and Presenter at CX Symposium
Rachel Patzer Named Director of Emory Health Services Research Center
Stephanie Drew First Woman President of ACOMS
Global Health Fellowship Will Support Erica Ludi's Work to Improve Trauma Response in Bolivia
Bradley Leshnower and Wei Sun Named Co-Investigators of CTSA Pilot Grant
Trainee Spotlights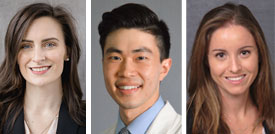 The 2018 graduating chiefs with Dr. John Sweeney (1st from left, back row), Dr. Keith Delman (2nd, middle row), Dr. Ravi Rajani (4th, middle row), and Dr. Jahnavi Srinivasan (5th, 1st row).
See the graduating chiefs new affiliations here >>
---

Xiaoying Lou, MD, will use a Georgia CTSA TL-1 Award to begin determining the optimal timing of surgical intervention for uncomplicated, or chronic, type B aortic dissection (TBAD) by examining differences between acute and chronic aortic dissection flaps.
---

Steven Kim, MD, who is doing immunology research in the lab of transplant surgeon-scientist Andrew Adams, MD, PhD, received the American Journal of Transplantation's award for Best Translational Science Article at the 2018 American Transplant Congress.