Faculty Spotlights
Randi N. Smith, MD, MPH

Dr. Smith became a faculty member after completing her fellowship in trauma and surgical critical care surgery at the University of Pennsylvania. She serves as a trauma surgeon, emergency/elective general surgeon, and surgical critical care intensivist at Grady Memorial Hospital. Her special interests include violence prevention, injury prevention, clinical outcomes, and the use of ultrasound in critical care.
Dr. Smith works with the Violence Prevention Task Force, based out of the Injury Prevention Research Center at Emory (IPRCE), and is a core member of the Program to Interrupt Violence through Outreach and Treatment (PIVOT) at Grady.
Dr. Smith's Faculty Profile >>
---
Ankit Patel, MD

Beginning with the pursuit of his BS in chemistry, Emory has been Dr. Patel's academic base.
He received his robotic surgery training and certification as an Emory endosurgery fellow prior to joining our faculty in 2013. Since then, he has been instrumental to building the robotic education and training curriculum for general surgery residents. Dr. Patel has also enacted measures that lowered costs during robotic surgery at Emory University Hospital.
He has served as co-director of robotic education for SAGES and was the chief editor of the 2017 edition of The SAGES Manual of Robotic Surgery.
Top Surgery News
Kendra Grubb and Structural Heart Center Associates Perform Live Cases for TVT 2019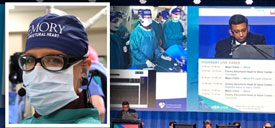 The Emory Structural Heart and Valve Center was one of only six stateside centers to perform live case demonstrations for the 12th Annual TVT (transcatheter valve therapy) Structural Heart Summit in Chicago. The surgical team included Kendra Grubb, MD, surgical director of the center.
---
Also in the News:
Rachel Patzer is Senior Author of Study That Finds Kidney Dialysis Profit Status May Influence Timeline for Receiving Transplant
Seth Force Named Mansour Professor
Joe Sharma Appointed to McGarity Chair
Muralidhar Padala Selected for 2019 Innovation for Impact Award
Sheryl Gabram-Mendola Receives Inaugural Appointment to Academic Chair
Thirty Emory Surgery Faculty Named to Atlanta Magazine's 2019 Top Doctors
Georgia Health News Feature on Carla Haack's Relief Trips to Puerto Rico, Including a 2019 Trip with Emory Haiti Alliance Members
Theresa Gillespie Named a Fellow of the American Academy of Nursing
Raymond Lynch Takes First Steps Towards Building National Liver Disease Patient Registry
Trainee Spotlights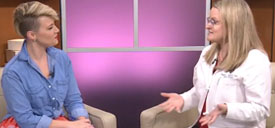 Rachel Medbery, MD, who graduated from the Emory general surgery residency in 2016 and completed her three-year Emory thoracic surgery fellowship in 2019, has joined Cardiothoracic and Vascular Surgeons in Central Texas, and was featured on KXAN News Studio 512 as the first female thoracic surgeon in the region.
---

The Surgical Focus Evidence Blog provides auxiliary sources for the top topics of discussion and debate at Emory Surgery's weekly surgical morbidity and mortality conferences.
---

General surgery residents Adriana Gamboa, MD (in photo coaching a student in how to apply a tourniquet), Brendan Lovasik, MD, and David Faber, MD, led "Stop the Bleed" sessions for high school students enrolled in Emory's National Health Careers Opportunity Program.