Faculty Spotlights
Manu S. Sancheti, MD

As chief of general thoracic surgery at Emory Saint Joseph's Hospital, Dr. Sancheti is part of a physician team that provides a full range of thoracic procedures, including the most current minimally invasive approaches such as video-assisted thoracic surgery (VATS) and robotic lobectomy. He is also a member of the Cancer Prevention and Control Research Program at Winship Cancer Institute, and has led and participated in several studies of patient outcomes following lung cancer surgery.
Dr. Sancheti's faculty profile >>
---
Preeti D. Subhedar, MD

Dr. Subhedar is a breast surgical oncologist based at Grady Memorial Hospital. Her primary research area is investigating healthcare disparities in breast cancer treatment. In 2018, Dr. Subhedar and Dr. Mylin Torres, director of the Glenn Family Breast Center of Winship Cancer Institute, received a research award from the National Comprehensive Cancer Network and Pfizer Global Medical Grants for an effort to increase treatment adherence in African American breast cancer patients at Grady and Winship Cancer Institute cancer sites.
Top Surgery News
Felmont Eaves' Start-up Receives Annual OTT Award

Emory University's Office of Technology Transfer has selected EMRGE, LLC, founded by Felmont Eaves, III, MD, to receive the 2018 Start-up of the Year Award at its annual celebration of Emory's faculty entrepreneurs and their groundbreaking projects. EMRGE, LLC, is a medical device company that is developing simple, cost-effective solutions for wound care, wound closure, and scar treatment. Dr. Eaves plans for EMRGE to begin marketing products by the end of 2018.
---
Also in the News:
Winship Clinicians Receive Grant to Improve Patient and Provider Adherence to Breast Cancer Treatments
Emory CT Surgeons Lead Worldwide Training in Cardiac Robotics
Survey Defines Most Common Myths That Impact Organ Donation
Emory's First HIV-Positive Liver Transplant From HIV-Positive Deceased Donor a Success
Emory Surgery Places 7th in NIH Funding Rankings for 2017
Trainee Spotlights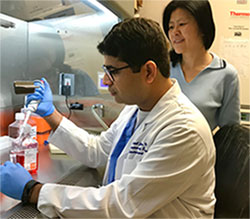 Raheel Jajja, MD, a PGY-3 resident on research sabbatical in the laboratory of Lily Yang, MD, PhD, has received the 2018 Research Fellowship Grant of Americas Hepato-Pancreato-Biliary Association. The award will fund a study Dr. Jajja is conducting with Dr. Yang of the use of receptor-targeted imaging probes in detecting colon cancer liver metastases in preclinical models. Dr. Yang directs Emory's Surgical Oncology Nanomedicine Research Lab.
---
Receiving the Steve Sotsky Pancreatic Cancer Research Gift allowed general surgery resident Alexandra Lopez-Aguiar, MD, to attend the 2018 Annual Meeting of Americas Hepato-Pancreato-Biliary Association and present her abstract, which worked towards resolving the controversy over the choice between resection or survelliance of <2cm pancreatic neuroendocrine tumors.