Faculty Spotlights
Toncred M. Styblo, MD

Dr. Styblo specializes in the treatment of breast cancer, and has been an Emory Surgery faculty member since 1988. She chairs the Emory Integrated Cancer Network of Winship Cancer Institute, which links cancer treatment programs at Emory University Hospital, Emory University Hospital Midtown, Emory Saint Joseph's Hospital, and Emory Johns Creek Hospital. She also co-directs Winship's High Risk Assessment Clinic.
Dr. Styblo has been active in clinical and translational research, and has collaborated on studies of skin-sparing mastectomy with immediate breast reconstruction, clinical trials to establish sentinel lymph node biopsy as a standard of care for axillary staging, and investigations of the use of oncoplastic reduction to improve outcomes after breast conserving therapy.
Dr. Styblo's faculty profile >>
---
Michael E. Halkos, MD, MSc

Dr. Halkos is chief of the Division of Cardiothoracic Surgery. He is an international leader in hybrid coronary revascularization and robotic coronary bypass procedures. Over 50% of his clinical practice focuses on minimally invasive approaches for cardiac surgical operations.
Dr. Halkos also directs the Cardiothoracic Center for Clinical Research, which has served as the national and international PI site for several FDA investigational device exemption trials and has enrolled patients into numerous multicenter trials. He was Emory Surgery's first faculty member to receive an NHLBI K-23 Award, and currently serves as principal investigator for multiple industry- and NIH-sponsored trials.
Top Surgery News
Mandy Ford Honored With 2019 AST Basic Science Investigator Award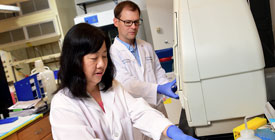 Mandy Ford, PhD, associate professor and scientific director of the Emory Transplant Center, has been designated as this year's recipient of the Basic Science Investigator Award of the American Society of Transplantation. This prestigious award is given by the AST to recognize investigators who have made substantial contributions to the field of transplantation medicine and show great promise for continuing to make such contributions in the future.
---
Also in the News:
Emory Surgery Places 7th in 2018 NIH Funding Rankings
Lily Yang, Jack Arbiser, and Colleagues Test New Nanoparticle as Therapy for Advanced Melanoma
Andrew Adams is Co-PI of a Study Developing a Nanoparticle-driven Screening Method for Detecting Rejection of a Transplanted Organ
Cathy Graham Participates in Study of Minimally Invasive Excision of High-Risk Breast Lesions and Small Breast Cancers
Emory Surgical Oncologists and Surgery Residents Participate in Study Confirming the Ability of Virus to Combat Melanoma
Emory Structural Heart & Valve Center Joins New NIH Network, Announces New Leadership
S. Scott Davis is Co-editor of New SAGES Manual of Hernia Surgery
Trainee Spotlights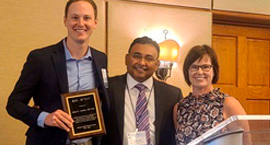 Brendan Lovasik, MD, and Hannah Rutledge, PhD, MLIS, co-curate the Surgical Focus blog, a new resource for residents that provides additional evidence-based information related to topics or questions raised in Emory Surgery's M&M conferences.
---

Erica Ludi, MD, general surgery resident on research sabbatical, has been accepted as the resident liaison for the Education Subcommittee of Operation Giving Back (OGB) to the Resident and Associate Society (RAS) Global Surgery Working Group of the American College of Surgeons (ACS). She will serve in this position from 2019-2021.
---

Fourth-year Emory medical student Gazi Rashid presented "Building and Using Low-cost Surgical Simulation Models" to an enthusiastic audience at the 2019 International Meeting on Simulation in Healthcare in San Antonio. The highlight was Mr. Rashid leading the participants in building their own models for practicing cricothyrotomy.