Faculty Spotlights
Elizabeth Hechenbleikner, MD

Dr. Hechenbleikner's primary clinical site is Emory University Hospital Midtown, where she focuses on acute care surgery and bariatric surgery.
She received her MD degree from the University of North Carolina School of Medicine in 2009. Her postgraduate training included a general surgery residency at Georgetown University Hospital, a surgical research fellowship and a resident scholarship in patient safety and quality at Johns Hopkins School of Medicine, and a laparoscopic and advanced gastrointestinal surgery fellowship at Mount Sinai Hospital.
Dr. Hechenbleikner's research focuses on patient satisfaction and outcomes in minimally invasive and bariatric surgery.
Dr. Hechenbleikner's faculty profile >>
---
Dominic Papandria, MD

Dr. Papandria is an acute and critical care surgeon at Emory University Hospital Midtown.
He joined Emory Surgery after completing his pediatric minimally invasive surgery fellowship at Nationwide Children's Hospital in Columbus, OH. During the fellowship, he served as a faculty member for Nationwide Children's minimally invasive surgical skills laboratory at several national and international pediatric surgery meetings, and was a clinical assistant professor at at Ohio State University College of Medicine.
Among his research interests is surgical care in low-income countries.
Top Surgery News
Congratulations to our Platinum Providers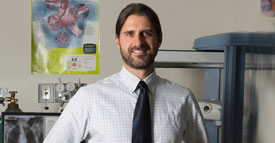 The Emory Physician Platinum Providers for FY18 received "Rate Your Provider (0-10)" patient satisfaction results that placed within the top 10% nationwide for their respective specialty, as well as a minimum of 60 returned Press Ganey Patient Satisfaction surveys.
Emory Surgery's Platinum Providers were Jeffrey Miller, Douglas Murphy (CT Surgery), John Galloway, Snehal Patel, Neil Saunders, Joe Sharma (General and GI Surgery), Grant Carlson, Felmont Eaves, Foad Nahai (Plastic Surgery), Maria Russell (Surgical Oncology), and Michael Clark (Vascular Surgery).
---
Also in the News:
"Lab Land" Coverage of Andrew Adams and David Mathews Study Team's Find That Blocking CD122 Might Improve Kidney Transplant Outcomes
Seth Force and David Kooby Hold Live Web Broadcast on Esophageal Cancer
Douglas Murphy Featured on FOX 5 Medical Segment Performing Life Saving Robotic Surgery
Shelly Abramowicz and Steven Goudy to Study Bone Regeneration Techniques for Treating Maxillary Defects
CSAT's Surgical Anatomy of the Lung Now Available
Trainee Spotlights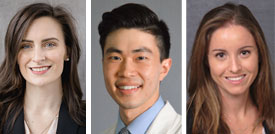 Vascular surgery resident Richard Meena, MD, received the Robert B. Smith, III, MD, Resident Award from Georgia Vascular Foundation. He is shown here with Guillermo Escobar, MD, and William Jordan, MD.
---
Crystal Koerner, MD, won the General Surgery Resident Abstract Competition at the Georgia Chapter of the American College of Surgeons' Annual Meeting for a study that focused on assessing the association of Enhanced Recovery after Surgery protocols (ERAS) with the incidence and severity of acute kidney injury in patients undergoing elective colorectal surgery.
---

Xiaoying Lou, MD, will use a Georgia CTSA TL-1 Award to begin determining the optimal timing of surgical intervention for uncomplicated, or chronic, type B aortic dissection (TBAD) by examining differences between acute and chronic aortic dissection flaps.