Top Surgery News
Remembering Walter Ingram

The Department of Surgery is deeply saddened to announce the passing of Walter L. Ingram, MD, a valued and beloved faculty member for over thirty years in the Department's Trauma/Surgical Critical Care team at Grady Memorial Hospital and Medical Director of the Grady Memorial Hospital Burn Center. Dr. Ingram was the embodiment of the patient-centered physician, and dedicated himself to fine-tuning the Burn Center's capabilities.
---
Also in the News:
Emory Transplant Center successfully renews NIAID/NIH T32 training grant in transplantation science
45 Emory Surgery faculty named to Atlanta Magazine's 2022 Top Doctors
Emory Saint Joseph's Hospital top ranked for minimally invasive heart valve replacement (Emory News Center story)
Luke Brewster and Olamide Alabi's efforts to combat diabetes featured in VA Research Week video
Jessica Harding will use HSRC Pilot Grant to study gender disparities in access to transplant
Felipe Maegawa first author of significant study of impact of patient frailty on post-hepatectomy outcomes
Faculty Spotlights
A. Alfred Chahine, MD

Dr. Chahine, a pediatric surgeon, serves as the department's vice chair of education. He came to Emory from The George Washington School of Medicine & Health Sciences in 2019. He actually completed his pediatric surgery fellowship at Emory in 1998.
He is considered an exceptional educator, and has won more than 20 teaching awards. Dr. Chahine has been a leader in the Association of Program Directors in Surgery, organizing their annual "New Program Directors Workshop"; is a leader on the Advisory Council for the Surgical Council on Resident Education (SCORE); and is currently a member of the editorial board of the SCORE Portal.
Dr. Chahine's faculty profile >>
---
Angela Cheng, MD

Dr. Cheng is a plastic and reconstructive surgeon, and spends much of her time at Grady Memorial Hospital. She is also associate director of the Glenn Family Breast Center at Winship Cancer Institute.
Her clinical specialties include breast surgery, breast reconstruction, microsurgery reconstruction, lymphedema surgery, and body contouring. Her primary research area is breast reconstruction, particularly improving access, outcomes, and aesthetics. She is also interested in developing techniques for reconstructing complex wounds and improving limb salvage.
Trainee Spotlights
Brendan Lovasik to lead ACGME-funded Back to Bedside project

The ACGME has awarded Back to Bedside funding to administrative chief resident Brendan Lovasik, MD, to lead a project entitled "Meet Your Surgical Team (MYST): Building the trainee-patient relationship through improved recognition of the resident." The Back to Bedside initiative funds projects that aim to increase significant connections with patients, promote behaviors that advance physicians' and patients' mental outlooks, and include direct patient interaction and outcome measures.
---
Resumption: EGPA's June 2022 trip to Guatemala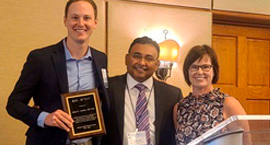 The medical student-led Emory Global Perioperative Alliance (EGPA) recently completed its first international surgical trip since 2018. The 40+ member team, which included faculty and residents from the departments of surgery, gynecology and obstetrics, and ophthalmology, set up and worked out of a small hospital at the Universidad Rural in Santa Lucia Utatlan, Guatemala, from June 1-13.