Faculty Spotlights
Shelly Abramowicz, DMD, MPH

Prior to joining Emory, Dr. Abramowicz was a faculty member of the Harvard School of Dental Medicine. Her primary clinical specialty is providing surgical care to children with oral and maxillofacial concerns. Dr. Abramowicz has multiple internal and external grants funding her studies of the biological behavior and natural history of congenital and developmental facial deformities in children. In 2016, she was the first recipient of the Elaine A. Stuebner Scholarship of the American College of Oral and Maxillofacial Surgeons.
Dr. Abramowicz's faculty profile >>
---
I. Raul Badell, MD

Dr. Badell's training included a research fellowship in transplant immunology at the Emory Transplant Center, and an Emory-based abdominal organ transplantation fellowship, during which he further developed his research focus on basic immunology. His clinical practice consists primarily of kidney/pancreas transplantation, while his research focus continues to be transplant immunology. In 2017, he received Emory's 1% Award for obtaining the highest possible score from the NIH study section for his proposal to study the mechanisms of DSA formation following kidney transplantation.
Top Surgery News
Omar Lattouf Named Medical Director of New Surgical Partnership

As the new medical director of the recently initiated cardiothoracic surgical partnership established between Navicent Health in Macon and Emory Healthcare, Omar Oattouf, MD, PhD, will work closely with Navicent Health's current CT surgical team, who have provided a combined 35 plus years of clinical care to patients in central Georgia. Dr. Lattouf recently trained Navicent Health physicians on the new minimally invasive Convergent procedure to treat patients suffering from longstanding persistent atrial fibrillation.
---
Also In The News:
David Kooby Provides Robotic Surgery for Pancreatic Cancer at Emory Saint Joseph's Hospital (includes video)
CSAT Physician-Patient Lung Cancer App Receives Design Award
Chris Larsen and Ravi Rajani Receive Synergy Awards
Mehul Raval Named Director of the Center for Clinical Outcomes Research & Public Health
Two New R01-Funded Emory Collaborations Will Develop Methods of Alleviating Kidney Transplant Disparities
Trainee News Bytes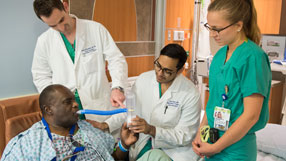 The abstract call for the 17th Annual William C. Wood Research Symposium is open to all Emory Surgery students, residents, and fellows. Trainees in a dedicated laboratory rotation are encouraged to submit their research. Cash awards will be given for the best oral presentations and posters in both clinical science and basic science categories. The submission deadline is Friday, December 15, 2017.
---
General surgery resident Alexandra Lopez-Aguiar and post-doctoral research fellow Mohammad Zaidi have been selected to receive 2018 Conquer Cancer Foundation Merit Awards of the American Society of Clinical Oncology (ASCO). Dr. Lopez-Aguiar and Dr. Zaidi are engaged in research fellowships in the lab of Emory surgical oncologist-scientist Dr. Shishir Maithel.
This is the fourth year in a row that fellows from Dr. Maithel's lab have received Merit Awards, and the second year in a row for Dr. Lopez-Aguiar. The awards will assist with funding Dr. Lopez-Aguiar and Dr. Zaidi's attendance of the 2018 Gastrointestinal Cancers Symposium in San Francisco, where they will present their abstracts.