Faculty Spotlights
Denise J. Lo, MD

Dr. Lo specializes in adult and pediatric liver transplantation and hepatobiliary surgery, and her primary academic interest is translational research in transplant immunology.
As co-director of the Emory Transplant Center's liver transplant quality improvement program, Dr. Lo has focused on analyzing the evaluation process for liver transplant, waitlist management, and access to the liver transplant clinic.
---
Muralidhar Padala, PhD

Dr. Padala is developing new surgical techniques and surgical and interventional devices and implants for cardiac surgical applications, as well as investigating their effect on cardiac tissue remodeling and adaptation.
In 2019, Dr. Padala was the inaugural recipient of the Emory School of Medicine's Innovation for Impact Award, which recognizes faculty whose contributions resulted in a significant impact on human health or have the potential to be paradigm-shifting
Top Surgery News
Atlanta VA Medical Center Receives Grants to Develop Treatment Therapies for PAD Patients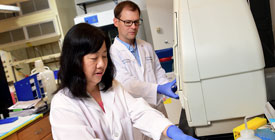 Vascular surgeon-scientist Luke P. Brewster, MD, PhD, will apply two recent grants from the Department of Veterans Affairs to identifying promising rehabilitation and regenerative therapies for integration into novel treatments of patients with peripheral arterial disease.
---
Also in the News:
AHPBA Travel Grant will aid Lori Little's proposal to develop APP training site
Douglas Murphy, Ankit Patel, and Vivian Wang Featured in U.S. News & World Report
Emory Cardiac Surgery Achieves Elite Distinction
Joe Sharma Appointed New Vice Chair of Quality, Patient Safety and Care Innovation for the Department of Surgery
Grants Support Global Perioperative Working Group's Surgical Outreach Efforts
Trainee Spotlights

The last several weeks have been a particularly notable period for Emory surgical critical care fellow Brett Tracy, MD, and his research. Reuters Health News circulated his study on metabolic syndrome in severely injured trauma patients beyond standard medical forums, he received the Health System Science Resident Award at the American Medical Association Research Symposium EXPO in San Diego, and the Eastern Association for the Surgery of Trauma awarded him the John M. Templeton, Jr., MD Injury Prevention Research Scholarship.
---

Martha-Conley Ingram, MD, MPH, was selected to receive research and mentoring support from the Multidisciplinary Training Program in Child and Adolescent Health at Feinberg School of Medicine, a TL1 award-funded training program of the National Center for Advancing Translational Sciences of the NIH.
Under the mentorship of Mehul Raval, MD, Dr. Ingram proposes to apply novel industrial engineering and management science methodologies to assessing quality and outcomes for children undergoing surgery.