Faculty Spotlights
Raymond J. Lynch, MD

Dr. Lynch performs adult and pediatric liver and kidney transplantation and treats hepatopancreatobiliary diseases and malignancies.
Dr. Lynch is dedicated to improving the distribution of grafts to patients with organ failure. He has studied novel clinical predictors of survival and resource utilization, and defined subgroups of patients with end-stage liver disease that experience excess mortality and reduced access to donor organs. He applies this knowledge to advocating for fairer organ distribution policies by UNOS.
Dr. Lynch's faculty profile >>
---
Randi N. Smith, MD, MPH

Dr. Smith serves as a trauma surgeon, emergency/elective general surgeon, and surgical critical care intensivist at Grady Memorial Hospital. Her special interests include injury and violence prevention for underserved populations through hospital-based intervention programs, and examining the physical and psychological aspects of impairment and recovery following occurrences of traumatic injury.
She is a core member of the Program to Interrupt Violence through Outreach and Treatment (PIVOT) at Grady, and a member of the Violence Prevention Task Force, based out of the Injury Prevention Research Center at Emory.
Top Surgery News
CSAT's Surgical Anatomy of the Lung Now Available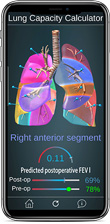 Surgical Anatomy of the Lung was originally created to facilitate communication between faculty surgeons of the Emory Division of Cardiothoracic Surgery and their lung cancer patients prior to surgical resection, and has now been made available as a free download to professionals, educators, and trainees alike. The prototype version of the app received an interactive media award at the 2017 Annual Meeting of the Association of Medical Illustrators.
---
Also in the News:
Emory Haiti Alliance 2018 Surgical Trip: Converge, Adapt, Advance
Emory CABG Program Earns STS Three-Star Rating
Bryan Morse and Craig Coopersmith Assume Positions in Accredited ACS and SCC Fellowships
Watch Douglas Murphy Discuss Robotic Heart Surgery on Ivanhoe Broadcast News
Twenty-five Emory Surgery Faculty Named to Atlanta Magazine's 2018 Top Doctors
Residency/Fellowship Transitions for 2018-2019
Muralidhar Padala, Jaydev Desai, and Baowei Fei Receive Multi-PI Grant to Develop Intravascular Robotic System
Trainee Spotlights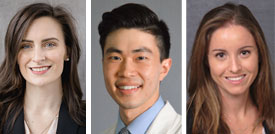 The 2018 graduating chiefs with Dr. John Sweeney (1st from left, back row), Dr. Keith Delman (2nd, middle row), Dr. Ravi Rajani (4th, middle row), and Dr. Jahnavi Srinivasan (5th, 1st row).
Our graduating chiefs' destinations, 2008-2018 >>
---

Xiaoying Lou, MD, will use a Georgia CTSA TL-1 Award to begin determining the optimal timing of surgical intervention for uncomplicated, or chronic, type B aortic dissection (TBAD) by examining differences between acute and chronic aortic dissection flaps.
---

Steven Kim, MD, who is doing immunology research in the lab of transplant surgeon-scientist Andrew Adams, MD, PhD, received the American Journal of Transplantation's award for Best Translational Science Article at the 2018 American Transplant Congress.