Top Surgery News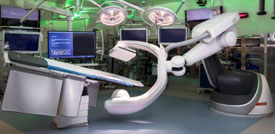 Emory investigators recognized by NIH and Operation Warp Speed for progress of COVID-19 therapeutics trial
Cardiothoracic surgeon Bradley Leshnower, MD, and anesthesiologist Milad Sharifpour, MD, MS, are participating in the international ACTIV-3: Therapeutics for Inpatients with COVID-19 (TICO) Phase 3 clinical trial as the Emory site's principal investigator and co-investigator, respectively. Kim Baio, RN, MSN, is managing many of the trial's primary components. The team recently received a letter from Janet Woodcock, MD, director of Operation Warp Speed, and Francis Collins, MD, PhD, director of the NIH, congratulating them on their performance in the trial.
---
Also in the News:
OMFS: Steven Roser and Gary Bouloux transitions
Randi Smith and colleagues receive Synergy Award
Emory-produced COVID-19 Community & Healthcare Facility Checklists for low resource settings now available
Juan Sarmiento performs 1000th Whipple procedure
SVS honors Robert Smith with 2020 Lifetime Achievement Award
Thirty-one Emory Surgery Faculty Named to Atlanta Magazine's 2020 Top Doctors
Faculty Spotlights
Stuart D. Hurst, MD

Dr. Hurst's clinical practice is divided between being a trauma surgeon, emergency/elective general surgeon, and surgical critical care intensivist at Grady Memorial Hospital, and working as a critical care surgeon within Emory's Critical Care Center.
He received his MD degree from Emory in 2011. During his Emory general surgery residency, he took a two-year research sabbatical and completed a postdoctoral transplant research fellowship at the MRC Centre for Transplantation of King's College London in the UK. Upon completing his residency in 2018, he did an acute care surgery/surgical critical care fellowship at Grady Memorial Hospital/Emory SOM.
Dr. Hurst's Faculty Profile >>
---
Deepika Koganti, MD

Dr. Koganti received her MD degree from the University of Miami-Miller School of Medicine in 2012. She completed a general surgery residency at the Sidney Kimmel Medical College at Thomas Jefferson University in 2018, which included one year of clinical and basic science research, and an acute care surgery/surgical critical care fellowship at Grady Memorial Hospital/Emory SOM in 2020.
She is based at the trauma center at Grady Memorial Hospital, and specializes in pelvic fractures, traumatic vascular injuries, and pancreatic injuries. Her research focuses on global surgery and healthcare, and education.
Trainee Spotlights
This detailed overview of the Emory general surgery residency was produced by PGY-3 Emma Crichton, MD, with the assistance of various other residents.
---
This introduction to the Emory plastic surgery residency was created by the team of faculty member William Knaus, MD, and PGY-6 Ryan Burke, MD.
---

The Foundation of the American Association for the Study of Liver Diseases has recognized Abe Matar, MD, with a 2020 AASLD Emerging Liver Scholar Award. This award will grant Dr. Matar complimentary membership in the AASLD, attendance of the 2020 Digital AASLD Liver Meeting, and participation in the AASLD Resident/Fellow Ambassador Program.