Faculty Spotlights
Barbara J. Pettitt, MD

Dr. Pettitt is Emory Surgery's director of medical student education. She has won a variety of teaching awards, including Emory's Evangeline T. Papageorge Distinguished Teaching Award and the Philip Wolfson Outstanding Teaching Award from the Association for Surgical Education/Association of Program Directors.
Her expansion of medical student education has included introducing simulation scenarios, developing the M4 surgery applicant prep program and surgery sub-internship curriculums, and initiating advanced vascular access labs for M3s.
Dr. Pettitt's Faculty Profile >>
---
Jamil L. Stetler, MD

After completing his general surgery residency and minimally invasive surgery fellowship at Emory in 2015, Dr. Stetler joined the faculty and began building the general surgery and bariatric surgery programs at Emory Saint Joseph's Hospital.
After assisting with the development and implementation of the residency's robotic surgery curriculum, he was awarded a grant to study robotic simulation that provided a robotic simulator, which is housed in the Surgical Education Office.
Top Surgery News
Emory Surgery places 6th in 2019 NIH funding rankings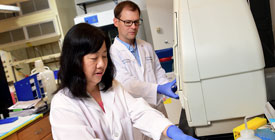 Emory Surgery's FY2019 ranking at 6th for all departments of surgery nationwide in total research funding from the National Institutes of Health displays a remarkable climb, especially considering its 12th position in FY2014.
---
Also in the News:
Mandy Ford is senior author of study that describes immune control via Fc receptors on T cells
Atlanta VA Medical Center receives grants to develop treatment therapies for PAD patients
Douglas Murphy, Ankit Patel, and Vivian Wang featured in U.S. News & World Report
Emory Cardiac Surgery achieves elite distinction
Joe Sharma appointed new Vice Chair of Quality, Patient Safety and Care Innovation for the Department of Surgery
William Jordan reports successful four year Endoanchor System treatment of AAA
Trainee Spotlights

Cardiothoracic surgery resident Kanika Kalra, MD, received the Society of Thoracic Surgeons/European Association for Cardio-Thoracic Surgery (STS/EACTS) Best Resident Abstract Presentation Award at the 56th Annual STS Meeting.
Dr. Kalra's abstract was selected from more than 70 that focused on aortic valve repair and bicuspid valves.
---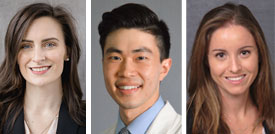 General surgery residents Adriana Gamboa, MD, Michael Turgeon, MD, Rachel Lee, MD, MSPH, and medical oncology fellow Ibrahim Sahin, MD, received Conquer Cancer Merit Awards at the 2020 Gastrointestinal Cancers Symposium in San Francisco.
Merit Awards are given to residents and fellows whose abstracts exhibit cogent science, and recipients are invited to present their winning abstracts.