Faculty Spotlight
Robert S. Crawford, MD

Dr. Crawford is a highly experienced vascular and endovascular surgeon with demonstrated excellence in research, education, and patient care. His leadership roles prior to Emory included serving as co-director of the Center for Aortic Disease, medical director of the Vascular Surgery Progressive Care Unit, and associate program director of the vascular surgery fellowship at the University of Maryland. His primary special interest is aortic surgery, particularly aortic dissection. He has published extensively and speaks regularly at national and international conferences.
General Surgery Residency Applications
ERAS applications to the Emory University General Surgery Training Program are accepted through November 1, 2017.
Complete applications must contain the following:
- ERAS common application form
- A personal statement
- A medical school transcript
- A USMLE or COMLEX transcript
- Three letters of recommendation
Click here to learn more about the residency application and requirements.
Top Surgery News
Robert Guyton to Direct CT Surgery Partnership Between Emory Healthcare & Navicent Health in Macon

Dr. Guyton and his Emory Healthcare colleagues will work closely with Navicent Health's current CT surgical team, who have provided a combined 35 plus years of outstanding clinical care to patients in central Georgia. The agreement includes a formal restructuring of Navicent Health's CT surgery service line, extending the range of CT procedures available to patients in Macon and the surrounding region.
Also In The News:
Emory Surgery Annual Reports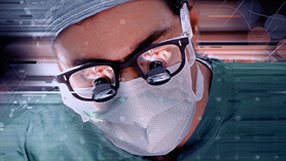 Peruse yearly compendiums of the Emory Department of Surgery's high points, achievements, and milestones.