Faculty Spotlights
Luke Brewster, MD, PhD

As a vascular surgeon scientist, Dr. Brewster has joint affiliations with the Atlanta Clinical and Translational Science Institute, Emory and the Georgia Institute of Technology's Coulter Department of Biomedical Engineering, and GA Tech's Petit Institute for Bioengineering and Bioscience, giving him access to an exceptional pool of collaborators. His lab is investigating the role of arterial stiffness in arterial remodeling after interventions and the regenerative opportunities of biologic therapies in patients with cardiovascular disease.
Dr. Brewster's faculty profile >>
---
S. Scott Davis, MD

Dr. Davis' clinical focus is foregut surgery, bariatric surgery, and hernia repair. After serving as the associate program director of the Emory Endosurgery Unit for Minimally Invasive Surgery since 2010, Dr. Davis was appointed director of the unit in 2015. He serves as an associate editor for both Bariatric Surgical Practice and Patient Care and Surgical Laparoscopy, Endoscopy, and Percutaneous Techniques
Top Surgery News
CSAT Physician-Patient Lung Cancer App Receives Design Award

The prototype version of Lung Cancer Preoperative Planning, which is on track to be the next commercially available surgical education app for mobile devices by the Emory Carlos and Davis Center for Surgical Anatomy and Technique (CSAT), received an award in the category of interactive media at the 2017 Annual Meeting of the Association of Medical Illustrators.
---
Also In The News:
Mehul Raval Named Director of the Center for Clinical Outcomes Research & Public Health
Robert Guyton to Direct CT Surgery Partnership Between Emory Healthcare & Navicent Health in Macon
Two New R01-Funded Emory Collaborations Will Develop Methods of Alleviating Kidney Transplant Disparities
Muralidhar Padala Receives Two R01 Grants to Develop Novel Techniques to Repair Diseased Heart Valves
I. Raul Badell Will Use NIH K08 to Study Mechanisms of DSA Formation Following Kidney Transplantation
Trainee News Bytes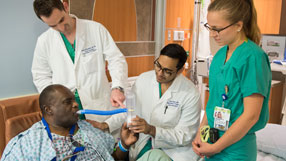 October: The abstract call for the 17th Annual William C. Wood Research Symposium has begun, and is open to all Emory Surgery students, residents, and fellows. Cash awards will be given for the best oral presentations and posters in both clinical science and basic science categories. Go here for details >>
---
September: As a recipient of the 2017 Women in Thoracic Surgery (WTS) Carpenter Scholarship, general surgery resident Kanika Kalra, MD, will attend the Southern Thoracic Surgical Association's 64th Annual Meeting, and have a WTS/STSA member as a mentor throughout.
---
August: Caitlin Fitzgerald, MD, received the Day of Trauma's Top Resident Paper Award at the 2017 Annual Meeting of the Georgia Society of the American College of Surgeons. The focus of the paper was the incidence of acute kidney injury at Grady Memorial Hospital's Level 1 trauma center.