Top Surgery News
2020 Department of Surgery Annual Report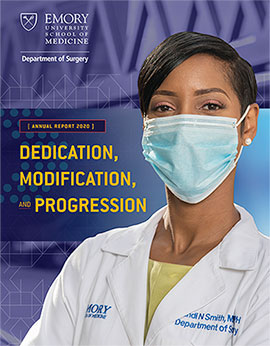 Review our departmental milestones, achievements, new faculty, and faculty distinctions in 2020.
---
Also in the News:
Gary Bouloux to lead multi-center study of metal hypersensitivity following TMJR
SORG Grant funds Dina Amin's work on orbital trauma and reconstruction
Update on the Emory Transplant Center's RaDIANT Study to improve access to kidney transplants
Bariatric Midtown team wins GA Hospital Association 2021 Patient Safety & Quality Award
Emory Saint Joseph's Hospital receives highest recognition from AHA and The Mitral Foundation for mitral valve repair excellence
Emory-produced COVID-19 Community & Healthcare Facility Checklists for low resource settings now available
Faculty Spotlights
Virginia Shaffer, MD

Dr. Shaffer is the program director of the Emory colorectal surgery fellowship, scientific director of the Crohn's and Colitis Center, and National Surgical Quality Improvement Project (NSQIP) Champion for Emory University Hospital.
Dr. Shaffer earned her MD from the University of Texas Health Science Center at San Antonio, did her general surgery internship and residency at Emory, and completed her colorectal surgery fellowship at the Cleveland Clinic Florida.
She specializes in minimally invasive and open surgical treatment of diseases of the colon and rectum. Her recent research has aimed to lower the 30-day readmission rate for ileostomy patients and to reduce surgical site infections for patients after colorectal resection.
Dr. Shaffer's Faculty Profile >>
---
Allan Pickens, MD

Dr. Pickens is the program director for the Division of Cardiothoracic Surgery's integrated and traditional training programs and director of thoracic oncology for Emory Healthcare.
Before coming to Emory, Dr. Pickens initiated and directed the minimally invasive thoracic surgery program at the University of Michigan in Ann Arbor, where he previously did his cardiothoracic surgery residency and his esophageal surgery fellowship.
After arriving at Emory, Dr. Pickens implemented the minimally invasive thoracic surgery program at Emory University Hospital Midtown. His specialties include lung transplantation, robotic thoracic surgery, and the minimally invasive removal of early stage lung cancers and esophageal cancers using such procedures as Video Assisted Thorascopic Surgery.
Trainee Spotlights
Black History Month Medical Honoree: Dr. LaSalle D. Leffall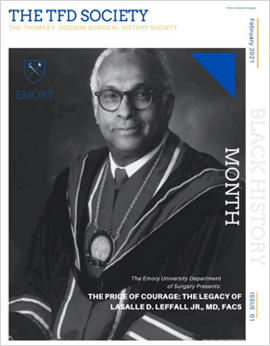 In honor of Black History Month, Emory Surgery has collaborated with the Thomas F. Dodson Surgical History Society to highlight African American academic surgery pioneer LaSalle D. Leffall Jr., MD. The product of this collaboration is an interactive eBook created by Emory general surgery residents Emeka Ndubisi, MD, Brendan Lovasik, MD, and Jeroson Williams, MD, which celebrates the indelible imprint Dr. Leffall made on the field of surgery.
---
WISER Podcast garners Women of Excellence Award

The Women in Surgery at Emory Residencies (WISER) Podcast has received a 2021 Emory Women of Excellence Award in the Program of the Year category. The podcast team is led by surgery resident Jessica Liu, MD, medical student Caroline Coleman, and former resident Vivian Wang, MD.