Faculty Spotlights
Raymond J. Lynch, MD

Dr. Lynch performs adult and pediatric liver and kidney transplantation and treats hepatopancreatobiliary diseases and malignancies.
Dr. Lynch is dedicated to improving the distribution of grafts to patients with organ failure. He has studied novel clinical predictors of survival and resource utilization, and defined subgroups of patients with end-stage liver disease that experience excess mortality and reduced access to donor organs. He applies this knowledge to advocating for fairer organ distribution policies by UNOS.
Dr. Lynch's faculty profile >>
---
Randi N. Smith, MD, MPH

Dr. Smith serves as a trauma surgeon, emergency/elective general surgeon, and surgical critical care intensivist at Grady Memorial Hospital. Her special interests include injury and violence prevention for underserved populations through hospital-based intervention programs, and examining the physical and psychological aspects of impairment and recovery following occurrences of traumatic injury.
She is a core member of the Program to Interrupt Violence through Outreach and Treatment (PIVOT) at Grady, an evidence-based and data-driven initiative that is focused on reducing gun violence by preventing repeat victimization/hospitalization and retaliatory incidents. She is also a member of the Violence Prevention Task Force, based out of the Injury Prevention Research Center at Emory.
Top Surgery News
Dr. Douglas Murphy Featured on FOX 5 Medical Segment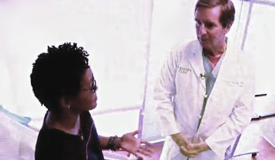 Dr. Murphy performs life-saving robotic surgery on a patient at Emory Saint Joseph's Hospital to remove a three-inch long heart tumor attached to the wall separating the upper chambers of the patient's heart.
---
Also in the News:
Shelly Abramowicz and Steven Goudy to Study Bone Regeneration Techniques for Treating Maxillary Defects
CSAT's Surgical Anatomy of the Lung Now Available
Emory Haiti Alliance 2018 Surgical Trip: Converge, Adapt, Advance
Emory CABG Program Earns STS Three-Star Rating
Bryan Morse and Craig Coopersmith Assume Positions in Accredited ACS and SCC Fellowships
Watch Douglas Murphy Discuss Robotic Heart Surgery on Ivanhoe Broadcast News
Twenty-five Emory Surgery Faculty Named to Atlanta Magazine's 2018 Top Doctors
Residency/Fellowship Transitions for 2018-2019
Trainee Spotlights
Crystal Koerner, MD, won the General Surgery Resident Abstract Competition at the Georgia Chapter of the American College of Surgeons' Annual Meeting for a study that focused on assessing the association of Enhanced Recovery after Surgery protocols (ERAS) with the incidence and severity of acute kidney injury in patients undergoing elective colorectal surgery.
---

Xiaoying Lou, MD, will use a Georgia CTSA TL-1 Award to begin determining the optimal timing of surgical intervention for uncomplicated, or chronic, type B aortic dissection (TBAD) by examining differences between acute and chronic aortic dissection flaps.
---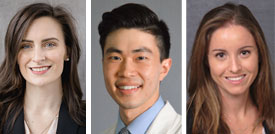 The 2018 graduating chiefs with Dr. John Sweeney (1st from left, back row), Dr. Keith Delman (2nd, middle row), Dr. Ravi Rajani (4th, middle row), and Dr. Jahnavi Srinivasan (5th, 1st row).