Faculty Spotlights
Walter L. Ingram, MD

Dr. Ingram did his general surgery residency and fellowship in trauma/burns at Emory, after which he became medical director of the Grady Memorial Hospital Burn Center in 1992.
Dr. Ingram has fine-tuned the center's capabilities by standardizing wound care protocols, expanding hydrotherapy facilities, upgrading and refining pain control processes, and initiating services for patients with complex wound problems secondary to burns.
The Grady Burn Center is verified by the American Burn Association and the American College of Surgeons Committee on Trauma as an adult and pediatric burn center – considered the 'Gold Standard' for high-quality burn care. The center accepts referrals and transfers of patients of all ages with any burn-related injury or advanced wound.
Dr. Ingram's faculty profile >>
---
Juvonda S. Hodge, MD

Dr. Hodge joined the department in 2014, and works with Dr. Walt Ingram as the assistant medical director of the Grady Memorial Hospital Burn Center.
After receiving her MD from New Jersey Medical School, Dr. Hodge did her general surgery residency at Howard University Hospital in Washington, DC, from 1996-2001.
Prior to coming to Emory, she served on the faculty of the College of Allied Health Professions of the University of South Alabama and was associate director of the burn unit at the University of South Alabama Medical Center.
Top Surgery News
Congratulations to our Platinum Providers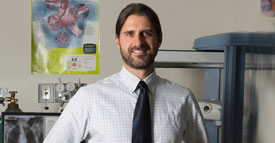 The Emory Physician Platinum Providers for FY18 received "Rate Your Provider (0-10)" patient satisfaction results that placed within the top 10% nationwide for their respective specialty, as well as a minimum of 60 returned Press Ganey Patient Satisfaction surveys.
Emory Surgery's Platinum Providers were Jeffrey Miller, Douglas Murphy (CT Surgery), John Galloway, Snehal Patel, Neil Saunders, Joe Sharma (General and GI Surgery), Grant Carlson, Felmont Eaves, Foad Nahai (Plastic Surgery), Maria Russell (Surgical Oncology), and Michael Clark (Vascular Surgery).
---
Also in the News:
Keith Delman Admitted into American College of Surgeons Academy of Master Surgeon Educators
Luke Brewster Receives NIH R01 for Studying Pathways that Cause PAD
Sharon Muret-Wagstaff Appointed Director of ExCEL
"Lab Land" Coverage of Andrew Adams and David Mathews Study Team's Find That Blocking CD122 Might Improve Kidney Transplant Outcomes
Seth Force and David Kooby Hold Live Web Broadcast on Esophageal Cancer
Douglas Murphy Featured on FOX 5 Medical Segment Performing Life Saving Robotic Surgery
Trainee Spotlights

General surgery resident Adriana Gamboa, MD, who is engaged in a two-year research sabbatical in the lab of Shishir Maithel, MD, received a 2019 Conquer Cancer Foundation Merit Award from the American Society of Clinical Oncology. This is the fifth year in a row that a resident working in Dr. Maithel's lab has received the award.
---

Xiaoying Lou, MD, cardiothoracic surgery integrated resident, won the Best Thoracic Surgery Oral Presentation Award at the 2018 Annual Meeting of the Eastern Cardiothoracic Surgical Society. Her abstract was concerned with the fact that patients in their 80s comprise an increasing proportion of patients presenting with non-small cell lung cancer.
---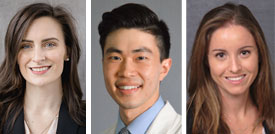 Vascular surgery resident Richard Meena, MD, received the Robert B. Smith, III, MD, Resident Award from Georgia Vascular Foundation. He is shown here with Guillermo Escobar, MD, and William Jordan, MD.