Top Surgery News
Allan Pickens and other Emory doctors answer COVID-19 vaccine questions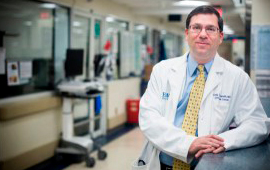 Allan Pickens, MD, associate professor of surgery and director of thoracic oncology, is one of several Emory physicians answering frequently asked questions about COVID-19 vaccines in a new Emory Healthcare video series. Dr. Pickens responds to the question: "Can the vaccine give me COVID-19?"
Watch the rest of the series >>
---
Also in the News:
New robot at Emory Saint Joseph's Hospital to help diagnose and treat lung cancers earlier
Randi Smith and Deepika Koganti partner on two trauma-related grants
Two Emory surgical centers named in Newsweek's list of America's Best Ambulatory Surgery Centers
Emory Johns Creek Hospital adds new surgical robot for minimally invasive surgery
Gary Bouloux to lead multi-center study of metal hypersensitivity following TMJR
SORG Grant funds Dina Amin's work on orbital trauma and reconstruction
Lily Yang receives R01 to develop nanoparticle-driven immunotherapy (study description in NIH RePORTER)
Update on the Emory Transplant Center's RaDIANT Study to improve access to kidney transplants
Faculty Spotlights
Elizabeth R. Benjamin, MD, PhD

Dr. Benjamin is a trauma surgeon, emergency/elective general surgeon, and surgical care intensivist, and serves as the trauma medical director at Grady Memorial Hospital.
Prior to joining the Emory faculty in 2020, Dr. Benjamin was an associate professor of surgery and the associate trauma medical director at the Los Angeles County + University of Southern California Medical Center, Keck School of Medicine.
She received her PhD and MD degrees at the University of Medicine and Dentistry of New Jersey, completed her general surgery residency at UCLA, and did her trauma and critical care fellowship at the University of Texas Southwestern/Parkland Memorial Hospital.
Dr. Benjamin's faculty profile >>
---
Ankit Patel, MD

Beginning with the pursuit of his BS in chemistry, Emory has been Dr. Patel's academic base. He joined our faculty after completing his endosurgery fellowship under the mentorship of Dr. Edward Lin and Dr. Scott Davis.
He was a primary figure in building the robotic surgery education and training curriculum for the Emory general surgery residency. In 2017, Dr. Patel was the lead editor of the 2017 SAGES Manual of Robotic Surgery, published by Springer, and co-authored two chapters.
Dr. Patel's clinical activities include serving on the bariatric surgery team located at Emory University Hospital Midtown, where he is also reviewing outcomes for combined paraesophageal hernia repair with sleeve gastrectomy in obese patients.
Trainee Spotlights
Aileen Johnson wins Grady Resident Research Day Poster Competition

In her poster, Aileen Johnson, MD, general surgery resident on research sabbatical, described a web app and R software package she developed with her mentor Christian Larsen, MD, DPhil, and research informatics analyst Joan Zhang, MS, that could contribute to increasing transplantation chances in highly sensitized patients.
---
Congratultions to Deena Chihade and LeslieAnn Kao for matching into vascular surgery fellowships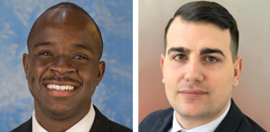 Both residents are PGY-4s. Leslie Ann Kao, MD, matched at the University of Colorado, and Deena Chihade, MD, matched at SUNY.
---
Michael Turgeon presents multi-institutional study at ASA Meeting

Michael Turgeon, MD, was first author, and his mentor Shishir Maithel, MD, was senior author of this study, which involved 20 high volume liver transplant centers.
The investigators determined that the scheduling of direct-acting antiviral medications therapy was important for patients with hepatitis C-associated hepatocellular carcinoma undergoing liver transplantation.