Top Surgery News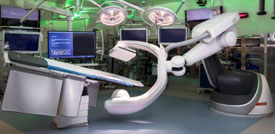 Robotic imaging system helps support heart and vascular surgical care at Emory Saint Joseph's Hospital
A new, highly advanced robotic imaging system at Emory Saint Joseph's Hospital enables doctors to work more effectively while performing minimally-invasive procedures to treat a broad range of heart and vascular conditions. "The 3D imaging provided by this new system, combined with the capabilities of a hybrid operating room, allows us to treat complex cases with minimally-invasive procedures that reduce risk to the patient and improve recovery times," says Michael Halkos, MD, chief of the division of cardiothoracic surgery.
---
Also in the News:
Bradley Leshnower, Milad Sharifpour, and Kim Baio recognized by NIH for progress of COVID-19 therapeutics trial
Emory Surgery Faculty among Emory School of Medicine honorees
OMFS: Steven Roser and Gary Bouloux transitions
Randi Smith and colleagues receive Synergy Award
Emory-produced COVID-19 Community & Healthcare Facility Checklists for low resource settings now available
Juan Sarmiento performs 1000th Whipple procedure
Faculty Spotlights
Allison F. Linden, MD, MPH

Dr. Linden specializes in neonatal surgery, minimally invasive surgery, surgical critical care, ECMO, and global surgery.
She received her medical degree from Georgetown University School of Medicine, and completed her pediatric surgery critical care fellowship at Children's Hospital Los Angeles, her pediatric surgery ECMO fellowship at University of Chicago Comer Children's Hospital, and her pediatric surgery fellowship at Thomas Jefferson/AI DuPont Hospital for Children.
Dr. Linden has trained surgical postgraduates in Rwanda and Uganda, where she also performed disparities research involving access to surgical care.
Dr. Linden's Faculty Profile >>
---
Joshua Rosenblum, MD, PhD

Dr. Rosenblum received his PhD with a focus on immunology and pathology and his MD at Case Western Reserve University. He completed his general surgery residency, cardiothoracic surgery residency, and Children's Healthcare of Atlanta-based congenital cardiothoracic surgery fellowship at Emory.
His primary clinical focus is congenital heart disease in patients from their newborn years through adulthood, with particular interest in complex adult congenital heart disease, connective tissue disorders in children, and pediatric heart failure and transplantation.
Trainee Spotlights
This detailed overview of the Emory general surgery residency was produced by PGY-3 Emma Crichton, MD, with the assistance of various other residents.
---
This introduction to the Emory plastic surgery residency was created by the team of faculty member William Knaus, MD, and PGY-6 Ryan Burke, MD.
---

The Foundation of the American Association for the Study of Liver Diseases has recognized Abe Matar, MD, with a 2020 AASLD Emerging Liver Scholar Award. This award will grant Dr. Matar complimentary membership in the AASLD, attendance of the 2020 Digital AASLD Liver Meeting, and participation in the AASLD Resident/Fellow Ambassador Program.