Top Surgery News
Keith Delman earns Grady appointments

After serving in an interim capacity in these roles since 2020, Keith Delman, MD, has been appointed Division Chief of Surgery at Grady Memorial Hospital, Department of Surgery, Emory University School of Medicine, and Chief of Surgery for Emory at Grady.
Beginning with his tenure as Program Director of the General Surgery Residency from 2011-2020, Dr. Delman became very familiar with Grady while providing clinical care at the hospital's general surgery clinic and supervising the residents during their Grady rotations.
---
Also in the News:
Emory Saint Joseph's Hospital top ranked for minimally invasive heart valve replacement (Emory News Center story)
Luke Brewster and Olamide Alabi's efforts to combat diabetes featured in VA Research Week video
Felipe Maegawa first author of significant study of impact of patient frailty on post-hepatectomy outcomes
In Memoriam: H. Harlan Stone, MD
Felipe Maegawa first author of significant study of impact of patient frailty on post-hepatectomy outcomes
Faculty Spotlights
A. Alfred Chahine, MD

Dr. Chahine, a pediatric surgeon, serves as the department's vice chair of education. He came to Emory from The George Washington School of Medicine & Health Sciences in 2019. He actually completed his pediatric surgery fellowship at Emory in 1998.
He is considered an exceptional educator, and has won more than 20 teaching awards. Dr. Chahine has been a leader in the Association of Program Directors in Surgery, organizing their annual "New Program Directors Workshop"; is a leader on the Advisory Council for the Surgical Council on Resident Education (SCORE); and is currently a member of the editorial board of the SCORE Portal.
Dr. Chahine's faculty profile >>
---
Angela Cheng, MD

Dr. Cheng is a plastic and reconstructive surgeon, and spends much of her time at Grady Memorial Hospital. She is also associate director of the Glenn Family Breast Center at Winship Cancer Institute.
Her clinical specialties include breast surgery, breast reconstruction, microsurgery reconstruction, lymphedema surgery, and body contouring. Her primary research area is breast reconstruction, particularly improving access, outcomes, and aesthetics. She is also interested in developing techniques for reconstructing complex wounds and improving limb salvage.
Trainee Spotlights
Resumption: EGPA's June 2022 trip to Guatemala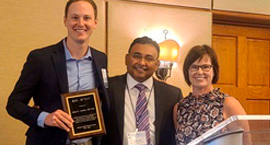 The medical student-led Emory Global Perioperative Alliance (EGPA) recently completed its first international surgical trip since 2018. The 40+ member team, which included faculty and residents from the departments of surgery, gynecology and obstetrics, and ophthalmology, set up and worked out of a small hospital at the Universidad Rural in Santa Lucia Utatlan, Guatemala, from June 1-13.
---
Jessica Liu McMullin earns Travel Award to IAES Congress

A Travel Award from the International Association of Endocrine Surgeon will allow former chief resident Jessica Liu McMullin, MD, MS, to attend the IAES Congress at International Surgical Week (ISW) in Vienna.
She will present "Environmental chemicals and their association with hyperparathyroidism," which observed an apparent link between environmental factors and the development of hyperparathyroidism.