Faculty Spotlights
Seth D. Force, MD

Dr. Force has a national reputation as an outstanding thoracic surgeon whose research focuses on outcomes in lung transplantation and thoracic diseases.
When he joined the Emory Department of Surgery in 2003, Dr. Force improved the adult lung transplant service's transplant survival rates by revamping its protocols and procedures, and gradually tripled the program's lung transplant volume. He also specializes in minimally invasive thoracic surgery, reflux surgery, and microinvasive hyperhydrosis.
Dr. Force's Faculty Profile >>
---
Olamide Alabi, MD

Dr. Alabi's vascular surgery specialties include endovascular and open management of complex aortic aneurysm, dissection and vascular reconstructions for oncologic resections, and treatment of lower extremity/peripheral arterial disease.
Dr. Alabi received her MD at the University of Nebraska College of Medicine, completed her general surgery residency at Loma Linda University Medical Center, and did her vascular surgery fellowship at Oregon Health and Science University.
Top Surgery News
Georgia Health News Features Carla Haack's Relief Trips to Puerto Rico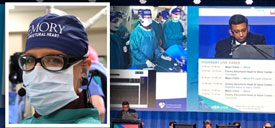 In addition to describing Dr. Haack's volunteer work in Puerto Rico following Hurricane Maria's devastation in 2017, the Georgia Health News story covers her recent medical trip to the country with 12 Emory medical student members of the Emory Haiti Alliance. Dr. Haack grew up in Puerto Rico, and received her MD at the University of Puerto Rico School of Medicine.
---
Also in the News:
Theresa Gillespie Named a Fellow of the American Academy of Nursing
Raymond Lynch Takes First Steps Towards Building National Liver Disease Patient Registry with CTSA Grant
Steven Roser Receives SOM Nexus Award for Global Health Working Group
Rachel Patzer is Co-PI of Synergy II/Nexus Award to Expand Emory's Implementation Science
Mandy Ford Honored With 2019 AST Basic Science Investigator Award
Emory Clinic Vascular Surgery Wins 3 Star SVS-VQI Award
Trainee Spotlights

General surgery residents Adriana Gamboa, MD (in photo coaching a student in how to apply a tourniquet), Brendan Lovasik, MD, and David Faber, MD, are leading "Stop the Bleed" sessions for high school students enrolled in Emory's National Health Careers Opportunity Program.
---

Emory integrated cardiothoracic surgery resident Xiaoying Lou, MD, has been elected president of the Thoracic Surgery Resident Association (TSRA) for 2019-2020. She will continue to serve as the TSRA representative to the American Association for Thoracic Surgery Education Committee.
---

For his MSCR thesis at Laney Graduate School, Michael Turgeon, MD, resident and Katz Foundation Clinical Research Fellow, will use his TL1 Award to investigate the immunologic mechanisms that mediate tumor dormancy and reemergence in metastatic colorectal cancer.