Faculty Spotlights
Allan Pickens, MD

Dr. Pickens is the program director of the three- and six-year cardiothoracic surgery residencies, leads Emory's minimally invasive thoracic surgery and thoracic oncology services, and is a member of the Discovery and Developmental Therapeutics research program at Winship Cancer Institute.
After completing surgical training and prior to joining Emory, Dr. Pickens was a faculty member at the University of Michigan from 2005-2009.
Dr. Pickens specializes in treating lung and esophageal cancer, as well as performing lung transplantation and minimally invasive thoracoscopic and robotic thoracic surgery procedures. He was at the forefront of reducing incision sizes to only one to two inches for video assisted thoracoscopic surgery.
Dr. Pickens' Faculty Profile >>
---
Megan M. Durham, MD

Dr. Durham did her general surgery training, pediatric surgery fellowship, and transplant immunology research fellowship at Emory, after which she joined the faculty of the Emory Department of Surgery.
Dr. Durham spearheaded the development of a multidisciplinary colorectal program at Children's Healthcare of Atlanta (CHOA), is the surgical director of CHOA's intestinal rehabilitation program, manages an insitutional multidisciplinary clinic focused on fecal continence for children with anorectal malformations and Hirschsprung's disease, and created a policy for the application of hyperthermic intraperitoneal chemotherapy (HIPEC) at CHOA.
Top Surgery News
Robert Guyton and Omar Lattouf Recognized with SOM Alumni Awards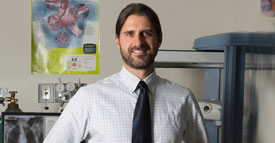 Cardiothoracic surgeons Robert Guyton, MD, and Omar Lattouf, MD, PhD, were honored at the 2019 Emory Medical Alumni Awards Presentation held on April 25. SOM Dean Vikas Sukhatme, MD, presented Dr. Guyton with the Arnall Patz Lifetime Achievement Award, and Dr. Lattouf with the Award of Honor.
The Patz Award is given to Emory alumni who display extraordinary leadership and accomplishment in the field of medicine at the national or international level, and the Award of Honor is conferred upon a medical alumna/alumnus who has demonstrated distinguished service to the Medical Alumni Association, the Emory School of Medicine and Emory University at large, and the medical profession.
---
Also in the News:
WABE Story on Robotic Heart Surgery at Emory Saint Joseph's Hospital Features Douglas Murphy
Mandy Ford Honored With 2019 AST Basic Science Investigator Award
Steven Roser Receives Distinguished Service Award from IAOMS
Emory Surgery Places 7th in 2018 NIH Funding Rankings
ETC Investigators Work Towards Broader Application of Costimulation Blockade-Based Immunosuppression
Lily Yang, Jack Arbiser, and Colleagues Test New Nanoparticle as Therapy for Advanced Melanoma
Andrew Adams is Co-PI of a Study Developing a Nanoparticle-driven Screening Method for Detecting Rejection of a Transplanted Organ
Mohammad Zaidi Wins AHPBA Young Investigator Award
S. Scott Davis is Co-editor of New SAGES Manual of Hernia Surgery
Trainee Spotlights

The mission of the Asa Yancey Visiting Student Diversity Scholarship, named in honor of the first African American faculty member in the School of Medicine and a nationally recognized surgeon and educator, is to expose minority medical students from underrepresented backgrounds to one of the various training programs in the Emory Department of Surgery.
---

PGY-2 general surgery resident Rachel Lee, MD, gave a plenary presentation entitled "Is Routine Recurrence Score Testing in Patients over 70 Years of Age Warranted? An Evaluation of the National Cancer Database after TAILORx" at the 20th Annual Meeting of the American Society of Breast Surgeons (ASBrS) in Dallas.
---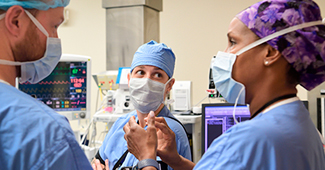 Winners of the 18th Annual William C. Wood Research Symposium: Jason Schwarz, Brendan Lovasik, Mohammad Zaidi, and Anna Morris, pictured above with several faculty leaders.