Faculty Spotlights
Felmont F. Eaves, III, MD

Dr. Eaves, medical director of the Emory Aesthetic Center, is considered a national expert in the development of endoscopic techniques and instruments in plastic surgery, and is also highly regarded as a specialist in body contouring after massive weight loss. With several patents issued and others pending, Dr. Eaves' cardinal research specialty is the development of new medical devices for endoscopic procedures, wound closure, and wound treatment. In 2017, Dr. Eaves was appointed to a six-year term as director of the American Board of Plastic Surgery.
---
Theresa W. Gillespie, PhD

As a researcher with vast experience in both clinical oncology and cancer center administration, Dr. Gillespie has served as principal investigator or co-investigator on numerous funded studies, both prospective and retrospective utilizing large national data sets, investigating cancer decision-making, health disparities, quality measurement and outcomes, survivorship care, and interventions to promote guideline concordant cancer care. Her research experience encompasses early phase I trials, multicenter phase III investigations, and population-based studies in cancer prevention, screening, and treatment.
Top Surgery News
Joshua Winer and His Use of HIPEC Featured in the Atlanta Jewish Times

The AJT article rightly describes Dr. Winer as one of the few surgeons in the United States that practices the innovative HIPEC procedure, and features a detailed explanation of the complicated surgery and Dr. Winer's observations. HIPEC is a cancer treatment that delivers highly concentrated, heated chemotherapy directly to the abdomen during surgery, which allows for higher doses of chemotherapy than systemic delivery.
---
Also in the News:
Omar Lattouf Named Medical Director of New Surgical Partnership
David Kooby Provides Robotic Surgery for Pancreatic Cancer at Emory Saint Joseph's Hospital (includes video)
CSAT Physician-Patient Lung Cancer App Receives Design Award
Chris Larsen and Ravi Rajani Receive Synergy Awards
Carla Haack Provides Medical Care on Volunteer Trip to Puerto Rico
Mehul Raval Named Director of the Center for Clinical Outcomes Research & Public Health
Trainee News Bytes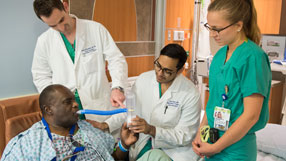 The abstract call for the 17th Annual William C. Wood Research Symposium is open to all Emory Surgery students, residents, and fellows. Cash awards will be given for the best oral presentations and posters in both clinical science and basic science categories. The submission deadline is Friday, December 15, 2017.
---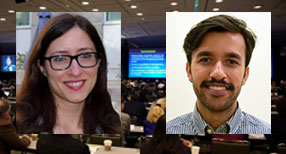 General surgery resident Alexandra Lopez-Aguiar and post-doctoral research fellow Mohammad Zaidi have received 2018 Conquer Cancer Foundation Merit Awards of the American Society of Clinical Oncology for their high quality abstracts, which they will now present at the 2018 Gastrointestinal Cancers Symposium in San Francisco.