Faculty Spotlights
April Grant, MD

Dr. Grant works at Grady Memorial Hospital as a trauma surgeon, emergency/elective general surgeon, and surgical critical care intensivist. She received her MD degree from the University of South Carolina School of Medicine, and completed her general surgery residency at the Greenville Health System University Medical Center. Her surgical critical care and trauma surgery fellowships were done at Jackson Health System & Ryder Trauma Center, University of Miami Health System.
As a fellow, she helped establish a comprehensive adult ECMO program, then studied its impact while assisting in the development of innovative treatment strategies during extracorporeal life support.
Dr. Grant's faculty profile >>
---
Eric Knauer, MD

Dr. Knauer received his medical degree from the Georgetown University School of Medicine. His postgraduate training included a general surgery residency at the University of Connecticut and a minimally invasive surgery fellowship at the Baylor College of Medicine. John Sweeney, MD, current chair of the Emory Department of Surgery, was chief of minimally invasive surgery at Baylor during Dr. Knauer's fellowship, and his primary mentor.
Dr. Knauer joined Wellstar Cobb Hospital in 2003, and served as vice chair and chair of the Department of Surgery there, as well as medical staff president of the hospital.
Top Surgery News
Seth Force and David Kooby Hold Live Web Broadcast on Esophageal Cancer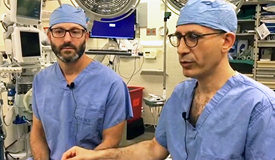 Surgical oncologists Seth Force and David Kooby discussed esophageal cancer and took questions from viewers on a Facebook Live broadcast from Emory University Hospital.
---
Also in the News:
Douglas Murphy Featured on FOX 5 Medical Segment Performing Life Saving Robotic Surgery
Shelly Abramowicz and Steven Goudy to Study Bone Regeneration Techniques for Treating Maxillary Defects
CSAT's Surgical Anatomy of the Lung Now Available
Emory Haiti Alliance 2018 Surgical Trip: Converge, Adapt, Advance
Emory CABG Program Earns STS Three-Star Rating
Bryan Morse and Craig Coopersmith Assume Positions in Accredited ACS and SCC Fellowships
Watch Douglas Murphy Discuss Robotic Heart Surgery on Ivanhoe Broadcast News
Twenty-five Emory Surgery Faculty Named to Atlanta Magazine's 2018 Top Doctors
Trainee Spotlights
Crystal Koerner, MD, won the General Surgery Resident Abstract Competition at the Georgia Chapter of the American College of Surgeons' Annual Meeting for a study that focused on assessing the association of Enhanced Recovery after Surgery protocols (ERAS) with the incidence and severity of acute kidney injury in patients undergoing elective colorectal surgery.
---

Xiaoying Lou, MD, will use a Georgia CTSA TL-1 Award to begin determining the optimal timing of surgical intervention for uncomplicated, or chronic, type B aortic dissection (TBAD) by examining differences between acute and chronic aortic dissection flaps.
---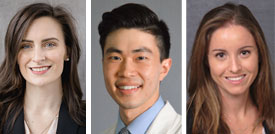 The 2018 graduating chiefs with Dr. John Sweeney (1st from left, back row), Dr. Keith Delman (2nd, middle row), Dr. Ravi Rajani (4th, middle row), and Dr. Jahnavi Srinivasan (5th, 1st row).