Top Surgery News
Juan Sarmiento performs 1000th Whipple procedure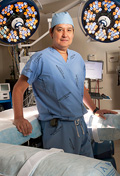 Seventeen years after performing his first Whipple procedure at Emory University Hospital, Juan Sarmiento has achieved the major milestone of performing his 1000th Whipple at Emory, an amazing accomplishment by any estimation. Dr. Sarmiento has specialized in evaluating, testing, and modifying methods of performing pancreaticoduodenectomy, with special attention given to lessening the physiologic impact of this formidable operation.
---
Also in the News:
Thirty-one Emory Surgery Faculty Named to Atlanta Magazine's 2020 Top Doctors
Shishir Maithel asked to join Eligibility Criteria Consistency Initiative of the Oncology Center of Excellence
Timothy Buchman and Rachel Patzer involved in COVID-19 research
SVS honors Robert Smith with 2020 Lifetime Achievement Award
Michael Lowe and Michael Turgeon accepted into ACCR/ASCO Clinical Trials Workshop
Maria Russell appointed to Georgia's ACS CoC Chair
Randi Smith invited to join ACS COT Working Group on the Social Determinants of Health
Craig Coopersmith one of three Emory faculty involved in shaping federal COVID-19 treatment guidelines
Peter Thompson's QI project reduces post-op breast implant infection rates
Emory's surgery adjudicators must make complicated decisions during COVID-19
Faculty Spotlights
Keneeshia N. Williams, MD

Dr. Williams received her MD degree from the University of Illinois College of Medicine at Peoria and completed her general surgery residency at University of Illinois at Mount Sinai Hospital.
Her one-year research residency was done in the NIH-funded training program in trauma and burn research at the Burn and Shock Trauma Research Institute of Loyola University Medical Center, and she did her surgical critical care/acute care surgery fellowship at Banner – University Medical Center Tucson.
Dr. Williams' primary clinical location is Grady Memorial Hospital, where she serves as a trauma surgeon, emergency/elective general surgeon, and surgical critical care intensivist.
Dr. Williams' Faculty Profile >>
---
Joshua H. Winer, MD

After obtaining his medical degree in 2004 at the University of Maryland, Dr. Winer completed his general surgery residency and surgical critical care fellowship at Brigham and Women's Hospital.
Prior to joining our faculty, he completed his surgical oncology fellowship at the University of Pittsburgh Medical Center.
Dr. Winer's specialties include the performance of hyperthermic intraperitoneal chemoperfusion (HIPEC), an innovative cancer treatment that delivers highly concentrated, heated chemotherapy directly to the abdomen, which allows for higher doses of chemotherapy than systemic chemotherapy delivery. After arriving at Emory in 2013, Dr. Winer built the HIPEC program for both gastrointestinal and gynecologic malignancies at Emory Saint Joseph's Hospital.
Trainee Spotlights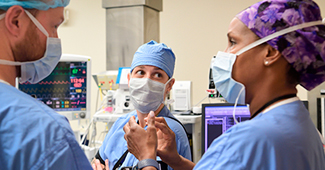 A partnership of Emory residents, medical students, and the leadership of the Emory Global Perioperative Health Group has produced a COVID-19 Community & Healthcare Facility Checklists manual. The electronic document is available for free download, and is intended to serve as a needs assessment and organizational tool for low resource communities and healthcare facilities, though it is suitable for use by any entity.
---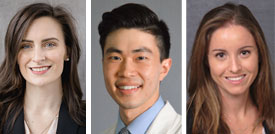 Kirsten Baecher, MD, Jessica Keilson, MD, and Michael Turgeon, MD, are the 2020 recipients of the Nell W. and William Simpson Elkin Fellowship. The awards will help cover salary, laboratory costs, and other expenses related to their research.
---

Elissa Falconer, MD, won 1st place in the NEJM QI Resident 360 Challenge, which gives residents and fellows a venue to share their quality improvement projects with a global audience. Her study aimed to standardize and reduce non-adherence to patient discharge opioid prescribing recommendations at the Atlanta VA HCS.