Top Surgery News
Randi Smith and colleagues receive Synergy Award

Randi Smith, MD, Dabney Evans, PhD, MPH, and Amy Zeidan, MD, have received a 2020 Synergy Research Award to investigate the impact of the pandemic on the incidence, injury type, and severity of trauma encountered at Grady Memorial Hospital, with a special interest in intimate partner violence.
---
Also in the News:
Juan Sarmiento performs 1000th Whipple procedure
Thirty-one Emory Surgery Faculty Named to Atlanta Magazine's 2020 Top Doctors
Shishir Maithel asked to join Eligibility Criteria Consistency Initiative of the Oncology Center of Excellence
Timothy Buchman and Rachel Patzer involved in COVID-19 research
SVS honors Robert Smith with 2020 Lifetime Achievement Award
Michael Lowe and Michael Turgeon accepted into ACCR/ASCO Clinical Trials Workshop
Maria Russell appointed to Georgia's ACS CoC Chair
Randi Smith invited to join ACS COT Working Group on the Social Determinants of Health
Craig Coopersmith one of three Emory faculty involved in shaping federal COVID-19 treatment guidelines
Peter Thompson's QI project reduces post-op breast implant infection rates
Matthew Clifton appointed new chief of Division of Pediatric Surgery
Faculty Spotlights
Subhadra Shashidharan, MD

Dr. Shashidharan received her MD from Bangalore Medical College in India. She completed her general surgery residency at St. Agnes Hospital in Baltimore, and did her cardiothoracic surgery and congenital cardiac surgery fellowships at the University of Southern California.
Dr. Shashidharan specializes in cardiac transplant, congenital heart surgery, pediatric cardiac surgery, and thoracic surgery. Her research focuses on quality improvement and clinical outcomes in congenital cardiac surgery, and aspirin resistance in children following cardiac surgery procedures.
She is the director of adult congenital heart surgery at Emory University Hospital, director of quality for pediatric cardiac surgery at Children's Healthcare of Atlanta (CHOA), and curriculum director and associate program director of CHOA's congenital cardiac surgery fellowship.
Dr. Shashidharan's Faculty Profile >>
---
Elizabeth R. Benjamin, MD, PhD

Dr. Benjamin is a trauma surgeon, emergency/elective general surgeon, and surgical care intensivist. She serves as the trauma medical director at the Marcus Trauma Center at Grady Memorial Hospital.
Prior to joining the faculty of Emory School of Medicine, Dr. Benjamin was associate trauma medical director at the Los Angeles County + University of Southern California Medical Center, Keck School of Medicine.
She received both her PhD in molecular genetics and microbiology and her MD in 2004 at the University of Medicine and Dentistry of New Jersey, Rutgers School of Biomedical and Health Sciences. She completed her general surgery residency at UCLA, and her fellowship in trauma and critical care at the University of Texas Southwestern/Parkland Memorial Hospital.
Trainee Spotlights

The Foundation of the American Association for the Study of Liver Diseases (AASLD) has recognized Emory general surgery resident Abe Matar, MD, with a 2020 AASLD Emerging Liver Scholar Award. This award will grant Dr. Matar complimentary membership in the AASLD, attendance of the 2020 Digital AASLD Liver Meeting, and participation in the AASLD Resident/Fellow Ambassador Program.
---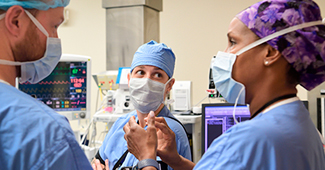 A partnership of Emory residents, medical students, and the leadership of the Emory Global Perioperative Health Group has produced a COVID-19 Community & Healthcare Facility Checklists manual. The electronic document is available for free download.
---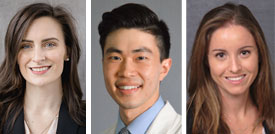 Kirsten Baecher, MD, Jessica Keilson, MD, and Michael Turgeon, MD, are the 2020 recipients of the Nell W. and William Simpson Elkin Fellowship. The awards will help cover salary, laboratory costs, and other expenses related to their research.