Cardiothoracic Surgery Residencies & Fellowships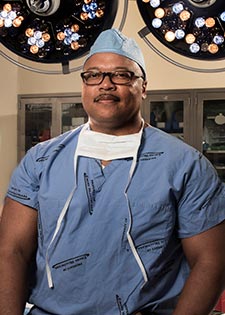 Dr. Allan Pickens specializes in lung cancer, lung transplantation, esophageal cancer, and minimally invasive thoracoscopic and robotic thoracic surgery.
Welcome from the Program Director
The cardiothoracic surgery residency of the Emory University School of Medicine is one of the most long-standing and successful academic-medical programs of its type in the country. Osler Almon Abbott, MD, a founding member of the Emory Clinic, initiated the residency in 1963.
Dr. Abbot came to Atlanta in 1945 after completing his thoracic surgery residency at Washington University in St. Louis, and was one of the city's first fully trained thoracic surgeons. In 1951, Dr. Abbott and William Hopkins, MD, performed Georgia's first successful intracardiac procedure for a patient with mitral valve stenosis at Emory University Hospital.
The day after Charles Ross Hatcher, Jr., MD, joined the Emory Clinic in July 1962, he performed Georgia's first successful "blue baby" open heart procedure. He went on to do Georgia's first double, then triple valve replacements. In 1970, he did Georgia's first coronary bypass at Emory University Hospital.
In 1971, Dr. Hatcher was named chief of the Division of Cardiothoracic Surgery and program director of the cardiothoracic surgery residency. The program began recruiting young, energetic, and innovative cardiac surgeons; attracting high-achieving trainees; and establishing its position as a dependable and compassionate clinical service with superior outcomes.
Robert Guyton, MD, was recruited to Emory after completing his residency at Massachusetts General Hospital in 1979. He was appointed chief of Emory Cardiothoracic Surgery and director of the residency in 1990, serving with distinction for more than two decades. Dr. Guyton stepped down as chief in 2017, and renowned adult cardiothoracic and robotic cardiac surgeon Michael Halkos, MD, assumed the position.
I began serving as associate program director of cardiothoracic surgery in 2014, and had the privilege of witnessing Dr. Guyton's absolute dedication to education and clinical excellence. In 2018, I was appointed program director for Emory Cardiothoracic Surgery's integrated and traditional training programs.
I'm proud to be a member of Emory CT Surgery, which has never stopped evolving and remains a prestigious institution. Our faculty are diverse, versatile, and at the top of their respective specialties; our research is innovative, relevant, and impactful; and our trainees have the opportunity to learn from the best as they rotate between multiple facilities, encounter hundreds of patients and virtually every condition, and perform a wide spectrum of both tried-and-true and cutting-edge procedures.
Sincerely,
Associate Professor of Surgery and Program Director, Division of Cardiothoracic Surgery, Department of Surgery, Emory University School of Medicine