Pediatric Surgery Residency & Clinical Fellowship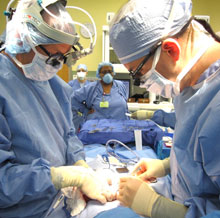 For details on the pediatric surgery clinical research fellowship, please go here. The remainder of this page is devoted to the pediatric surgery residency.
The pediatric surgery residency of the Emory University School of Medicine is an ACGME approved two-year program. During the training period, residents are responsible for the care of pre- and post-operative patients in both inpatient and outpatient clinic settings. As residents master increasingly difficult skills and become adept at communicating with children and parents, they are assigned higher levels of responsibility in and out of the operating room.
The Division of Pediatric Surgery offers a comprehensive didactic curriculum examining all major topics in pediatric surgery. Residents participate in weekly conferences on morbidity and mortality, pediatric radiology and pediatric oncology; attend bimonthly lectures on basic science topics; and participate in a monthly pediatric surgical pathology conference and journal club. Pediatric surgery residents present a weekly pediatric surgery conference for surgical and pediatric house officers, pediatric and surgical attendings, and nurses.
In addition to clinical efforts, pediatric surgery residents are expected to participate in the division's research mission. Studies driven by pediatric surgery residents are strongly encouraged and will ideally result in original work being presented and published on the national/international level.
Attendance at both the American Academy of Pediatrics (senior resident) and American Pediatric Surgical Association (junior resident) is supported. Senior residents traditionally attend the Pediatric Anorectal and Colorectal Surgical Workshop in Cincinnati, the Advanced Minimally Invasive Surgery Course, and the Pediatric Surgical Oncology Review Course in Memphis.
Application, Inquiries, and Training Verification

Applications to the pediatric surgery residency at Emory are accepted through the ERAS system.
Inquires, questions, or concerns regarding the pediatric surgery residency should be directed to:
Matthew Clifton, MD
Program Director, Pediatric Surgery Residency & Clinical Research Fellowship, Division of Pediatric Surgery, Department of Surgery, Emory University School of Medicine
Children's Healthcare of Atlanta at Egleston
1405 Clifton Rd.
Atlanta, GA 30322
Telephone: 404.785.0781