Plastic Surgery Residency
---
Thank you for your interest in Emory University's integrated and independent plastic surgery residency programs. Our faculty of skilled clinician-educators stand ready to support your development and growth as a plastic and reconstructive surgeon.
Built on a tradition of innovation from muscle flaps to oncoplastic breast operations, Emory delivers the training environment you need to develop your plastic surgery skills at the highest level. Join the Emory Plastic Surgery family to refine a superior skill set in a fun, collegial, supportive, and professional atmosphere where you will feel appreciated.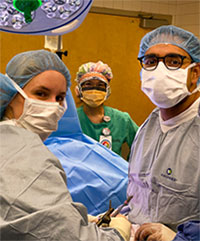 Our program offers an enhanced range of experiences across the breadth of plastic surgery. As the only such training program in the state of Georgia, you'll develop unparalleled operative independence in both emergency and elective cases, and be challenged with cases ranging from the routine to the extraordinarily complex.
Emory offers a wide diversity of training at both private practice and academic facilities to offer directed learning experiences. Clinical rotations occur at a standalone aesthetic center, a level-1 trauma county hospital, two dedicated free-standing pediatric hospitals, and three tertiary-referral university hospitals within an expanding Emory University healthcare system.
We know how valuable quality of life can be, and in Atlanta you will find it. Enjoy our warm weather, southern charm, abundant access to big-city amenities, and ample open spaces outside of the metro area for outdoor activities. Home to the world's busiest airport, Atlanta also provides direct flight access for easy travel. If you're interested in becoming a part of the Emory Plastic Surgery family, let us get to know you.
See it all. Do it all. At Emory Plastic Surgery.