Living in Atlanta
The Atlanta Community | Quality of Living
The Atlanta Community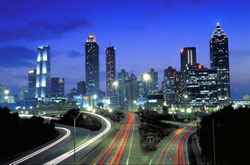 Emory medical residents have ready access to all the resources of one of the nation's fastest-growing metropolitan areas. The university is an active citizen in Atlanta, which naturally develops connections and opportunities for Emory community members to explore.

Georgia is home to more than a dozen Fortune 500 headquarters, including The Coca-Cola Company and The Home Depot, and many companies on the prominent list have offices here. Emory maintains active partnerships with many of Atlanta's preeminent institutions, such as The Carter Center and the U.S. Centers for Disease Control and Prevention.

Part of the attraction for businesses and organizations is a technology infrastructure that led Forbes magazine to rate Atlanta No. 2 in its 2009 list of the nation's most wired cities.

Atlanta offers four distinct seasons, with temperate weather most of the school year.

Drive a few hours north to hike the Appalachian Trail, raft whitewater rivers, or ski in the Great Smoky and Blue Ridge mountain ranges. To the east and south, the beaches of South Carolina, Georgia, and Florida are only a half-day's road trip away.

The busy Hartsfield-Jackson Atlanta International Airport provides ready global access. Dozens of countries maintain consular, trade, or chamber of commerce offices in Atlanta.
The metropolitan area is home to more than five million people, giving rise to a diversity of cultural, social, and recreational interests. The city's voluminous list of attractions includes:
The Carter Center and the Carter Presidential Library and Museum
Fernbank Museum of Natural History
Professional sports teams:
For a more complete list of events, museums, restaurants, shopping, festivals, etc., please visit Atlanta Travel Guide.
Quality of Living
Atlanta offers residents both a high quality of life and a lower cost of living than the national average; in fact, at a significantly lower cost than comparable large metropolitan areas. Thus, residents reap many of the benefits of living in a larger city — restaurants, entertainment, sporting events, family activities and the like — without the elevated cost of living associated with comparable cities.
Cost of Living Graph: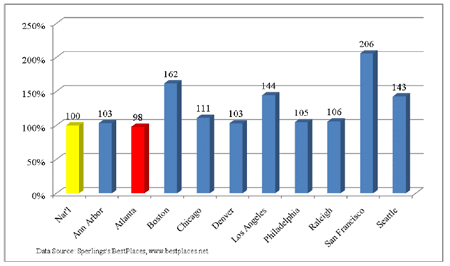 Atlanta also offers a wide variety of housing options. Whether the resident desires a large, single family home in the suburbs or a low-maintenance, in-town loft, or anything in-between, he or she will find a number of options.

Our residents live in a wide variety of neighborhoods and communities, most of which are convenient to the various major hospitals and medical centers.

Where our residents live: