Final Report: 2018 Annual William C. Wood Research Symposium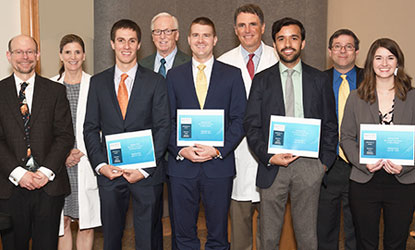 Above, left to right: Nnaemeka Ndubisi (symposium winner), William Wood (professor of surgery emeritus), Margot Hillyer (symposium winner), Nicole Turgeon (director of extramural studies, Emory Surgery), John Sweeney (chair of Emory Surgery), Sonia Laurie (symposium winner), Elizabeth Mittendorf (keynote speaker), David Mathews (symposium winner), Craig Coopersmith (vice chair of research, Emory Surgery).
The 17th Annual William C. Wood Research Symposium showcased the basic and clinical science research of the Emory Department of Surgery's students, residents, and fellows, and was held on April 26, 2018, from 7:00 a.m.-11:00 a.m. in the Emory University Hospital Auditorium.
The keynote speaker was Elizabeth A. Mittendorf, MD, PhD, Rob and Karen Hale Distinguished Chair in Surgical Oncology at Brigham and Women's Hospital, Boston, director of surgical research at Dana-Farber/Brigham and Women's Cancer Center Breast Program, director of the breast immuno-oncology program at Dana-Farber Cancer Institute, and co-director of the breast cancer clinical research program at Dana-Farber. Her lecture was entitled "Advancing lmmunotherapy in Breast Cancer: A Surgeon Scientist's Adventure."
Following the lecture, the oral and poster presentations were held (view 2018 program agenda). Cash awards were given for the first and second place oral presentations in the clinical and basic science categories, as well as awards for the top poster in each category. All winners were invited to attend lunch with Dr. Mittendorf and Emory Surgery faculty immediately following the symposium.
The 2018 William C. Wood Research Symposium winners were:
Sonia J. Laurie, Most Outstanding Basic Science Oral Presentation, "The Balance of CD28 and CTLA4 Signals Controls TIGIT Expression on Antigen-Specific CD4+ Effector T Cells." Ms. Laurie is a PhD candidate enrolled in the Immunology and Molecular Pathogenesis Graduate Program of Laney Graduate School. Her research mentor is Mandy Ford, PhD, scientific director of the Emory Transplant Center.
Nnaemeka Ndubisi, MD, Most Outstanding Clinical Science Oral Presentation, "A Multi-Institutional Analysis of Patients Undergoing Hybrid Coronary Revascularization for Multivessel Coronary Artery Disease." Dr. Ndubisi is a PGY-4 general surgery resident on research sabbatical under the mentorship of Michael Halkos, MD, chief of the Emory Division of Cardiothoraic Surgery.
David Mathews, Most Outstanding Basic Science Poster, "Recipient IFNAR1 Signaling Supports Costimulation Independent Rejection by Promoting T cell Activation." Mr. Mathews is an MD/PhD candidate working in the transplant immunology research lab of Andrew Adams, MD, PhD.
Margot M. Hillyer, Most Outstanding Clinical Science Poster, "Factors Associated with Primary Versus Secondary Anastomosis in Intestinal Atresia." Ms. Hillyer is a 4th year medical student, and her research mentor is Emory pediatric surgeon Mehul Raval, MD.
The Emory Surgery Research Advisory Committee plans and manages the symposium, thanks all that were involved in making the 2018 installment a success, congratulates the winners and all of the presenters, and is looking forward to the 2019 symposium.