William C. Wood Research Symposium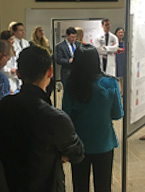 The Annual William C. Wood Research Symposium showcases the basic and clinical science research of the Emory Department of Surgery's students, residents, and fellows, and features a keynote speaker of national prominence.
2018 Symposium
The 17th installment of the symposium will be held on Thursday, April 26, 2018, from 7:00 a.m.–11:00 a.m. in the Emory University Hospital Auditorium. The keynote address, "Advancing lmmunotherapy in Breast Cancer: A Surgeon Scientist's Adventure," will be presented by Elizabeth A. Mittendorf, MD, PhD, the Rob and Karen Hale Distinguished Chair in Surgical Oncology at Brigham and Women's Hospital, Boston, and a faculty member at Harvard Medical School. She also serves as the director of surgical research at Dana-Farber/Brigham and Women's Cancer Center Breast Program, director of the breast immuno-oncology program at Dana-Farber Cancer Institute, and co-director of the breast cancer clinical research program at Dana-Farber.
At the close of Dr. Mittendorf's lecture, the oral and poster presentations will proceed. The symposium will conclude with cash awards being given for the best oral presentations and posters in both clinical science and basic science categories. All winners will be invited to attend lunch with Dr. Mittendorf and Emory Surgery faculty members immediately thereafter.
The symposium's abstract call in both basic and clinical science categories closed on Friday, December 15, 2017. Trainees in dedicated laboratory rotations were expected to submit their research, though the call was open to all trainees. Submissions were reviewed by a panel of the Department of Surgery Research Advisory Committee (SRAC), and considered for both oral and poster presentation. Those submitting authors who were chosen to present were informed via notification letters sent by the SRAC on January 31, 2018.
William Wood: Renaissance Surgeon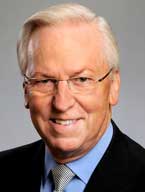 William C. Wood
The symposium is named in honor of William Wood, MD, former chair of the Emory Department of Surgery from 1991-2009. Dr. Wood guided the department to becoming one of the nation's leading institutions for surgical research and innovation.
When Dr. Wood came to Emory from Massachusetts General Hospital, where he served as both medical director of the cancer center and chief of surgical oncology, the department had no NIH grants. By the time he stepped down from the chair's office, however, Emory Surgery had begun regularly placing in the upper ranks of academic departments of surgery receiving NIH funding.
Dr. Wood is also known for his outstanding contributions to cancer therapy—most specifically breast cancer treatment—and the design and meta-analysis of conceptually driven clinical trials.