20th Annual William C. Wood Research Symposium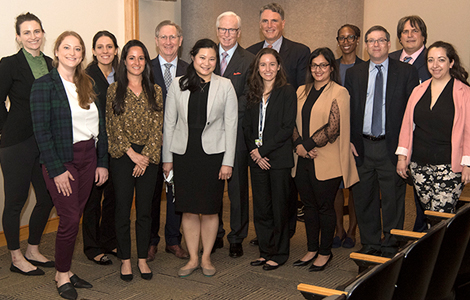 Front row, l-to-r: Kelsey Bennion, Courtney Meyer, Jessica Liu McMullin, Jessica Keilson, Preeti Subhedar, Craig Coopersmith, Christina Hartigan
Second row: Kirsten Baecher, Alexandra Speak, Allan Kirk, William Wood, John Sweeney, Randi Smith, Luke Brewster
Brendan Lovasik not pictured due to clinical obligations
---
Final Report
The 20th Annual William C. Wood Research Symposium showcased the basic and clinical science research of the Emory Department of Surgery's students, residents, and clinical and post-doctoral fellows on Thursday, April 14, 2022, 7:00 – 11:30 AM, in the Emory University Hospital Auditorium. First and second place cash awards were given for best oral presentations and posters in both clinical science and basic science categories.
The keynote address, "The Future of Surgery," was delivered by Allan D. Kirk, MD, PhD, who is the David C. Sabiston, Jr. Distinguished Professor of Surgery; Chair, Department of Surgery; Professor of Surgery; Professor in Pediatrics; and Professor in the Department of Immunology at Duke University School of Medicine. In addition to his clinical transplant practice, Dr. Kirk has published over 300 scientific manuscripts, and continues NIH, DoD, and FDA-sponsored investigations in organ transplantation and immune management. Prior to Duke, he served as Vice Chair for Surgical Research at Emory from 2007-2014.
Download the symposium PDF program here.
Awards
Best Clinical Oral Presentation: Brendan Lovasik, MD, general surgery resident, "Racial and immunologic disparities impact access to repeat kidney transplantation among patients with previous failed kidney allograft." First Runner-up: Alexandra Speak, medical student, "Pain catastrophizing and hospital length of stay in colorectal surgery patients: A prospective cohort study."

Best Basic/Translational Oral Presentation: Jessica Keilson, MD, general surgery resident, "Galectin-9 expression and decreased survival in advanced biliary tract cancers." First Runner-up: Kristin Baecher, MD, general surgery resident, "Gm2a: A novel regulatory pathway influencing CD8+ T cell responses in transplant and cancer."

Best Clinical Poster: Jessica Liu McMullin, MD, general surgery resident, "Environmental chemicals and their association with hyperparathyroidism." First runner-up: Courtney Meyer, MD, general surgery resident, " Outcomes and survivability in adult trauma patients undergoing ultra-massive transfusion."

Best Basic/Translational Poster: Christina Hartigan, graduate student in immunology, "TIGIT agonism alleviates costimulation blockade resistant rejection in a Treg-dependent manner." First runner-up: Kelsey Bennion, cancer biology and immunology PhD candidate, "FcγRIIB expressed on activated CD8+ T cells restrains T cell responsiveness to αPD-1 immune checkpoint blockade in melanoma patients."
William Wood: Renaissance Surgeon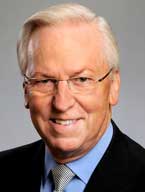 Dr. William Wood
The symposium is named in honor of William Wood, MD, former Chair of the Emory Department of Surgery from 1991-2009. Dr. Wood guided the department to becoming one of the nation's leading institutions for surgical research and innovation.
When Dr. Wood came to Emory from Massachusetts General Hospital, where he served as both Medical Director of the Cancer Center and Chief of Surgical Oncology, the department had no NIH grants. By the time he stepped down from the chair's office, however, Emory Surgery had begun regularly placing in the upper ranks of academic departments of surgery receiving NIH funding.
Dr. Wood is also known for his outstanding contributions to cancer therapy—most specifically breast cancer treatment—and the design and meta-analysis of conceptually driven clinical trials.