Dr. Cendales Helms the First Hand Transplant in the Southeast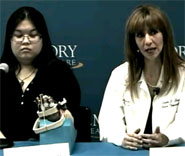 The culmination of several years of preparation, planning, and the coordination of a wide variety of transplant professionals, the Hand Transplant Program of the Emory Transplant Center, led by Dr. Linda Cendales, has successfully completed its first hand transplant on 21-year-old Linda Lu, a college student from Orlando, Fla, who's hand was amputated at the age of one due to Kawasaki disease. Not only a first for Emory, the 19-hour procedure on March 12 was also the first hand transplant in the Southeast and only the 14th such procedure in the country.
"This case signals a significant new advance in our ability to care for individuals with upper extremity amputation," said Dr. Cendales at a press conference on March 28 with Ms. Lu (see photo, right). "While this could be considered as an end product or accomplishment, we prefer to view it as the beginning of a comprehensive vascularized composite allograft clinical program that we hope will advance the field."
Dr. Cendales led the two teams consisting of surgeons, anesthesiologists, nurses, and operating room support staff that performed the transplant — one team was dedicated to the patient; the other to the donor arm. The extremely complex surgery involved the connection of numerous structures including bones, tendons, nerves, vessels and finally the skin and required the use of high-powered microscopes.
Ms. Lu was placed in a protective splint for 48 hours and is now wearing a high-tech brace that supports the limb while she begins the long process to gain function of her new hand. She will stay in Atlanta for several months for hand therapy to gain strength and function before returning home. Dr. Cendales notes that the first three to six months following surgery are the most critical in terms of gaining maximum function.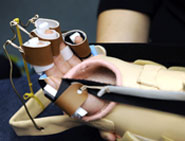 "While the transplanted hand will never be completely normal, it will be able to do much that normal hands do," said Dr. Cendales. "Linda will be able to make a fist, have feeling in her fingertips, have nail growth consistent with her other hand, discern temperature, assist her other hand and even get sweaty palms." Ms. Lu's transplanted hand and rehabilitative splint are pictured right.
Dr. Cendales makes certain to acknowledge and thank the donor family. "None of this or any other transplant would be possible without the altruistic gift from the donor family. To them we send our sincerest respect, sympathy and gratitude."
Dr. Cendales, the only person in the United States with formal training in both hand and transplant surgery, assisted in the organization of the first hand transplant team in the United States in Louisville, KY, which performed the first hand transplant in 1999. She came to Emory in 2007 to lead the ETC's hand transplant program and to direct ETC's Vascularized Composite Transplantation and Microsurgery Laboratory, which is developing and refining methods of transplanting multiple tissues as a functional unit. This program is sponsored in part by a U.S. Department of Defense Bureau of Medicine grant to support limb transplantation, a procedure that may help benefit soldiers who lose limbs during combat. Emory has the only VA-approved limb transplant program in the country.