Ravi Rajani named Assistant Dean for Education, Emory at Grady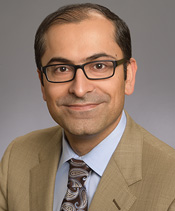 In his new role as assistant dean for education for Emory at Grady, Ravi Rajani, MD, professor of surgery, will serve as the primary liaison between the Emory School of Medicine and Grady Memorial Hospital in the areas of Undergraduate Medical Education (UME), Allied Health, and Graduate Medical Education (GME).
In this position, Dr. Rajani will work closely with Carlos Del Rio, MD, executive associate dean for clinical affairs at Grady; J. William Eley, MD, executive associate dean for medical education & student affairs; and Marilane B. Bond, EdD, MEd, MBA, associate dean for medical education.
"Grady is an educational oasis for virtually every clinical training program at Emory and particularly special to me personally," Dr. Rajani says. "This position will give me the amazing opportunity to negotiate between multiple perspectives and priorities to realize common goals and paths to success."
As assistant dean, Dr. Rajani will bring his wide experience in Emory's patient care, training, and research missions to bear, as well as his deep familiarity with the interconnectivity between Emory and Grady.
He joined Emory in 2011 as the chief of vascular and endovascular surgery at Grady, with a secondary appointment in cardiology, and has been heavily involved in the development of cardiovascular services at the facility. He is also an associate program director for the general surgery residency and helps oversee surgical education at Grady.
Dr. Rajani has served as the principal investigator for several clinical trials evaluating endovascular management for types of vascular trauma and is particularly interested in refining thoracic stent graft technology for treating blunt aortic injury. Clinically, his primary focus has been on endovascular techniques to facilitate limb salvage in diabetic patients.
The School of Medicine and Grady are grateful for the leadership of Jaffar Khan, MD, who served as assistant dean prior to accepting the role of interim chair in the Department of Neurology.