R. Anthony Meena receives his second GVS Robert B. Smith, III, MD, Resident Award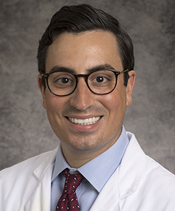 R. Anthony Meena, MD, Emory PGY-3 integrated vascular surgery resident, has been recognized with the Robert B. Smith, III, MD, Resident Award by the Georgia Vascular Foundation (GVF) at the Georgia Vascular Society's (GVS) 2021 Annual Scientific Sessions. This is the second time he has received the award, the first being at the 2018 GVS Sessions. 
The Robert Smith Resident Award spotlights the significant contributions of residents and fellows to their fields of research, and is named in honor of retired Emory vascular surgeon Dr. Robert B. Smith, who received the first GVF Lifetime Achievement Award for his dedication to training residents and fellows in the field of vascular surgery.
Dr. Meena's winning abstract describes the establishment of a multidisciplinary, telehealth-focused effort at the Atlanta VA Healthcare System as a means of preventing the rise of amputation rates in patients with chronic limb-threatening ischemia (CLTI) that was being seen as the COVID-19 pandemic progressed. His coauthors were Emory vascular surgery faculty members Anuj Mahajan, MD, Luke Brewster, MD, PhD, and Olamide Alabi, MD, and Morehouse vascular surgery faculty member Brandon Henry, MD.   
At the beginning of the pandemic, the multidisciplinary team of vascular surgeons, podiatrists, advanced practice providers, and trainees started screening all upcoming Atlanta VA appointments for veterans with peripheral artery disease (PAD), leg wounds, and confirmed/potential CLTI for either telehealth or telephone visits based on access to compatible devices. Over a seven-month period, 35 patients were diagnosed with CLTI and underwent lower extremity revascularization (LER), the optimal treatment for forestalling amputation. 
Dr. Meena and his coauthors retrospectively compared this period to the same time frame the year before COVID and prior to the formation of the VA's telehealth effort. They found that 32 patients presented with CLTI and had LER, a 15.7% primary major amputation rate compared to 14.3% in the COVID era.
"Ultimately, our institution did not experience increased amputation rates or advanced disease presentation for patients with CLTI during the pandemic," says Dr. Meena. "This may be due to the coordinated approach between vascular surgery and podiatric surgery as well as the rapid roll-out of the telewound program to surveil high-risk veterans. Further investigation is necessary to determine how telehealth can continue to be leveraged to improve CLTI outcomes."