William Jordan Begins Tenure as Vascular Surgery Chief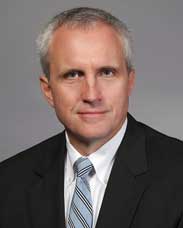 William Jordan
Several months before arriving in Atlanta to serve as chief of the Emory division of vascular surgery and endovascular therapy, William D. Jordan, Jr, MD, had already begun communicating with Emory vascular surgery faculty and was integral to several major discussions involving future directions of the division. Now that he is credentialed and official, he can begin moving those directions forward.
"Emory vascular surgery's imprint is instantly recognizable," says Dr. Jordan. "As the largest vascular surgery group in Georgia, it has had an international role in advancing the treatment of arterial and venous disease. I plan on taking our existing academic, clinical, and research resources and leveraging them further to offer the best vascular care for our patients. In the process, we will expand our services to offer better accessibility for future patients who want to be treated at Emory, and for clinicians who seek to partner with our vascular specialists for advanced care. New clinical trials in the division will bring even more advanced technology to the region, and we will continue to widen our partnerships with medical professionals throughout Georgia."
Thomas Dodson, MD, who served with distinction as the vascular surgery chief for five years, has returned to devoting 100% of his focus to clinical practice. "Back when I was doing my fellowship at Emory, Dr. Dodson was a great model for how an academic surgeon should interact with peers, trainees, and patients," says Dr. Jordan.
Dr. Jordan received his MD at Emory, did his general surgery residency at the University of Alabama at Birmingham, and returned to Emory for his vascular surgery fellowship. He joined UAB in 1994, was appointed chief of vascular surgery in 1996, program director of the vascular surgery fellowship in 2002, and the Holt A. McDowell, Jr. Professor and Director of Vascular Surgery and Endovascular Therapy in 2007. His clinical specialties include the minimally invasive treatment of aortic aneurysm, aortic diseases, renal artery conditions, carotid artery diseases, and peripheral vascular diseases.
Dr. Jordan's extensive research portfolio specializes in the development, evaluation, and implementation of new methods of treatment for peripheral vascular and aortic disease. His most recent trials-based investigations include being National PI of Gore & Associates' evaluation of the GORE® conformable TAG® thoracic endoprosthesis for the primary treatment of aneurysms of the descending thoracic aorta, and serving as International Co-PI of a registry that is capturing data on the use and outcomes of Aptus EndoAnchors, which are applied during endovascular aneurysm repair to enhance the fixation and sealing mechanisms of endografts.
"The earliest citations in my bibliography were written with various Emory mentors, people like Dr. Dodson, (emeritus professor) Dr. Robert Smith, and Dr. Elliot Chaikof (now chair of the Department of Surgery, Beth Israel Deaconess Medical Center)," he says. "To return to Emory after making good on my potential and participate in steering the division's journey is a wonderful opportunity."
Dr. Jordan's welcome reception will be held on March 11, 2016, from 3:00PM-7:00PM in the Whitehead Memorial Room, Emory University Hospital, and is open to Department of Surgery faculty and select Emory University School of Medicine and Emory Healthcare leadership.