Surgical PA Residency
This program is currently in transition. Please check back for more details, or email Margi McKellar for additional information.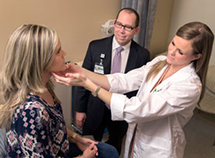 Emory University's one-year Surgical Physician Assistant (PA) Residency Program involves all aspects of perioperative patient care for those seeking advanced training and experience in surgery. The PA residency builds extensive surgical and patient management skills that can propel graduates into successful careers in both academic and private practice settings.
The first six-month block of core rotations will acquaint PA residents with general and specialty surgery fields, followed by six more months of elective rotations directed towards personal interests and career goals. Clinical experiences will be reinforced by a daily didactic curriculum provided via live and web based lectures, multidisciplinary rounds, weekly conferences, and simulation labs.