Plastic Surgery Residency
---
The late Dr. Maurice "Josh" Jurkiewicz—a foundational figure in the histories of both the Emory University School of Medicine and the national surgical community—initiated Emory's plastic surgery residency in 1971 with just two residents. His love of teaching, innovation, and the craft of surgery was instilled within the gifted students he trained, many of whom became leaders of plastic surgery themselves, such as current division chief Dr. Grant W. Carlson, program director Dr. Albert Losken, the retired Dr. T. Roderick Hester, and the late, great Dr. John Bostwick.
Having grown significantly since those early years, the Emory plastic surgery residency now has two ACGME-approved tracks. The long-standing independent track is a three year program. Applicants must have completed five years of ACGME-recognized clinical general surgery residency training and have received enough progressive responsibility to qualify for certification by the American Board of Surgery.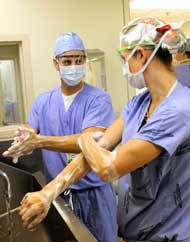 Under the guidance of Dr. Carlson and Dr. Losken, the residency's integrated track began in July 2015. It is a six year clinical program with combined training in general surgery and plastic surgery. The first three years are a mixture of training in general surgery and plastic surgery, followed by three years of specialty training in plastic surgery.
The residents from both tracks rotate at nine different Atlanta sites that are only 20-to-30 minutes apart: Emory University Hospital, Emory University Hospital Midtown, the Egleston and Scottish Rite campuses of Children's Healthcare of Atlanta, Grady Health System, Atlanta Plastic Surgery, Emory Aesthetic Center, Atlanta VA Medical Center, and Georgia Hand Shoulder Elbow. This variety of environments offers residents a wide spectrum of clinical experiences, from trauma to cosmetic procedures.
Graduates of both programs are eligible to enter the examination process to receive certification from the American Board of Plastic Surgery.
For more details about the Emory plastic surgery residency, please visit the program's section under the training tab.