Cardiothoracic Surgery Residencies and Fellowships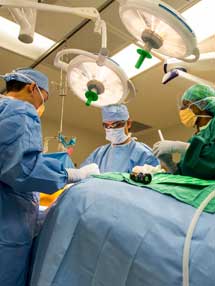 Dr. Osler Abbott, one of the first fully trained thoracic surgeons in Atlanta, Georgia, initiated the cardiothoracic surgery residency program at the Emory University School of Medicine in 1963. By that time, Dr. Abbott had made quite a name for himself in the city, signified by such achievements as being involved in performing Georgia's first successful intracardiac procedure for a patient with mitral valve stenosis at Emory University Hospital.
In 1971, Dr. Charles Ross Hatcher, Jr., was named chief of the Emory Division of Cardiothoracic Surgery and program director of the residency. Dr. Hatcher performed Georgia's first successful "blue baby" open heart procedure in 1962; the state's first double, then triple valve replacements shortly thereafter; and the state's first coronary bypass in 1970.
Dr. Robert Guyton became chief of Emory Cardiothoracic Surgery and program director of the residency in 1990, and went on to become a significant national figure in his field. By 2000, the clinical program was among the top programs nationally in adult cardiac, general thoracic, pediatric cardiac, and thoracic organ transplantation surgical volumes, and this leadership position has continued. The division's training wing is also one of the most long-standing and successful academic-medical programs of its type in the country.
Dr. Michael Halkos was appointed division chief in 2017. He is a highly experienced and productive academic cardiac surgeon-scientist with expertise in minimally invasive cardiac surgery, particularly robotic-assisted coronary artery bypass surgery and robotic mitral valve surgery, hybrid coronary revascularization, and hybrid atrial fibrillation ablation. He plays an active leadership role in resident education, and currently serves as principal investigator for multiple industry- and NIH-sponsored trials.  He is also the current program director for Emory Cardiothoracic Surgery's integrated and traditional training programs.
Emory Cardiothoracic Surgery also has fellowships in pediatric cardiothoracic surgery, adult cardiac surgery for domestic and international surgeons, transcatheter aortic valve replacement, advanced aortic surgery, and advanced robotic cardiac surgery. For detailed descriptions of these programs, please visit Emory Cardiothoracic Surgery Residencies and Fellowships.