Asa G. Yancey Visiting Student Diversity Scholarship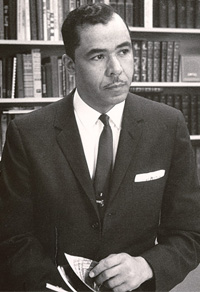 Asa Yancey, MD, 1916-2013
The mission of the Asa G. Yancey Visiting Student Diversity Scholarship is to expose minority medical students from underrepresented backgrounds to one of the various training programs in the Department of Surgery at Emory University School of Medicine. The award aims to increase the number of minority trainees in a surgical residency program at Emory and in surgery as a whole. Medical students selected for this scholarship will be considered for a residency interview at Emory.
The application deadline for the Summer 2019 scholarship has passed. Details for the Fall 2020 opportunity will be posted upon confirmation.
Learn more about Emory's general surgery residency program.
Asa G. Yancey, MD
The scholarship is named in honor of Dr. Asa G. Yancey, the first African American physician to serve at Atlanta's Grady Memorial Hospital. Dr. Yancey was appointed chief of surgery at Grady's Hughes Spalding Pavilion from 1958-1972. Shortly thereafter, he established the first accredited surgical residency program for African Americans in the state of Georgia.
In 1964, Dr. Yancey became the first African American faculty member at the Emory University School of Medicine. His many other activities and accomplishments included serving on the Atlanta Board of Education from 1966-1976.
Scholar Responsibilities and Rotation Details
The Yancey Scholarship consists of one-month of rotations on either the general, vascular, or thoracic surgery services at Emory University Hospital, as well as two weekend trauma call shifts with Emory residents at Grady Memorial Hospital.
Yancey scholars will attend weekly Department of Surgery Grand Rounds and resident didactic courses. They will also be guests of honor at the Department of Surgery's Annual Diversity Dinner.
Yancey scholars will be paired with both faculty advisors and resident mentors. They will meet with their advisors at the beginning and end of their Emory stay, and may schedule additional meetings if needed. Official meetings with resident mentors will be weekly, though mentors will be consistently available to discuss any concerns, issues, interests, or other topics.
The scholars will meet with Keith Delman, MD, program director of the general surgery residency; Allan Pickens, MD, faculty advisor for the Department of Surgery's Diversity Committee and program director for both the integrated cardiothoracic and traditional cardiothoracic residency programs; and Robert Lee, PhD, associate dean and director of multicultural medical student affairs at Emory University School of Medicine.
Expenses and Housing
Travel costs will be reimbursed or paid in advance depending on need.
Daily food stipends will be provided.
Housing will be provided, and Yancey scholars will be paired with fourth-year medical students at Emory.
Eligibility
Yancey scholarship applicants should be fourth year medical students from underrepresented minorities in good academic standing at their home institution.
Additionally, applicants must provide documentation of:
USMLE STEP 1 score of at least 215, if available

USMLE STEP 2 score

Honors or high passing score (or equivalent, i.e., A or B grade) in the third year surgery clerkship
Application
Competitive applicants must submit:
Letter of recommendation from their surgery clerkship director

Curriculum vitae

Official sealed transcript from the School Registrar's office

Letter of good standing from the Dean's office

In addition to the previously mentioned application material, interested students should also apply for a rotation at Emory through the Visiting Student Application Service (VSAS)
– Please list Emory A, Emory Acute Care Surgery, Emory Breast/Melanoma/Endocrine Surgery, and Emory Hepatobiliary Surgery as your VSAS rotation choices (in order of preference)
– If interested in any of the integrated surgery training programs (Cardiac, Plastic Surgery or Vascular), please include the rotation in your VSAS application
Contact
Application materials should be mailed to:
Johanna M. Hinman, MPH, MCHES
Associate Director of Education
Department of Surgery, Emory University School of Medicine
1364 Clifton Road NE, H-125
Atlanta, GA 30322
404.727.9624
jhinman@emory.edu