Integrated Six-Year Residency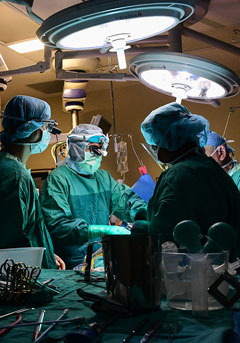 The Integrated Thoracic Surgery Residency Program of the Emory University School of Medicine provides a multidisciplinary and diverse pathway into cardiothoracic surgery. Our residents work with highly dedicated and exceptional faculty, receive early exposure to cardiothoracic surgery, train in the fundamental concepts of general surgery, experience diagnostic and interventional cardiology, and train in pulmonary and critical care.
The program features rotations at seven different Emory-affiliated, metro-Atlanta area hospitals; access to an abundant case volume of more than 4000 cardiothoracic procedures per year; elective away rotations during the first three years; and four months of a super-specialization elective during the chief resident year.
Research is encouraged throughout the residency. Our faculty contribute to the Emory tradition of high visibility at major regional, national, and international meetings; extensive bibliographies; and a strong presence in thoracic, pulmonary, oncology, and cardiology societies. Residents are expected to author one publication and do a minimum of two-to-three presentations at regional or national meetings per year. One-to-two years of dedicated research time is available if certain qualifications are met.
After graduating three-to-four residents per year for more than 30 years, the Emory Division of Cardiothoracic Surgery has trained a significant percentage of the practicing cardiothoracic surgeons in the country.
Years One – Three
The first year of the program includes seven months of rotations in general surgery, two in cardiothoracic surgery, one in cardiology, one in vascular surgery, and one in critical care. The second year features two dedicated months of critical care, six of general surgery, one of interventional cardiology/echocardiography or pulmonology, one of vascular surgery, and two of cardiothoracic surgery.
The transition to additional cardiothoracic surgery training begins during the third year with six months of cardiothoracic surgery, four of general surgery, and two of vascular surgery. Residents are expected to participate in critical care management during all cardiothoracic surgery rotations.
Years Four – Six
The last three years of the residency are entirely devoted to cardiothoracic surgery, with core rotations in congenital cardiac surgery, transcatheter valve technology, heart and lung transplantation, ventricular assist devices, aortic surgery, robotic and minimally invasive thoracic surgery, interventional pulmonology, esophageal surgery, endovascular techniques, robotic heart surgery, and advanced complex coronary revascularization.
Residents have the option to choose a cardiac or thoracic track during this phase. For those residents who wish to be competent in both disciplines, the degree of thoracic surgery training available in the cardiac track is more than adequate. The thoracic track provides dedicated and advanced training in such areas as minimally-invasive thoracic surgery and lung transplantation.