Adult Cardiac Surgery Fellowship for Domestic and International Surgeons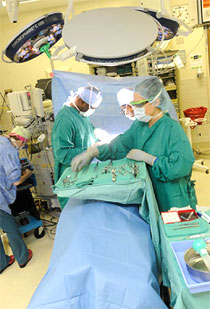 The Emory Division of Cardiothoracic Surgery offers two-to-three year adult cardiac surgery fellowships to domestic and internationally trained surgeons who have completed their cardiac surgery residencies and desire additional training and exposure to complex adult cardiac surgery. Past fellows have come from all over the globe, including Japan, Jordan, Israel, India, New Zealand, Egypt, Canada, and Syria.
Fellows rotate through Emory University Hospital, Emory University Midtown, and Emory Saint Joseph's Hospital. They work and take call with Emory cardiothoracic surgery residents, and will scrub 250-300 adult cardiac cases per year with the attending surgeons. Cases include on and off CABG, complex valve surgery (including mini-MVR and min-AVR), redo-sternotomies, aortic root and arch surgery, resynchronization therapy, surgical afib ablation, TMR laser therapy, pulmonary embolectomy procedures, left ventricular aneurysmectomies, open and endovascular aortic procedures, and other complex cardiac operations.
In keeping with Emory Cardiothoracic Surgery's ethic of providing unified services, fellows will also be involved in the care of patients of the general thoracic service, such as post lobectomy and post esophageal surgery patients.
In addition to weekly morbidity and mortality conferences, fellows participate in the didactic sessions given by our faculty. 
As they complete the program, fellows are expected to be able to function independently in the operating room, manage complex critical care situations, and have a thorough understanding of advanced cardiac surgery.
Application and Inquiries
Fellowship years begin on July 1st.
To be considered for the fellowship, interested surgeons must have completed a cardic surgery residency and be ECFMG certified. They must also send a letter of interest plus CV to:
Omar M. Lattouf, MD, PhD
Medical Office Tower, 6th floor
Emory University Hospital Midtown
550 Peachtree Street
Atlanta, Georgia 30308
Inquiries can be sent to Dr. Lattouf at olattou@emory.edu.