Vascular Surgery Residency and Fellowship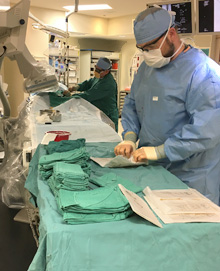 The following content is a summary of the Emory vascular surgery residency and vascular surgery fellowship. For more detailed information about the two training programs, please visit the vascular surgery residency and fellowship section of the training tier of the Emory Surgery website.
Integrated Vascular Surgery Residency
The integrated vascular surgery residency of the Emory University School of Medicine was recently created. Detailed information about the residency is forthcoming.
Vascular Surgery Fellowship
The fellowship in vascular surgery and endovascular therapy of the Emory University School of Medicine is a two-year ACGME-approved program encompassing advanced postgraduate training in surgical and endovascular treatment for vascular disease.
Standard components of the endovascular training program include diagnostic peripheral arterial and venous angiography; angioplasty, stenting, and atherectomy devices; and endovascular grafts to treat aneurysmal disease of the thoracic and abdominal aorta. All fellows receive extensive endovascular training in the diagnosis and treatment of extracranial cerebrovascular disease. Training is also provided in minimally invasive venous surgery, including thrombolytic therapy, angioplasty, the use of mechanical thrombectomy devices for treatment of acute and chronic venous disease, and endovenous laser therapy for management of varicose veins.
In the area of open vascular surgery, fellows will gain expertise in techniques used to treat thoracoabdominal and infrarenal abdominal aortic aneurysms, aortoiliac occlusive disease, carotid disease, and thoracic outlet syndrome. They will also learn how to perform mesenteric, renal, and lower extremity revascularization.
The wide spectrum of faculty research interests allows fellows to participate in either basic science or clinical research endeavors. Fellows are encouraged to present their investigations at regional and national meetings and publish their studies in peer-reviewed journals.
Applications and Inquiries
Dr. Guillermo Escobar is the program director of the Emory vascular surgery fellowship and residency.
Applications are only accepted through the ERAS system.
For additional questions or concerns, please contact:
Natalie Dionne, Vascular Fellowship Program Coordinator, 404.727.1994, natalie.dionne@emory.edu.