Vascular Surgery & Endovascular Therapy Research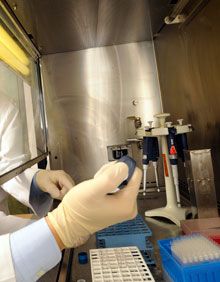 The clinical research of former and current vascular surgery faculty of the Emory University School of Medicine has focused on the genetics of abdominal aortic aneurysm and peripheral artery disease; novel stents for treatment of thoracic and abdominal aortic aneurysms; evaluation of new catheter based strategies, drugs, and gene therapy for treatment of peripheral arterial disease; artificial blood vessels; new devices for prevention of stroke and treatment of carotid disease; and artificial venous valves.
Basic science and translational studies frequently promote arterial health and work towards preventing major amputations in aging patients, with specific studies concentrating on the characterization of biomechanical, cellular signaling, and extracellular matrix differences between stiffened and healthy vessels and seeking to identify new strategies for delivering cellular therapies to at-risk patients.
The division's quality studies and health services research are often an outgrowth of its membership in the Southeastern Vascular Study Group (SEVSG), a cooperative consortium of clinicians, hospital administrators, and research personnel organized to improve the care of patients with vascular disease in the states of Florida, Georgia, Alabama, and Mississippi. The SEVSG participates in the Vascular Quality Initiative (VQI), a collaborative of regional quality groups that collects and analyzes data in an effort to improve patient care.
Funding sources for prior and current Emory vascular surgery research include the American Heart Association, National Institutes of Health, National Science Foundation, Juvenile Diabetes Research Foundation, Department of Defense, industry sponsors, and private donors.
---
Investigators
Dr. Alabi's research interests are concentrated on surgical education and curriculum development, quality improvement and surgical outcomes, and health equity/health disparities in vascular surgery. While doing her vascular surgery fellowship at Oregon Health and Science University, Dr. Alabi engaged in efforts to decrease inadvertent arterial cannulations during central venous line placement. She also worked to improve surgical outcomes in vascular reconstruction during oncologic surgery, and led several systems-level quality improvement initiatives, including the development of clinical protocols to fast-track endovascular abdominal aortic aneurysm repair (EVAR) at OHSU's aortic center.

Dr. Brewster's lab is investigating the role of arterial stiffness in arterial remodeling after interventions and the regenerative opportunities of biologic therapies in patients with cardiovascular disease.

Through his joint affiliations with the Atlanta Clinical and Translational Science Institute, Emory and the Georgia Institute of Technology's Coulter Department of Biomedical Engineering, and GA Tech's Petit Institute for Bioengineering and Bioscience, Dr. Brewster has access to an exceptional pool of collaborators.

Dr. Brewster's current studies include an NIH-NHLBI funded examination of the molecular mechanisms involved in arterial stiffening through blood flow and arterial wall changes, and a DoD funded study of Raman spectroscopy and 3D imaging as decision support tools in the assessment of neuronal fibrosis and sarcopenia in veterans and combat casualty amputees.

Dr. Crawford's research specializes in developing, refining, and evaluating methods of surgically treating aortic dissection and ischemia reperfusion injury. He has led numerous clinical trials of advanced medical devices and procedures, has directed and participated in outcomes studies and efforts to design new technologies and therapies, and has received funding from the NIH, DoD, and various industry sponsors. Dr. Crawford publishes extensively and speaks regularly at national and international conferences.

Dr. Duwayri's research interests encompass vascular surgery outcomes, quality improvement, endovascular device design, and mesenchymal stem cell biology. He is investigating the influence of perioperative variables on surgical outcomes, and assessing the performance of new endovascular aortic devices through industry funded trials.

Dr. Duwayri is PI of the Emory-based site of the national PRESERVE-Zenith® Iliac Branch Clinical Study, and co-PI of a multi-site, NIH-funded investigation that is comparing the effectiveness of the best available surgical treatment with the best available endovascular treatment in adults with critical limb ischemia who are eligible for both treatment options.

As the chief quality officer for the Division of Vascular Surgery, Dr. Duwayri leads the division's participation in the Florida Georgia Vascular Study Group and the Vascular Quality Initiative (VQI).

Dr. Jordan's extensive research portfolio involves the development, evaluation, and implementation of new methods of treatment for peripheral vascular and aortic disease. Beginning with his appointment to the faculty of the University of Alabama at Birmingham in 1994 up until the present day, he has been PI of more than 25 clinical trials, which included his tenure as International Co-PI of a registry that captured data on the use and outcomes of Aptus EndoAnchors for enhancing the fixation and sealing mechanisms of endografts.

Dr. Jordan is currently the National PI of Gore & Associates' evaluation of the GORE® conformable TAG® thoracic endoprosthesis for the primary treatment of aneurysms of the descending thoracic aorta.

Dr. Rajani, the the chief of vascular and endovascular surgery at Grady Memorial Hospital, is focused on applying endovascular techniques to the management of vascular trauma. He has served as the principal investigator for several trauma-specific clinical trials, and is particularly interested in refining thoracic stent graft technology for treating blunt aortic injury.

He is currently the national PI of a prospective, multi-center, non-blinded, non-randomized study of a novel stent graft in subjects with traumatic injury of the descending thoracic aorta.

Victoria J. Teodorescu, MD, MBA, RVT

Dr. Teodorescu has conducted a variety of studies in the areas of lower extremity peripheral arterial disease. She is also interested in the evaluation of stem-cell therapy for non-reconstructive disease, vascular ultrasound for postoperative assessment of dialysis access, and analysis of public health policy and outcomes related to all aspects of hemodialysis access. 

During her tenure at Mount Sinai Medical Center from 1998-2016, Dr. Teodorescu collaborated with faculty plastic surgeons to develop innovative bypass techniques for patients with severely diseased distal vessels.