CT Surgery Center for Clinical Research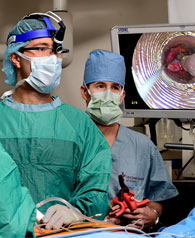 The Cardiothoracic Surgery Center for Clinical Research (CCR) of the Emory University School of Medicine conducts high-impact clinical and translational research and develops and investigates new techniques and technologies in cardiothoracic surgery to inform evidence-based practice.
Cardiothoracic surgeon scientist Dr. John Puskas founded the Emory CCR in 2005. Dr. Puskas was an early advocate of off-pump CT surgery, and had an important role in validating such procedures as off-pump coronary artery bypass surgery. With an impressive cadre of faculty investigators and robust staff support, he developed the CCR into a highly active research center. Dr. Puskas left Emory in March 2014 to join Mount Sinai Beth Israel Hospital, and Dr. Michael Halkos took over as the CCR's scientific director.
As a member of the Cardiothoracic Surgical Trials Network (CTSN), a consortium of adult cardiac surgery centers supported by the NIH's National Heart, Lung, and Blood Institute, the CCR participates in multi-institutional prospective randomized trials that evaluate new surgical methods, technologies, devices, and innovative pharmaceutical and bioengineered products.
The CCR has served as the national or international PI site for several FDA IDE trials, ranging from innovative transcatheter aortic valve replacements to reduced anticoagulation for mechanical heart valves. CCR scientists have also conducted landmark, investigator-initiated, randomized controlled trials in stroke prevention, endoscopic vein harvest, and off-pump coronary artery bypass grafting, and have enrolled patients in many multicenter clinical trials in cardiac and thoracic surgery.
---
Investigators
SCIENTIFIC DIRECTOR: Michael E. Halkos, MD, MSc

Dr. Halkos is a highly experienced and productive academic cardiac surgeon-scientist with expertise in minimally invasive cardiac surgery, particularly robotic mitral valve surgery, robotic-assisted coronary artery bypass surgery, hybrid coronary revascularization, hybrid atrial fibrillation ablation, and mitral valve repair techniques. Together with Douglas Murphy, MD, he leads one of the largest and most successful robotic cardiac surgical programs in the world.

As an accomplished researcher, Dr. Halkos is considered one of the world's leading experts in robotic cardiac surgery, and has published extensively on robotic approaches to mitral valve surgery, mitral valve repair, coronary artery bypass grafting (CABG), and hybrid coronary revascularization. Among his current studies, he is the principal investigator of an NIH/NHLBI-funded trial to reduce stroke after coronary artery bypass surgery, and site principal investigator of an NIH/NHLBI-funded study of hybrid revascularization.

Dr. Guyton has served as chief of the Emory Division of Cardiothoracic Surgery since 1990. Throughout that time he has been involved in the creation and refinement of numerous cardiothoracic surgical techniques. Beginning in 2007, he joined Emory CT surgeon scientist Dr. Vinod Thourani and Emory cardiologists Dr. Vasilis Babaliaros and Dr. Peter Block as one of the local surgical co-PIS  of the multi-center PARTNER I trial of transcatheter aortic valve replacement (TAVR). The results of the national trial influenced FDA approval of the SAPIEN transfemoral transcatheter heart valve in 2011.

In 2014, Dr. Guyton was inducted into Emory's Millipub Club for being co-author of a paper that has been cited more than 1,000 times in the literature: "Transcatheter aortic-valve implantation for aortic stenosis in patients who cannot undergo surgery," published in the October 2010 edition of New England Journal of Medicine. The paper reported the results of comparing TAVR to such standard therapies as balloon aortic valvuloplasty, and concluded that the reduced mortality among patients treated with TAVR as opposed to traditional methods was significant.

Dr. Guyton is also the director of the Emory Cardiothoracic Research Lab (CTRL).

Dr. Lattouf has extensive experience in complex cardiac procedures including heart transplantation, laser re-vascularization, left ventricular reduction procedures, thoracoscopic minimally invasive interventional therapy, and Alfieri mitral repair. In addition to having numerous patents, Dr. Lattouf has various patents pending and is involved in developing a variety of cardiac surgery-associated methods and devices for patent consideration.

Dr. Lattouf's research focuses on complex coronary revascularization utilizing off-pump vs. on-pump techniques, transmyocardial laser revascularization to improve myocardial perfusion and reduction of angina, the role of stem cells in treating end-stage ischemic or idiopathic cardiomyopathy, and the diagnosis and treatment of heparin induced thrombocytopenia.

Dr. Leshnower's research interests include diseases of the thoracic aorta, clinical studies of patient outcomes following medical and surgical treatment of aneurysmal disease and aortic dissection, and basic science investigations of the pathophysiology of acute and chronic aortic dissection. In 2016, he was the first recipient of the Thoracic Surgery Foundation (TSF)/Southern Thoracic Surgical Association (STSA) Research Grant, which is funding his pilot study to determine the optimal cerebral protection strategy during aortic arch replacement.

Dr. Thourani's research and clinical work in transcatheter aortic valve replacement (TAVR) and minimally invasive valvular surgery for high-risk patients with severe aortic stenosis has been particularly significant. He was a co-principal investigator of the Emory-based site of the multi-center PARTNER I trial that measured TAVR against traditional open heart surgery, the initial results of which influenced the FDA's 2011 approved of the SAPIEN valve used in TAVR for the treatment of patients with aortic stenosis considered too frail for traditional surgery. The valve was approved for use in a wider group of high risk patients in 2012, and later expanded to include patients at intermediate risk in 2016.

Throughout these years up to the present, Dr. Thourani has been a primary investigator in the PARTNER trials, has worked with his team to bring the TAVR option to critically ill patients in Georgia and throughout the region, published numerous studies in major health journals, and amassed the largest body of experience in the Southeast and in the top five TAVR research sites in the U.S.

Dr. Vega is the surgical director of the ventricular assist device (VAD) and heart transplant programs at Emory. His primary research has evaluated the use of mechanical circulatory support devices as a bridge to transplant or for destination therapy.

In 2006, Dr. Vega was the first physician in Georgia to implant a VAD as a form of destination therapy in a patient who was ineligible for or are unwilling to undergo a heart transplant. In 2007, he was the first Georgia surgeon to implant an even smaller VAD for the same purpose. Emory's VAD destination therapy program now has the "Gold Seal of Approval" from The Joint Commission, and is one of only two certified programs of its kind in Georgia and one of approximately 80 centers in the U.S.