News Reports
Top Stories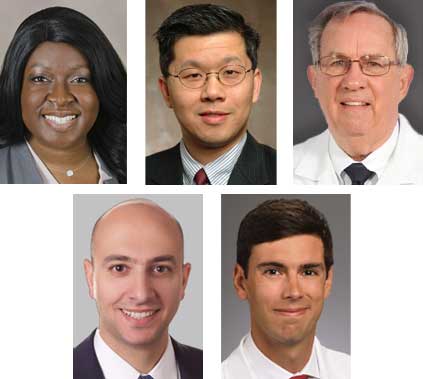 Emory and Morehouse Surgeons Establish REBOA at Grady
March 2018
Emory trauma and surgical critical care surgeon Bryan Morse, MD, MS (left in photo), and his Morehouse School of Medicine colleagues K. Aviva Bashan, MD (left, inset), and Jonathan Nguyen, DO (right, inset), spearheaded the introduction of the Resuscitative Endovascular Balloon Occlusion of the Aorta (REBOA) Program at Grady Memorial Hospital, and the hospital's Level 1 trauma center became the first facility in Georgia where the cutting-edge trauma procedure was performed. They also worked together to create the Grady Rescue and Endovascular Approaches to Trauma course (GREAT), which combines didactic material and simulation training using the latest catheter technology to teach other surgeons the procedure.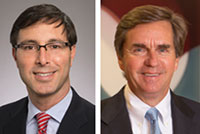 Emory CT Surgeons Lead Worldwide Training in Cardiac Robotics
March 2018
Douglas Murphy, MD, and Michael Halkos, MD, recently hosted an Intracardiac Robotics Conference for surgical teams from medical institutions around the world. After attending the conference, Paul Modi, MD, a surgeon from Liverpool Heart and Chest Hospital, performed the U.K.'s first cardiac robotic heart procedure with Dr. Murphy's assistance.
Watch the Emory video on robotic heart surgery >>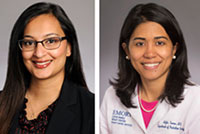 Winship Clinicians Receive Grant to Improve Patient and Provider Adherence to Breast Cancer Treatments
March 2018
Preeti Subhedar, MD, an Emory Surgery breast surgical oncologist based at Grady Memorial Hospital, and Mylin Torres, MD, a radiation oncologist and director of the Glenn Family Breast Center of Winship Cancer Institute, have received a two-year research award from the National Comprehensive Cancer Network and Pfizer Global Medical Grants for their study, "Care Pathway Development, Implementation and Assessment to Improve Outcomes in African American Breast Cancer Patients." The study is a step in redressing the fact that African American women in Atlanta display the most pronounced racial disparities for outcomes in breast cancer compared with the top 50 largest metropolitan areas in the U.S.

Emory Surgery Places 7th in NIH Funding Rankings for 2017
February 2018
According to ranking tables of annual NIH funding posted by the Blue Ridge Institute for Medical Research, the Emory Department of Surgery attained the 7th position in funding for all departments of surgery nationwide in 2017, rising from the 9th position it held for the prior two years. The 2017 ranking is based on a total of $10,979,725 million in awards (direct plus indirect costs are included, R & D contracts are not), and underscores the diversity, utility, and commitment to improving surgical care shared by the department's basic science, clinical, and translational research programs.