Owen Brown delivers top-rated quality improvement abstract at ASPS Annual Meeting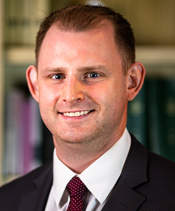 Plastic surgery resident Owen Brown, MD, was granted a live podium presentation for his top rated abstract, "A standardized perioperative protocol reduces breast reconstruction implant infections," at the 90th Annual Meeting of the American Society of Plastic Surgeons (ASPS) held this year in Atlanta. The abstract was also published in the October edition of Plastic and Reconstructive Surgery – Global Open.
Peter Thompson, MD, assistant professor of plastic and reconstructive surgery and Dr. Brown's mentor, was senior author. Additional Emory faculty coauthors included Joe Sharma, MD, and Cletus Arciero, MD.
Implant-based breast reconstruction (IBBR) is a complex, multi-step process with significant variability amongst providers. Infections following IBBR are associated with higher rates of readmission, reoperation, reconstructive failure, and increased costs. To reduce this lack of consistency in technical approaches and the incidence of post-procedural infections, Dr. Brown and his team implemented an evidence-based, standardized protocol for IBBR.
The team designed a 12-step IBBR protocol inclusive of the preoperative, intraoperative, and postoperative phases of care, then enacted it at Emory University Hospital for all patients that underwent IBBR with tissue expanders from December 2019-February 2021. Protocol compliance and infection events were recorded for these 69 patients, then retrospectively compared to the same categories in a control group of 159 patients that had IBBR prior to the initiation of the protocol.
"We found that our protocol reduced process variability and significantly decreased the rate of infections," says Dr. Brown. "Therefore, higher protocol compliance correlated with lower incidence of infection."