Onkar Khullar and Manu Sancheti perform Georgia's first robotic-assisted tracheobronchoplasty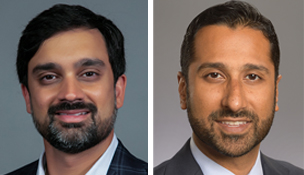 ---
On August 30, 2021, Manu S. Sancheti, MD, and Onkar V. Khullar, MD, successfully performed Georgia's first robotic-assisted tracheobronchoplasty to treat tracheobronchomalacia (TBM) at Emory University Hospital Midtown. The patient has returned home and is doing well.
TBM is a rare, progressive, and debilitating condition that occurs when the tissue of the windpipe, or trachea, becomes soft and weak, causing severe coughing, wheezing, recurrent pneumonia, and difficulty breathing from collapsing of the windpipe. 
"Doing a tracheobronchoplasty for TBM involves placing mesh stenting on the back of the trachea to reinforce the airway and ease symptoms," says Dr. Khullar. "It has traditionally been performed with an open approach, though doing the procedure robotically offers a minimally invasive option for doing the complex technical maneuvers necessary to complete the surgery."
Robotic-assisted tracheobronchoplasty allows surgeons to repair the airway walls with precise control of tiny instruments on four thin robotic arms, resulting in smaller incisions, less pain, and quicker recovery.
"We used the Intuitive da Vinci Xi robot," says Dr. Sancheti. "It works well in the limited space of the chest cavity because of the articulated wrist-action of the instruments. Even with the small skin incisions, the improved dexterity allows us to sew the mesh in a very small area more efficiently and effectively. The 3D camera also provides excellent visualization."
Dr. Khullar and Dr. Sancheti are a formidable surgical team and possess considerable robotic surgery experience. Dr. Khullar initiated a robotic general thoracic surgery program at Grady Memorial Hospital in 2018 that has grown to approximately 50-75 cases annually. Dr. Sancheti developed a robust robotic thoracic surgery curriculum for cardiothoracic surgery residents, trains thoracic surgeons from all over the world in robotic surgery, assumed direction of Emory Healthcare's robotic thoracic surgery program in 2017, and shaped the robotic thoracic surgery program at Emory Saint Joseph's Hospital into one of the busiest such programs in Georgia and the entire Southeast, performing over 650 robotic procedures to date including robotic bronchoscopy.