Marty Sellers named medical advisor-elect to the Association of Organ Procurement Organizations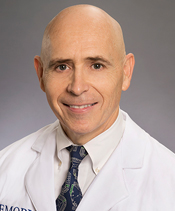 Marty Sellers, MD, MPH, has been appointed medical advisor-elect for the Association of Organ Procurement Organizations (AOPO), which leads the nation's organ donation community and organ donation process through innovation, advocacy, education, and consistent attention to quality improvement; collaboration with stakeholders; and sharing best practices.
As medical advisor-elect, Dr. Sellers will serve on AOPO's executive committee. He will remain on the committee when his term as full medical advisor begins in June 2022. He will also chair the AOPO's Medical Director Council, which is charged with planning annual meeting agendas and workshops that pertain to member organizations' medical directors. Additionally, he will coordinate the dissemination of revisions or updates to medical criteria involving deceased donor management to member organizations, which has become a particularly dynamic, ongoing process due to the COVID-19 pandemic.
Dr. Sellers is associate professor of surgery in the Emory Division of Transplantation, associate medical director of LifeLink of Georgia, sits on the Board of Governors of LifeLink Foundation, and serves as vice-chair of the board's Medical Advisory Committee; Tom Pearson, MD, DPhil, chief of the Emory Division of Transplantation, chairs the committee. LifeLink of Georgia facilitates the recovery of organs for transplantation for all hospitals in its donation service area, and provides public education about donation and how individuals can save lives by joining the organ, tissue, and eye donor registry.
In addition to his efforts to increase organ donation awareness and to optimize deceased organ utilization, Dr. Sellers' responsibilities at Emory include liver transplantation and treating malignancies of the liver and biliary tract, particularly hepatocellular carcinoma (HCC). He is currently focused on improving the efficiency of care delivery and outcomes for patients with HCC in the setting of chronic liver disease, and enacting Quality Assurance and Performance Improvement (QAPI) initiatives to improve healthcare outcomes, especially following hepatobiliary surgery.