Kirsten Baecher selected for the SESC Gold Medal Resident Paper Award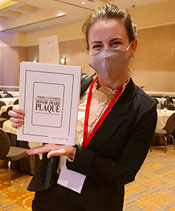 ---
Kirsten Baecher, MD, received the Gold Medal Resident Paper Award at the 2021 Southeastern Surgical Congress (SESC) Annual Meeting, held in Atlanta, August 21-24. The presentation of her winning paper was funded by the inaugural SESC Foundation Young Investigator Award, an honor that recognizes and promotes a resident or medical student-authored abstract that displays promising research. 
Dr. Baecher is engaged in the second year of her research sabbatical under the mentorship of Michael Lowe, MD, MA, surgical oncologist and director of extramural studies for the Emory general surgery residency, and Mandy Ford, PhD, scientific director of the Emory Transplant Center.
Her study, "Do oncologic outcomes from head and neck versus truncal and extremity melanoma differ? A single-institution, single subspecialty experience," investigated whether survival outcomes of patients with head and neck (H&N) melanoma were comparable to those of patients with other melanomas.
Historically, H&N melanoma has been associated with increased recurrence and poorer overall survival. Some specialists have therefore suggested that the condition must be managed as a separate entity, and that positive results from landmark randomized trials such as MSLT-II and DeCOG-SLT — which found no melanoma-specific survival benefit associated with completion lymph node dissection compared to active surveillance for patients with a positive sentinel lymph node biopsy — may not be applicable to this population.
Dr. Baecher's study proposed that the benefits of improved therapies in the modern era may in fact extend to the head and neck population, and that these melanomas could be approached with the same algorithms as disease of other sites.
The investigation focused on H&N melanoma patients of Winship Cancer Institute, and found that while H&N patients did demonstrate inferior recurrence-free survival, this phenomenon appeared to be primarily driven by the scalp subsite. Also, recurrence in H&N patients was more likely to be local rather than regional or distant compared to patients with primary melanoma of other sites.
In conclusion, Dr. Baecher and her collaborators observed no significant difference in melanoma-specific survival, distant-metastasis free survival, or overall survival between H&N melanoma and melanomas of other sites.