HSR Center's Katie Ross-Driscoll and Megan Urbanski receive Georgia CTSA grants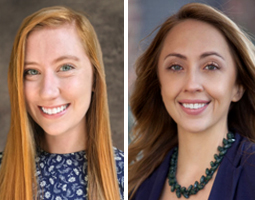 Two members of the Health Services Research (HSR) Center recently received grants from the Georgia Clinical & Translational Science Alliance (CTSA). Both awards support mentored career development in clinical and/or translational research, one for junior faculty and the other for pre- and post-doctoral trainees. Assistant professor Katherine Ross-Driscoll, PhD, MPH, earned a CTSA KL2 Award, and postdoctoral fellow Megan Urbanski, PhD, MSW, LCSW, received a CTSA TL1 Award.
The HSR Center, a cooperative initiative between the departments of medicine and surgery in the Emory University School of Medicine, is committed to advancing healthcare access, quality of healthcare delivery, and health outcomes of patients and populations.
Dr. Ross-Driscoll will apply her KL2 to identifying the factors that influence liver transplant waitlisting among hepatocellular carcinoma (HCC) patients with end-stage liver disease (ESLD) in Georgia. The insights gained will ideally influence future interventions to increase access to liver transplant and reduce potential inequity among HCC patients in the Southeast.
Rachel Patzer, PhD, MPH, director of the HSR Center, will be Dr. Ross-Driscoll's primary mentor for the project, and her advsiors will be Emory transplant surgeon Raymond Lynch, MD; Joel Wedd, MD, MPH, director of the Emory Liver Tumor Clinic; and Emory epidemiologist Lauren McCullough, PhD, MSPH.
Liver transplant is the only curative treatment option for ESLD. However, being able to receive a transplant requires patients and their families to navigate a complex process involving referral to a transplant center, completion of a medical evaluation, and selection for placement on a center's waitlist. Once patients are on the waitlist, data indicates that there are no disparities in liver transplant rates, suggesting that any obstacles to access may occur earlier in the process, such as in the referral and evaluation stages.
"While Dr. Patzer has conducted work that has identified barriers to care in the early steps of kidney transplant, similar studies in the liver transplant population are more challenging because there is no comprehensive population-based source of ESLD data," says Dr. Ross-Driscoll. "But, population-based data on HCC patients, a leading indication for liver transplant in the U.S., is captured by federally-funded cancer registries in each state."
Despite liver transplant being the best treatment option for many HCC patients, these registries show substantial racial, socioeconomic, and geographic disparities in transplant rates. To learn more about how inconsistencies in the referral and evaluation of HCC patients for liver transplant may contribute to these disparities, the project team will create a unique linkage of data derived from the Georgia Cancer Registry involving HCC patients with ESLD with referral and evaluation data from the Emory Transplant Center and Piedmont Transplant Institute. Dr. Ross-Driscoll will also conduct semi-structured interviews to characterize perceived barriers to transplant referral and evaluation among both HCC patients and providers.
For her TL1 award, Dr. Urbanski will be studying COVID-19 vaccine attitudes among patients with end-stage kidney disease (ESKD). Dr. Patzer will also be her primary mentor, and she will be advised by Monique Hennink, PhD, associate professor in the Hubert Department of Global Health in the Rollins School of Public Health; Laura Plantinga, PhD, associate professor of medicine with a joint appointment in epidemiology at Rollins; and Stephen Pastan, PhD, nephrologist and professor of medicine.
While COVID-associated trends among patients with ESKD undergoing dialysis are yet to be clearly defined, emerging data suggests that these patients are at an increased risk for severe infection, complications, and mortality, particularly because of minimal social distancing at dialysis centers. Existing data also confirms that racial and ethnic minorities are disproportionately affected by both ESKD and COVID, strongly suggesting that these populations are at significantly increased risk for poor outcomes following infection.
There are already concerns about COVID vaccine acceptance in the overall ESKD population because of low vaccination rates for other conditions such as influenza. For Dr. Urbanski, these concerns are even more urgent when applied to the disproportionately Black ESKD patient population in the Southeastern U.S., with  preliminary research finding that vaccine hesitancy may be higher among African Americans in low income, low education environments.
Ultimately, the vaccination status of ESKD patients could affect their pursuit of a kidney transplant, the optimal treatment for ESKD. Transplant centers often recommend vaccination for infectious diseases at least two-to-four weeks prior to transplantation, and patients on the waitlist who have not received the vaccine are unlikely to be offered organs from donors with a history of COVID, potentially limiting their opportunity for kidney transplant.
To develop a deeper understanding of vaccine attitudes among those with ESKD, Dr. Urbanski will undertake a systematic scoping review of the literature to synthesize the existing data related to vaccine attitudes (i.e., hesitancy and acceptance) among patients with kidney disease, and conduct surveys and semi-structured interviews to measure, explore, and compare the contextualized experiences, attitudes, and perspectives of the COVID-19 vaccine among patients with ESKD on dialysis.
"My hope is that the information gained from this study will inform future projects, including an effort to develop effective health communication interventions involving vaccination that target patients with ESKD," she says.
As Dr. Urbanski conducts this study, she will also be engaged in advanced coursework as part of CTSA's Certificate Program in Translational Research.