Emory Transplant Center's aim of improving immunosuppressive strategies for kidney transplant moves forward with multiple clinical trials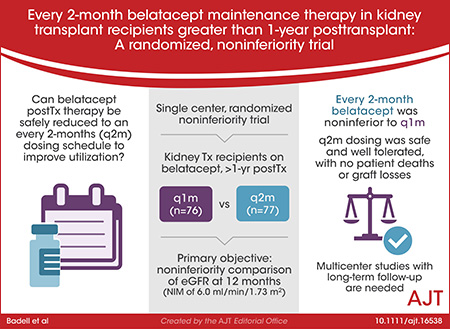 AJT's visual abstract for highlighting the study "Every 2-month belatacept maintenance therapy in kidney transplant recipients greater than 1-year posttransplant: A randomized, noninferiority trial" in the September issue's online table of contents.
---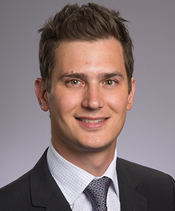 Dr. I. Raul Badell
The American Journal of Transplantation has featured a study led by Emory transplant surgeon-scientist I. Raul Badell, MD, comparing two different belatacept infusion schedules for kidney transplant recipients as an Editors' Pick in its September issue as well as a featured study on the AJT September Highlights podcast. The trial is one of a series of studies related to increasing kidney transplant survival that Dr. Badell and his Emory Transplant Center (ETC) colleagues are conducting this year.
While the costimulation blocker belatacept has shown great promise as an alternative to calcineurin inhibitors for controlling the immune system and preventing graft rejection after kidney transplant, various issues have slowed its widespread adoption, one being that the drug currently requires monthly intravenous infusions. For this trial, Dr. Badell and his study team examined if the safety and effectiveness of belatacept was relatively unchanged when administered bimonthly to patients a year out from their transplants as a way to reduce the infusion burden on patients and the healthcare system.
The ETC patient groups for the trial were low immunologic risk, renal transplant recipients greater than one-year posttransplant who were divided into two sets. One group adhered to the standard one-month infusion and the other switched to every two-months. At 12 months, the study team observed that there were no outstanding differences between the two groups' reactions to their dosing regimens, and that two-month dosing was safe and well tolerated with no patient deaths or graft losses. Dr. Badell and his colleagues concluded that additional multicenter studies and longer-term follow-up are needed, but that every two-month belatacept therapy may facilitate greater long-term utilization of costimulation blockade.
View the study and Dr. Badell's co-authors here.
To explore an alternative method of refining long-term administration of costimulation blockade, Dr. Badell and co-principal investigator Christian Larsen, MD, DPhil, have initiated a randomized clinical trial with support from Bristol-Myers Squibb that will evaluate whether conversion from intravenous belatacept to subcutaneous abatacept in kidney transplant recipients two-years post-transplant is achievable without a decrease in renal function.
"Abatacept is belatacept's predecessor, and has the advantage of being injectable rather than requiring infusion," says Dr. Badell. "Interestingly, during a period of belatacept unavailability at the ETC, our team used abatacept as rescue immunosuppression in nine patients. All experienced 100% patient and graft survival."
Based on this experience, the team suspects that using abatacept as conversion therapy in kidney transplant recipients may be a viable subcutaneous alternative to belatacept for long-term maintenance therapy, thereby avoiding infusion requirements and perhaps enhancing global uptake of costimulation blockade-based immunosuppressive strategies. The trial is designed for a total of 86 subjects, who will be randomized into two numbered arms, a control group (belatacept) and an equally numbered conversion group (abatacept). All patients will be actively followed in the study for 12- and 24-months.
Dr. Badell and his ETC colleagues have also entered the kickoff phase for two additional studies focused on identifying costimulation blockade-based methods of reducing early acute rejection rates observed with belatacept, one funded by the National Institute of Allergy and Infectious Diseases (NIAID), the other by ITBMed Biopharmaceuticals. Both trials will examine the potential immunomodulatory benefits of novel monoclonal antibodies for renal transplant recipients.
The NIAID project, led by Dr. Larsen, Dr. Badell, and Mandy Ford, PhD, will assess the potential benefits of costimulation blockade induced by the third-generation CD28 blocker lulizumab as a means of reducing acute rejection rates and improving long-term graft function by avoiding the toxicity of calcineurin inhibitor-based immunosuppression. 
For the ITBMed study, Dr. Badell's team will weigh the safety, tolerability, pharmacokinetics, and pharmacodynamics of the novel anti-CD2 mAb siplizumab as induction immunosuppressive therapy for comparison to rabbit polyclonal anti-thymocyte globulin (rATG, thymoglobulin) in de novo renal transplant recipients. Thymoglobulin can have such negative side effects as long-term lymphocyte depletion that increases the risk of infections and malignancies, whereas early investigations have found siplizumab to be more discriminate in its inhibition and depletion of immune cells capable of orchestrating rejection with possibly fewer side effects. 
"Together, this series of clinical trials promise to aid in greater adoption of costimulation blockade-based immunosuppressive strategies that have been demonstrated to improve long-term kidney transplant outcomes," says Dr. Badell.