Twenty-nine Emory Surgery faculty named to Atlanta magazine's 2021 Top Doctors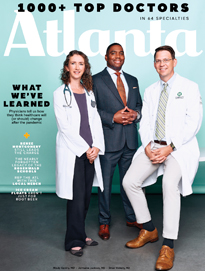 Almost half of the physicians recognized in Atlanta magazine's July 2021 "Top Doctors" issue are physicians within Emory Healthcare, Emory Healthcare Network, Emory medical staff, or faculty of Emory University School of Medicine.
The annual listing — compiled by Castle Connolly Medical Ltd. — includes 29 faculty of the Emory Department of Surgery: Cletus Arciero, Kenneth Cardona, Michael Clark, Mani Daneshmand, Keith Delman, Thomas Dodson, Megan Durham, Yazan Duwayri, Felix Fernandez, Seth Force, Robert Guyton, Michael Halkos, Peter H'Doubler, Kirk Kanter, William B. Keeling, Bradley Leshnower, Albert Losken, Raymond Lynch, Steven Macheers, Jeffrey Miller, Douglas Murphy, Kenneth Newell, Allan Pickens, J. Mark Rheudasil, Monica Rizzo, Charles Staley, Patrick Sullivan, John Sweeney, and Joseph Zarge.
"Despite a global pandemic, our doctors, across many specialties and areas of expertise, have continued to provide dedicated service and compassionate care to our patients and their families throughout the past year," says Jonathan S. Lewin, MD, CEO of Emory Healthcare. "We are proud to see so many Emory physicians recognized in this year's 'Top Doctors' list by their physician peers as among the best in their specialty area. Congratulations to all!"
Castle Connolly Top Doctors is a health care research company and the official source for Top Doctors for the past 25 years, helping to guide consumers to America's top doctors and hospitals. To compile the annual "Top Doctors" list, the company has established a survey, research, screening and selection process involving hundreds of thousands of physicians, along with academic medical centers, specialty hospitals and regional and community hospitals across the nation, to nominate top doctors. Castle Connolly's physician-led team of researchers follows a rigorous screening process to select top doctors on both the national and regional levels. Doctors do not and cannot pay to be selected and profiled as Castle Connolly Top Doctors.
In 2018, Castle Connolly Medical Ltd. was acquired by Everyday Health Group, one of the world's most prominent digital health care companies.