Global Health Fellowship Will Support Erica Ludi's Work to Improve Trauma Response in Bolivia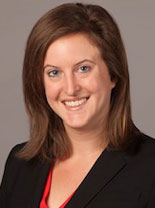 Erica Ludi
Erica Ludi, MD, Emory PGY-2 general surgery resident, has been named the 2018-2019 global surgery fellow of McGaw Medical Center of Northwestern University in Chicago, which involves a research fellowship within Northwestern's Division of Trauma and Surgical Critical Care. She has also been awarded a concurrent one-year global health scholarship from the Center for Global Health of Northwestern's Feinberg School of Medicine, which includes salary support and up to $10,000 of research expenses. This Northwestern-based endeavor has been approved as a one-year research sabbatical of Emory's general surgery residency.
Dr. Ludi began establishing a foundation in global health with her participation as an Emory medical student and resident in the Emory Haiti Alliance's summer surgical trips to Haiti—the alliance is a volunteer consortium of Emory medical students, surgery and anesthesiology residents, faculty physicians, and mid-level practitioners that travel to Haiti to provide free surgical care. After the alliance's 2015 surgical trip, Dr. Ludi co-led a project team that piloted a trauma surveillance logbook at four Haitian hospitals to exemplify the value of quantifying the country's burden of trauma-related disease.
As the Northwestern global surgery fellow, Dr. Ludi will travel to Santa Cruz de la Sierra, Bolivia, for the 2018-2019 academic year, and work to strengthen the trauma and emergency medical services system within the region. Her project mentor will be Mamta Swaroop, MD, associate professor of surgery in Northwestern's Division of Trauma and Surgical Critical Care and founder of the Northwestern Trauma and Surgical Initiative (NTSI), an organization dedicated to building sustainable access to surgical care through education and research in low resource settings.
Her primary adviser on the ground will be Jorge Esteban Foianini, MD, governor of the Bolivia Chapter of the American College of Surgeons, medical director of the Clinica Foianini Hospital in Santa Cruz, and secretary of the Panamerican Trauma Society.
Dr. Ludi's Emory-based mentors are Keith Delman, MD, program director of the general surgery residency, John Sweeney, MD, chair of Emory Surgery, and Jahnavi Srinivasan, MD, director of surgical simulation and elective programs for Emory Surgery and a veteran faculty member of the Emory Haiti Alliance.
"Dr. Ludi is a great example of how the work we do in Haiti helps to spur and encourage further careers built in global health," says Dr. Srinivasan.
Dr. Ludi's project will work towards resolving issues defined by preliminary research conducted by NTSI's Bolivian Trauma Initiative, which found that 84 percent of out-of-hospital deaths in Santa Cruz were related to prehospital system deficits. Moreover, 1.4 percent of all in-hospital deaths were related to trauma and 23.4 percent of prehospital deaths were considered traumas. This data suggests that the vast majority of trauma patients die before reaching care. The initiative then hypothesized that bolstering the emergency medical system and ambulance services in Santa Cruz could greatly improve triage and delivery of patients to hospitals within the critical one-hour window between injury and hospital-based care.
Continuing from work conducted by her global health fellowship predecessors Marissa Boeck, MD, MPH, who implemented a hospital-based trauma registry for injury surveillance in Santa Cruz, and Samuel South, MD, who worked further on the registry and implemented a trauma responder course, Dr. Ludi intends to establish a single emergency phone number. Similar to 911, the number would centralize existing triage and transfer services and be coordinated by a primary ambulance dispatch center. Her research will also focus on analysis of current ambulance utilization, and expanding the 911 systems to smaller surrounding provinces in Bolivia. Her educational responsibilities will include providing weekly layperson courses on trauma and EMS topics.
"I am looking forward to making a significant contribution to the citizens and medical community in Santa Cruz as well as the global surgery academic community during my fellowship," says Dr. Ludi.