Emory Haiti Alliance 2018 Surgical Trip: Converge, Adapt, Advance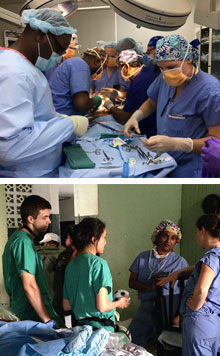 From June 1-30, the Emory Haiti Alliance—a volunteer consortium of Emory medical students, surgery and anesthesiology residents, faculty physicians, and mid-level practitioners—made its 11th surgical trip to Haiti's Central Plateau, the most medically underserved area in the country. For the second year in a row, alliance members worked alongside their Haitian colleagues at the Hôpital Bienfaisance in Pignon.
Thus far, Bienfaisance has proven to be a highly reliable partner in the alliance's summer trips, with its range of clinical, surgical, and public health services; strong aspiration of becoming a national training center; and rotating staff of competent physicians, trainees, and other personnel. The Haitian doctors that collaborated with the alliance this year included pediatric oral surgeon Phede Selme, DDS; general surgeons Richard Mondestin, MD, and Pierre Pinson, MD; and anesthesiologist Sashenka Jean-Charles, MD.
The faculty members of the alliance's teams—one each for the first two surgical weeks and a third for the patient follow-up week—were general surgeons Jahnavi Srinivasan, MD (trip leader since 2010), Joe Sharma, MD (co-trip leader since 2012), and Carla Haack, MD; oral and maxillofacial surgeon Steven Roser, DMD, MD; urologist Jeff Carney, MD; pediatric surgeons Barbara Pettitt, MD (the alliance's post-op and follow-up clinic director), and Paul Parker, MD; and anesthesiologists Cinnamon Sullivan, MD, Grant Lynde, MD, and Mark Caridi-Scheible, MD. All are alliance veterans.
The resident team members included general surgery residents Stuart Hurst, MD (now an acute care surgery fellow at Grady Memorial Hospital), and Priya Rajdev, MD (her third trip); oral and maxillofacial surgery residents Brian Kinard, DDS (now an attending at Posnick Center for Facial Plastic Surgery, Chevy Chase, MD), and Michael Yuan, DMD; and anesthesia residents Adam McKinney, MD, and Huseyin Tunceroglu, MD.
Fourth-year medical students Uday Betarbet, Corinne Bicknese, Elizabeth Carpenter, Danielle Depalo, Stefanie Soelling, and Lindsay Urquia provided core support for the trip, being the first to arrive at Bienfaisance to initiate the half-week clinic that preceded the three operative weeks, and the last to leave after wrapping up the follow-up half-week that closes out the trip. All of the alliance's medical student members, which comprises M2s and M3s as well, perform a variety of tasks, from pre-op assistance to closing incisions to helping administer anesthesia to filling in as scrub techs.
In fact, the medical students begin working on the trips well before they actually take place, raising funds to finance the journeys, making the necessary travel arrangements, recruiting physicians and staff, and procuring the medical supplies and pharmaceuticals that are needed to make up for any shortfalls in Haiti. The students receive global surgery elective credit for their participation.
Without fail, each trip has featured a clear surgical highlight. In 2017, it was the performance of the program's first laparoscopic cholecystectomy; the year before that, a complex pediatric procedure performed by Emory emeritus surgeon Richard Ricketts, MD. This year, amongst the typical lineup of inguinal hernia repairs, mandible plating procedures, and other surgeries to address conditions that would rarely become serious in countries like the U.S., a patient presented to the clinic after a tree branch purportedly weighing several hundred pounds fell on his face and neck. The blunt injury he suffered devolved into a rapidly expanding hematoma compressing his trachea, and he was taken immediately to the OR. The primary surgical team, which included Drs. Sharma, Hurst, Pinson, and Roser operating and/or assisting, and Drs. Lynde and Charles delivering anesthesia, secured the patient's airway with an emergent tracheostomy, explored his neck, ligated a bleeding branch off the external carotid artery, and treated his oral injuries. Undoubtedly, the team saved the patient's life.
Such cooperative clinical activities, combined with in-country support of various training initiatives and the establishment of a continuum of care extending beyond the alliance's visits, defines Bienfaisance's promise in contributing to the alliance's mission of helping Haiti to become better able to provide its citizens with adequate medical care without outside assistance.
Along with the lectures and training sessions on such topics as surgical nutrition, postoperative care, and laparoscopy that are becoming regular features, new educational efforts were introduced, such as Dr. Roser's symposium on maxillofacial repair that attracted Haitian dentists and oral surgeons from around the country. The alliance also launched a trauma registry at the hospital, which will augment work done by former alliance member and current Emory PGY-2 general surgery resident Erica Ludi, MD, who co-led a project team that piloted a trauma surveillance logbook at four Haitian hospitals in 2015.
"Working with Hopital Bienfaisance has dramatically improved our collaborative relationships in Haiti," says Dr. Srinivasan. "The leadership and staff are dedicated to deliberate integration of teams of physicians from abroad with their personnel. Their work with us feeds their long-term goal of providing infrastructure expansion to the hospital and education to employees who will remain in Haiti to take care of patients year round. Now when we come here, I feel like we work with people, not just around them."