Lily Yang Nano-Research Group Receives R01 to Develop Precision Infiltration of Peritoneal Tumors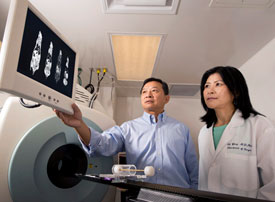 Lily Yang and Hui Mao
For the past ten years, Emory University School of Medicine translational cancer researcher Lily Yang, MD, PhD, Emory radiology and imaging scientist Hui Mao, PhD, and Y. Andrew Wang, PhD, president and principal scientist of Ocean Nanotech, LLC, one of the leading manufacturers and suppliers of dispersible nanomaterials in the U.S., have collaborated on developing multifunctional magnetic iron oxide nanoparticles with targeted drug delivery and tumor imaging abilities for effective treatment of several aggressive and drug resistant cancer types, including  pancreatic, ovarian, and triple negative breast cancers. In December 2015, the three investigators received an Academic-Industrial Partnerships for Translation of Technologies for Cancer Diagnosis and Treatment (R01) NIH award to devise a clinically feasible, novel treatment for metastatic peritoneal tumors or peritoneal carcinomatosis using molecularly targeted, precision nanomedicine. The grant totals more than two million dollars over the course of five years.
Peritoneal carcinomatosis (PC) is an often untreatable end-stage disease associated with gastrointestinal and gynecological cancers that occurs in the peritoneum, the thin layer of tissue that covers abdominal organs and surrounds the abdominal cavity. Systemic chemotherapy has been largely unsuccessful in eradicating PC, and complete surgical removal of PC tumors has proven virtually impossible. While the newer treatment regimens of cytoreductive surgery (reducing the tumor without removing it entirely) and hyperthermic intraperitoneal chemotherapy (HIPEC, the delivery of highly concentrated, heated chemotherapy directly to the abdomen) have shown some survival benefit, they are currently not available to the majority of PC patients due to the severity of their metastases.
The team's research plan is to develop novel therapeutic agents that will greatly increase the efficiency of targeted drug penetration into the bulky tumors that comprise PC. Drs. Yang, Mao, and Wang have had success in reducing peritoneal tumors in pancreatic and ovarian cancer mouse models through the delivery of magnetic iron oxide nanoparticles (IONPs) that target certain proteins that are highly expressed in tumor and tumor stromal cells. The team's long-range aim is to create a treatment protocol for humans that relies on injecting IONPs into the peritoneum that are engineered to detect and infiltrate the proteins and other biomarkers that are cardinal conduits of metastases in PC. The IONPs will then release potent toxins and drug molecules into the tumor cells.
The initial phases of achieving this objective will be conducted in the lab with mouse tumor models and ascites samples obtained from PC patients. Ascites is an accumulation of fluid in the peritoneal cavity that results from severe medical problems such as liver disease or metastatic cancer.