11th Annual Emory Surgery Research Day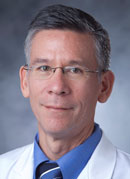 The 11th Annual Department of Surgery Research Day of the Emory University School of Medicine will commence at 7:00 a.m. on Thursday, May 3, 2012, with "Surgical Research: The Biology of Tissue Specific Immune Responses," a lecture by visiting professor H. Kim Lyerly, MD (pictured right), George Barth Geller Professor of Research in Cancer; co-director of the Breast Cancer Research Program, Duke Comprehensive Cancer Center; and associate professor of pathology at Duke University School of Medicine. The lecture will be presented at surgical grand rounds in the EUH auditorium.
Dr. Lyerly is a pioneer in the development and testing of immunologic therapies and has consistently transferred immunotherapy from the bench to the bedside. He is nationally and internationally recognized for developing and leading novel clinical trials that evaluated the use of dendritic cells targeting HER2/neu, CEA, and RNA as a therapeutic vaccine to fight primary cancers as well as protect patients against recurrences. He serves on the Board of Directors, American Cancer Society, Southeast Division; chairs the Cancer Centers Subcommittee, National Cancer Advisory Board; co-chairs the Burroughs Wellcome Foundation Translational Research Advisory Board; is on the editorial boards of several peer-reviewed journals, including Annals of Surgery, Cancer Investigation, Journal of Clinical Oncology, and Cancer Gene Therapy; and has published over 180 papers, 75 book chapters, and edited or co-edited 11 books.
The symposium portion of the Annual Research Day will be held from 1:00-6:30 p.m. at SOM Lecture Hall 120. The research of the department's medical students, postdocs, residents, and fellows will be showcased in the form of oral presentations and posters in basic and clinical science categories that have been competitively reviewed and selected by a panel of distinguished departmental faculty. Posters will be presented in the SOM Commons Lobby. Dr. Lyerly will assist in ranking the posters and presentations, resulting in cash awards for the winners as well as dinner with the faculty immediately following the symposium.