Beloved Emory Plastic Surgery Pioneer Dr. Maurice Jurkiewicz Passes Away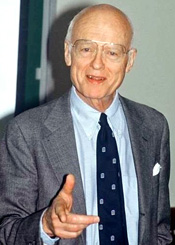 We are all deeply saddened by the loss of Dr. Maurice Jurkiewicz, who passed away Sunday evening, May 29, 2011, at Emory University Hospital Midtown. He was an extraordinarily foundational figure in the histories of both the Emory University School of Medicine and the national surgical community. Simultaneously, we will be forever grateful for all that he gave to our Department of Surgery, to the students he taught and mentored, to the countless patients he served and to our field in general.
We marvel at his resounding impact. He not only established our division of plastic surgery as one of the premier clinical, educational and investigational programs of its type in the country during his tenure as its first chief from 1971-1993, he also helped shape modern reconstructive surgery during its formative stages. Perhaps his greatest legacy can be measured through the accomplishments that have been made and the achievements still to come from the gifted men and women he trained that are now leaders of plastic surgery themselves.
Dr. Jurkiewicz was born in Claremont, NH, on September 24, 1923, to immigrant parents who had come to the U.S. from occupied Poland, and was raised in Bellow's Falls, VT. After graduating Magna Cum Laude, DDS, at the University of Maryland in 1946, he served with the Naval Reserves in Normandy. He earned his MD from Harvard University Medical School in 1952 and completed his internship and general surgery and plastic surgery residencies at Barnes Hospital at Washington University. He was certified by the American Board of Surgery in 1960 (re-certified in 1980) and the American Board of Plastic Surgery in 1963 (re-certified, 1978).
Before accepting Department of Surgery Chair Dr. W. Dean Warren's invitation to develop and lead Emory's division of plastic surgery, Dr. Jurkiewicz had been Chief of Plastic Surgery at the University of Florida since 1959 and Chief of Surgery at the VA Medical Center in Gainesville, FL, since 1968. After joining Emory, Dr. Jurkiewicz also served as Chief of Surgical Services at Grady Memorial Hospital from 1972 to 1977 and Chief of Surgery at the Atlanta VA Medical Center from 1989 to 1993. Upon his retirement in 1993, he remained a Professor of Surgery Emeritus at Emory and continued to play an active roll in educating and advising medical students, interns and residents up until his death.
The culmination of Dr. Jurkiewicz's career outside of Emory was his 1989-1990 term as president of the American College of Surgeons. He remains the only plastic surgeon to date to have attained this prestigious office, and he continued to be an active contributor to the ACS for decades afterwards. He was also president of the American Society of Head and Neck Surgeons (1989), first vice-president of the Southern Surgical Association (1993), Scientific Councilor for the National Institute of Dental Research (1966-1971), plastic surgery consultant to Walter Reed Hospital (1971-1991) and the Shriners hospitals (1995-2000), a member-at-large of the National Board of Medical Examiners (1985-1993), a member of the American Surgical Association since 1971 and an honorary fellow of the Royal Australasian College of Surgeons since 1990.
"Dr. J. has been the driving influence on my academic career," says Dr. Grant Carlson, current chief of Emory's division of plastic surgery and an Emory alumnus who received his MD and did his general surgery and plastic and reconstructive surgery residencies here. "He often said 'plastic surgery is part and parcel to general surgery' and that the alliances between the two should be collegial and collaborative. I still carry this mantra with me as I lead Emory Plastic Surgery into the post-Jurkiewicz era."
Dr. Jurkiewicz's wife Mary, to whom he was married 57 years, died in 2008. He is survived by his daughter Beth Wilson, son-in-law David and grandson Colin of Norcross, GA; his son Chris Jurkiewicz, daughter-in-law Sally and granddaughter Lucy of Fairfield, CT; and three siblings, Renata Zlatoper, Leona O'Rourke and Charles Jurkiewicz. In lieu of flowers, the family requests that donations be made to Children's Healthcare of Atlanta or to the Jurkiewicz Endowment of the Department of Surgery, Emory University. A memorial service will be held at St. Jude the Apostle Catholic Church in Sandy Springs, June 17, at 1:00 PM.