Winship Cancer Institute of Emory University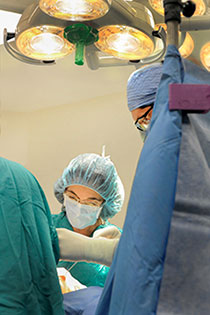 Seeing over 15,000 patients a year from throughout Georgia, the Southeast, and beyond, Winship Cancer Institute of Emory University is Georgia's only National Cancer Institute-designated comprehensive cancer center and serves as the coordinating center for cancer research, education, and care throughout Emory University.
Using a multidisciplinary team approach, Winship Cancer Institute is committed to providing comprehensive programs to treat the whole patient. Surgical oncologists of the Emory Department of Surgery provide multi-modality evaluation and surgical treatment at Winship, and are often joined by Emory and Winship-affiliated general surgeons, liver transplant surgeons, oral and maxillofacial surgeons, plastic and reconstructive surgeons, thoracic surgeons, and physicians from a variety of other disciplines.
Winship physicians provide care at Emory University Hospital, Emory University Hospital Midtown, Emory Saint Joseph's Hospital, Emory Johns Creek Hospital, Grady Memorial Hospital, the Atlanta VA Medical Center, and Aflac Cancer and Blood Disorders Center at Children's Healthcare of Atlanta. In addition to using progressive approaches to therapy, Winship facilitates cancer prevention, treatment, and survivorship through support groups and integrated complementary therapies.
The discoveries initiated in Winship's laboratories are easily translated to its clinical work, which means that patients can obtain quick access to new therapies and the opportunity to participate in unique clinical trials. Winship has the largest unit in Georgia for phase I clinical trials, which are important to introducing new therapies against cancer, and works with the Georgia Center for Oncology Research and Education (GeorgiaCore) to partner with community-based physicians to expand availability of cancer clinical trials throughout Georgia.
For the most comprehensive and up-to-date information about Winship, please visit the cancer center's official website.