Emory Critical Care Center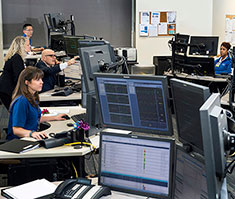 The Emory Critical Care Center (ECCC) was founded in 2009 to integrate intensive care units throughout the Emory Healthcare system with the goal of delivering the highest quality, value, and access to critical care for patients in the southeastern United States. Dr. Timothy Buchman is the center's founding director, and Dr. Craig Coopersmith is the associate director. Both surgeons are faculty members of the Emory Department of Surgery.
Based on a team-model, the ECCC's staff includes more than 40 intensive care physicians, 450 critical care nurses, and 60 affiliate nurse practitioner and physician assistant providers. This core is further enhanced by pharmacists, respiratory therapists, nutrition support specialists, and consultant physicians representing dozens of medical specialties. Each has special interest, training, and advanced competency in the care of the critically ill patient and their family.
The ECCC currently offers adult surgical intensive care, medical intensive care, cardiothoracic surgical intensive care, neuroscience critical care, and cardiac care in four Emory Healthcare hospitals: Emory University Hospital (EUH), Emory University Hospital Midtown (EUHM), Emory Saint Joseph's Hospital (ESJH), and Emory Johns Creek Hospital (EJCH).
The ECCC is a leader in designing, testing, and implementing innovations in critical care. Examples include the state-of-the-art, specialty ICU suite for cardiothoracic and vascular patients at EUHM; the ongoing evaluation of Big Data systems that could allow clinicians to acquire, analyze, and correlate patients' medical data at an unheard of volume and velocity; and the establishment of the Emory Electronic ICU Center (eICU) at ESJH, which is wired to ICUs at ESJH, EUH, EUH Midtown, EJCH, and East Georgia Regional Medical Center by HIPAA-secure, bi-directional AV technology and digital connections that carry encrypted medical data. All hardware/software derived patient data from the partner ICUs routes to the eICU and its 24-7 monitoring personnel, who work closely with providers in the member ICUs as they treat patients.
The ECCC's academic arm teaches the highest standards of critical care delivery to fourth-year Emory medical students; interns and residents from the specialties of internal medicine, general surgery, anesthesiology, emergency medicine, neurology and neurosurgery; and advanced fellows who are studying to become intensive care physicians.
For the most comprehensive and up-to-date information of the ECCC, please visit its official Emory Healthcare website.