Emory Bariatric Center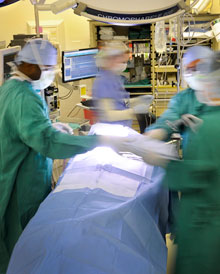 The Emory Bariatric Center, an MBSAQIP Accredited Comprehensive Facility, was originally established in 2000 by general surgery faculty of the Emory Department of Surgery and quickly developed into one of the leading programs of its type in the southeast. The center now has locations at both Emory University Hospital Midtown and Emory Johns Creek Hospital.
As part of an academic medical center, the Emory Bariatric Center offers weight loss expertise, innovative treatments, and advanced technology. The center's multidisciplinary team of healthcare professionals are dedicated to treating obesity by tailoring an individualized approach to the patient using such options as nutrition and exercise therapy, lifestyle education, pharmacotherapy, liquid meal replacement, and surgical procedures.
The surgeons at the Emory University Hospital Midtown location are all full-time faculty members of the Emory Department of Surgery, and are led by medical director Dr. Arvinpal Singh and surgical director Dr. Edward Lin. The multidisciplinary team also includes medical bariatricians, dietitians, exercise specialists, and consulting psychologists. Available surgical weight loss procedures include laparoscopic gastric band (lap band) surgery, gastric bypass surgery, sleeve gastrectomy, and post-surgery body contouring.
For comprehensive and detailed information regarding all facets of the program, such as the center's free seminars, please visit the Emory Bariatric Center on the Emory Healthcare website.