Avon Foundation Comprehensive Breast Cancer Center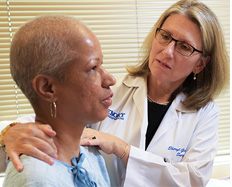 Sheryl Gabram with a patient.
In 2000 the Avon Foundation selected the Winship Cancer Institute of Emory University as steward of its Atlanta investment in breast cancer. Since then, the collaboration between Emory and Avon has evolved into one of the nation's model programs for providing breast health care services to underserved communities, primarily through the Avon Foundation Comprehensive Breast Cancer Center at Grady Memorial Hospital's Cancer Center for Excellence.
The Avon Breast Center at Grady is accredited by the American College of Surgeons' National Accreditation Program for Breast Centers (NAPBC). Its comprehensive, multidisciplinary program offers a full spectrum of clinical and support services, including screening, diagnosis, treatment, counseling, and laboratory research.
The center's team is comprised of medical and surgical oncologists, epidemiologists, pathologists, radiation oncologists, surgeons, psychiatrists, scientists, and statisticians. Dr. Sheryl Gabram, professor of surgery in the Emory Division of Surgical Oncology and surgeon-in-chief of Grady Memorial Hospital, has directed the Avon Center since 2005.
The Avon Breast Cancer Center at Grady has been consistently and generously funded by Avon, allowing it to expand its mission of offering breast health care for medically underserved women in metropolitan Atlanta. This funding has helped the center build new facilities; acquire state-of-the-art equipment; support leading-edge breast cancer research projects aimed at improving outcomes; sponsor training of volunteer Community Health Advocates (CHAs), who conduct educational programs in local churches, workplaces and health fairs; establish a staff of patient navigators (PNs) to help newly diagnosed patients navigate the healthcare system; and create a Mammography Task Force, which sets appointment timelines for services at the center.
For more information on the program's services, scheduling, and directions, please visit the Avon Breast Center at Grady website.