Quality Improvement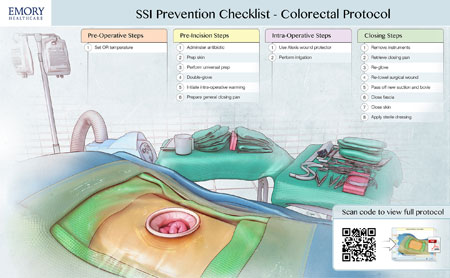 The Wound Infection Group's Colorectal Surgery Checklist poster is a fixture in various Emory operating rooms. Future plans include revising the format for other types of surgery.
Led by Dr. Joe Sharma, Emory Surgery's vice chair of quality, patient safety and care innovation, our quality and safety program participates in various quality alliances and protocols, and oversees surgical quality teams representing our specialties and associated facilities that are charged with creating surgical service-specific quality metrics and checklists, defining areas needing improvement, and designing and enacting strategies to tackle any shortfalls.
Emory Surgery's quality and safety-centered resources, initiatives, and organizational memberships include the American College of Surgeons National Surgical Quality Improvement Program, Wound Infection Group, Vizient University HealthSystem Consortium, and Best Practices for Better Care.